McBeth second, Heimburg third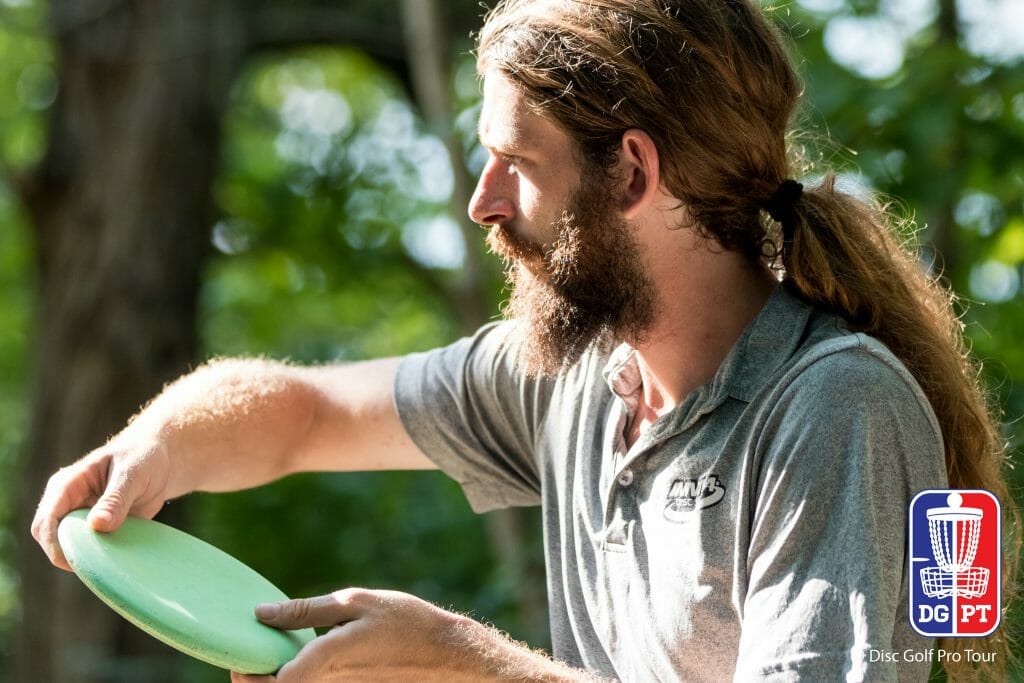 Just as we've come to expect from the lanky, longhaired Virginian, James Conrad's third round at the MVP Open was a master class in woods golf.
During the final lap around Maple Hill, Conrad pulled off a comeback win, surpassing Paul McBeth and Ricky Wysocki in the process. He did so off the strength of several birdie runs in route to the second-hottest round of the tournament, a 1098-rated 11-under par 48, finishing Conrad at 22-under par 155 total, one stroke ahead of McBeth.
Right from the jump, Conrad was stacking birds. First was the turkey on holes 3 through 5, part of his 6-under par front 9. He added four in a row on holes 10 through 13 to start the back. Surprisingly, Conrad was 60th in Circle 1 putting, hitting home on 92-percent of his putts inside 10 meters. He relied on the woods game to carry him straight to the pin instead, as Conrad was first in greens in regulation on the weekend and third in fairway hits. Placing third in putting percentage from Circle 2 will also take you far, especially when three of those putts were for birdie in the final round.
Really though, Conrad's tournament came down to two holes: 7 and 15.
Off the tee on 7, Conrad throws the textbook line. His driver rips up the tight uphill tunnel of a fairway, drifting ever so slightly to the right before fading forward toward the green, landing 27 feet. The rest of the lead card either comes up short or is off on their line and kick far afield.
On what was the fourth most difficult hole of the weekend, Conrad was able to convert the birdie and get some separation before the deuce or die hole 8, the nearly un-birdie-able hole 9, and the very attackable stretch of holes 10 through 15. 
At this point in the round, Conrad has already jumped from the bottom spot on the lead card into first overall, but this hole sealed it for Conrad. If Conrad doesn't get that birdie, we have a Conrad-McBeth playoff. 
But there were still a couple moments during the back nine where it looked like McBeth might be able to make a move and swipe the win from under Conrad's nose.
On 14, Conrad's birdie putt towards the water went OB off the cage, resulting in his first bogey of the round. As McBeth hits his birdie, the lead is down to one, and this is where McBeast feasts.
Which is why hole 15 was also so important. As McBeth's drive on 15 kicks wildly off a tree and deep into the rough, Conrad now on the back of the box and with momentum pulled out from underneath him, steps up and puts his drive right against the basket for an easy drop-in birdie.
2018 MVP Open | Final Round James Conrad hole 15
McBeth threw a perfect drive on hole 16 and cashed his birdie to keep it interesting, but when his drive on 17 scared the gallery and landed with no real "look" for eagle,  Conrad was still in control going into 18 with a one-stroke lead.
As is tradition, the crowd surrounding the green on 18 was fully engaged in the finale. Both Conrad and McBeth had their drives fade out into the trees clustered on the left side of the fairway before the ideal landing zone. McBeth's disc, though, was a little further back and quite a bit more obstructed than was Conrad's, so the best McBeth could do was set himself up for a long look at birdie to force a playoff. Conrad's upshot was as silky as his trademark hair, though, and he turned his Aviar perfectly into the green. McBeth missed his long birdie look and Conrad sealed the deal.
McBeth finished in second at 21-under par 156 total. Calvin Heimburg, who never slipped from his second place tie after round one, finished in third at 18-under par 159 total. Grady Shue made a move from chase card to take fourth at 15-under par 162 total.
As for the other leadcard-mate and moving day hero Wysocki, well, disc golf can be a cruel game, and Maple Hill can be a very cruel place to play the game. Wysocki's Sunday was meant to be more similar to his 1-under par 58 showing on Friday than his 1108-rated Saturday.
On the final day of the tournament, Wysocki carded three double bogey fives and was never able to put together enough scoring opportunities. His putting was off, only hitting 86-percent of his bids inside Circle 1, and none of his trademark attempts from outside 10 meters found home either. He fell seven spots due to the 1-over par 60 finishing tied in eighth at 13-under par 164 total.
The win at Maple Hill is Conrad's first top-tier win of the season and second Disc Golf Pro Tour win of his career. With the PDGA Pro World Championship two short weeks away, and the courses not totally dissimilar to these, Conrad may be making his move at the right time.