Bjerkaas, Walker, and Panis all make moves up the leaderboard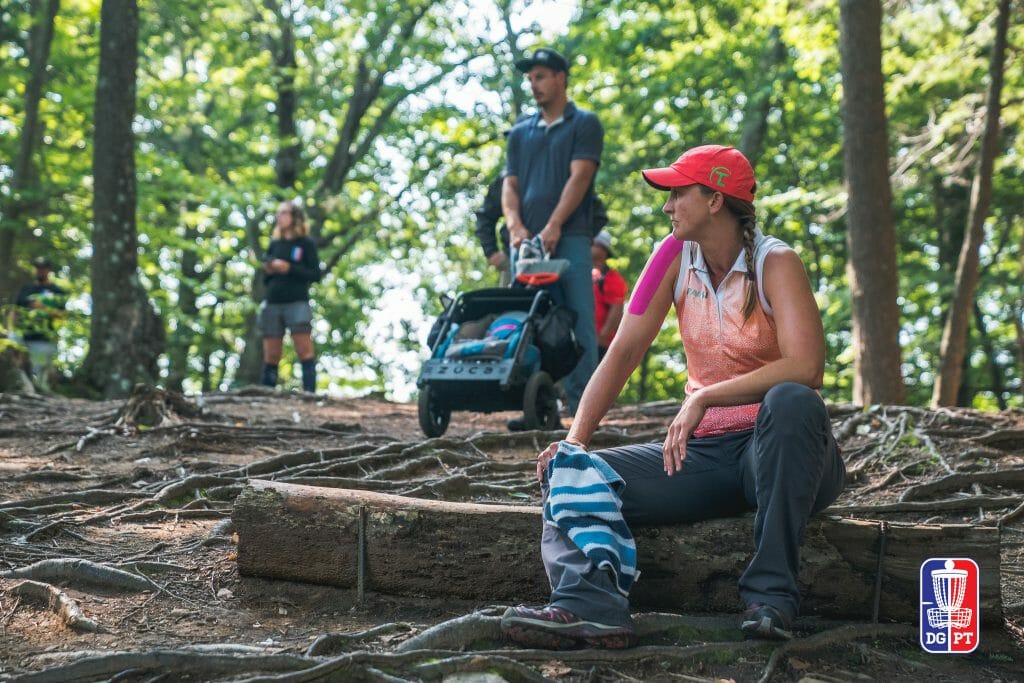 Moving day at the MVP Open lived up to its name as some players made a run up the leaderboard while others found themselves in a far less enviable position after tackling the challenging Maple Hill course. Ultimately, the day belonged to Sarah Hokom, shooting the hot round 4-under par 57 to take a three-stroke lead heading into the final round. Her total sits at 6-under par 116.
Hokom played solid all round, with 72-percent fairway hits and 90-percent Circle 1 putting. She also tied with Paige Bjerkaas in reaching Circle 1 in Regulation at 50-percent. Hokom also had two ace runs, hitting low off the cade on the elevated basket on hole 5 and landing her drive right under the pin on hole 8.
Round Two 2018 MVP Open at Maple Hill – Sarah Hokom hole 5
Bjerkaas carded a 3-under par 58 putting her total at 3-under par 119 and sits in solo second place. Rebecca Cox struggled a bit on the front nine, but connected on five birdies on the second half of the course to card a 1-over par 62 and remain in third place. Lisa Fajkus also shot a 1-over par 62 and will replace Paige Pierce tomorrow on the lead card. Fajkus, who is known for being one of the best putters on tour, proved that reputation to be warranted with 100% circle one putting for the day.
Pierce struggled at times on the green and also with the trees. She carded a 5-over par 66 and is tied for fifth place with Madison Walker, Haley Childs, and Catrina Allen at 3-over par 125.
It's Never Too Late
Bjerkaas recently decided to take a semester off of school to stay on tour and is within striking distance of the lead headed into the final round. Bjerkaas noted some of the changes to Maple Hill in the two years since she's played this event when discussing her approach with one round left.
"My plan was to be pretty aggressive," Bjerkaas said. "I didn't play last year and this year there were a lot of changes from two years ago, a lot of shorter tees, and I saw there were a lot of opportunities for birdies."
As far as the key to today's success, Bjerkaas took cues from a mindset instilled in her by her father and Pierce.
"I was four over through six holes," Bjerkaas reflected. "After each bogey, I was getting I was like, 'okay, it's never too late." Bjerkaas also credited Rebecca Cox's encouragement after a tough missed putt on hole 5 as helping her mindset. She added that her play from the tee was important in her bid for the lead.
"Once the birdie-train did start it was my drive," Bjerkaas said. "My drive put me well within the circle…(I was) getting off the tee pretty clean which is super clutch at Maple Hill, if you're not hitting your lines you're probably taking bogey at best."
Bjerkaas said her approach on the final day will be to stick to her game plan and try to remain aggressive with the awareness that big stroke swings are possible on many holes.
Other Players on the Move
Kona Panis carded a 3-under par 58 and moved up 12 spots to ninth place with a 7-over par 129 total. Panis collected seven birdies and hit 72-percent of the fairways.
Madison Walker moved up five spots carding a 1-under par 60. Walker, like Bjerkaas missed last year's tournament.
"I've played this course so many times, and it's one of those places that really sticks with you," Walker explained. "Every line, every shot, you kind of just know where your game fits in, like a puzzle piece. However, last year I had to miss Maple Hill due to injury, and on top of that, during the past two years, my disc golf game has changed dramatically. So this year, it was like playing a whole new course! My game plan is a little more aggressive, and I've developed a backhand that allows me to reach for more greens on my drives than I have in years prior."
"Today, I trusted my shots and committed to my lines," Walker continued. "I played aggressive and attacked the course instead of laying up. I also made sure to spend some time on the edges of the fairways with the mushrooms and frogs — a trick that keeps my head clear and thoughts on the bigger picture."
The field will have one more walk through the woods at the iconic Maple Hill course today. Follow the live scoring at UDisc Live, and tune in for the video coverage of the Open Women's lead card at 2:00 p.m. eastern time on the Disc Golf Pro Tour YouTube channel. Check back in here at Ultiworld Disc Golf for coverage of the final round.