Bjerkaas decides to stay on tour for rest of season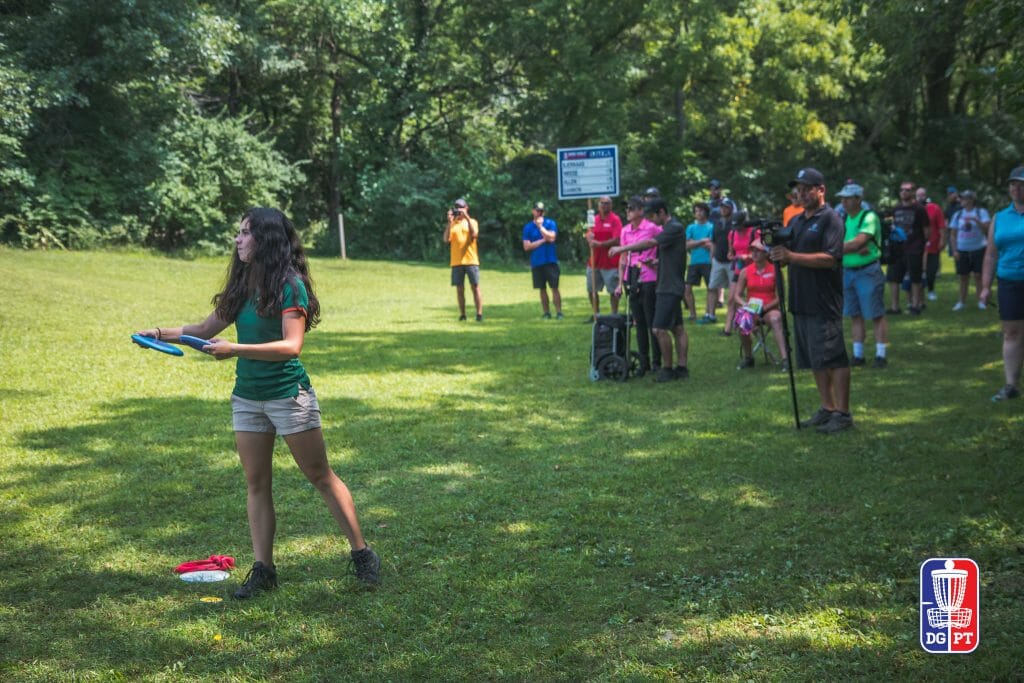 View from the Top examines the shots that make and break contenders at PDGA Major, National Tour, and Disc Golf Pro Tour tournaments. Here you'll find in-depth analysis of the most recent coverage combined with historical perspective, statistics, and POV interviews with professionals and media. This week, I chatted with Paige Bjerkaas about her third-place finish at Ledgestone and her recent run of good play.
---
Paige Bjerkaas is trending upward and she knows it.
On the Monday after the Ledgestone Insurance Open, where she placed third and beat out perennial favorites Paige Pierce and Catrina Allen, Bjerkaas sat down with her parents to discuss her future plans: to go back to school or take a break from her studies and continue touring through the end of the year.
"Um…" she laughed with nervous excitement. "I'm pretty sure I'm going to take at least a semester off and keep touring." Relaxing into the conversation, her tone exuding relief, she continued, "it's crazy to think about because I never thought I would ever do it, but I don't want to [look back and say] I didn't try."
The collegian seems to be heeding the advice of the oft-studied American poet Robert Frost: "Two roads diverged in a wood, and I—I took the one less traveled by, and that has made all the difference." Speaking of the path less traveled, Bjerkaas has plenty of experience doing that on the course too, as evidenced by her approach on the 420-foot par 4 5th at Northwood Park:
Paige Bjerkaas Hole 5 – Ledgestone Round 3
Bjerkaas entered the year with a 912 player rating. Officially, she sits at 929 today, but she's played 945-rated golf this summer and averaged 950 over the past month dating back to the Charlie Vettiner/Wendell Moore Open. Bjerkaas opened that tournament with an unofficial 1001-rated 51 – her first time breaking four digits. Though she averaged slightly below the 950 mark at Ledgestone, she came away from the weekend energized.
"I am elated!" she gushes, "super stoked! It's crazy that I beat Paige and Cat and Lisa [Fajkus], you know, really good players. Just being able to perform so well under the pressure…getting third place at a huge tournament is literally like a dream come true, honestly."
When asked what she did best and where she needed to improve, she began thoughtfully with the latter.
"I need to work on my circle's edge putts," she lamented. "I had a lot of 30-35 footers that I air-balled. Literally, this next week I'm only going to be practicing 30-footers."
At Ledgestone, Bjerkaas went 1/17 from Circle 2. Her stated goal was never to miss low, and it did seem like many of her putts skipped off the top of the basket or flew by just high. Even her lone putt from distance that found the bottom of the basket epitomized this philosophy, ricocheting emphatically off the band and in.
On the flip side, she was thrilled with her putting from 15-30 feet.
"Putting is the hardest part of the game for me, so the fact that I made [so many] tester putts, you know, the ones that were barely inside the circle, like 25-footers, that's a big confidence booster going into the next few tournaments, for sure."
The statistics back her up. Excluding converted putts from within 11-feet — annotated as 5 feet in UDisc Live — she made 36 of her remaining 45 putts from Circle 1 for an 80% adjusted conversion rate. Only Lisa Fajkus averaged better at 82% (23/28), and Bjerkaas bested her Dynamic Discs teammate Pierce by 15%. The top-ranked Pierce struggled on the green and went 28 for 43 from the same range (65%). Had she converted at the same rate as Bjerkaas, she may have kept her perfect run of podium finishes in 2018 alive.1
Bjerkaas' par putt on hole 17 at Northwood in the first round demonstrates her cool hand under pressure. The 17th averaged +0.96 over par and was the hardest hole on the course in her estimation (N.B. relative to par, it played second hardest after hole 9), causing Bjerkaas to quip, "when I got a three on the hole, I felt like it was a birdie."
Paige Bjerkaas Hole 17 – Ledgestone Round 1
Though twelve strokes separated first place from fifth, the top five were rather tight, statistically speaking. Most notably, all five women achieved Circle 1 in Regulation rates between 36-39% and Circle 2 in Regulation between 54-64%, which means they had virtually the same number of birdie opportunities. Jessica Weese and Bjerkaas both registered seventeen strokes over par, but the Ledgestone champion connected on 25% of her Circle 2 putts, which contributed to a 10% difference in birdie rate (39% vs. 29%). Sarah Hokom played slightly cleaner, only carding 11 strokes over par, but also couldn't match Weese's birdie rate.
Of course, the least stressful way to pick up birdies and save pars is by eliminating the need to make long putts. Bjerkaas ranked fourth in scrambling, converting par saves at a 70% clip, and was parked for birdie 8% of the time, good for seventh best. Both measures exceeded her season averages (65% and 5% respectively).
Bjerkaas was one of four women to birdie the 712-foot par 5 6th at Sunset Hills on Friday and Sunday.2 In the second round, she drained a 22-footer for the 4, and in the fourth round, she threw a beautiful approach over the water to five feet.
"[Hole 6] is a fun hole," Bjerkaas said. "It requires distance [off the tee], a good lay-up, then a tester shot over the water. On the upshot, you have to be really accurate because the basket is kind of close to the pond. You want to make sure you throw it over, but if you throw it too far, you have a death putt coming [back] towards the water."
She executed this game plan to perfection during the final round.
Paige Bjerkaas Hole 6 – Ledgestone Round 4
In the live commentary, Jessica Weese referred to Bjerkaas as "Little Paige" to differentiate her from number one-ranked Paige Pierce. Bjerkaas greatly admires the reigning world champion and tries to model her game after Pierce.
"I've looked up to Paige since forever, so it's cool to play alongside her… she's so confident! She's been on the road for years, which I'm sure has helped her build up that confidence, and that's something that I strive for."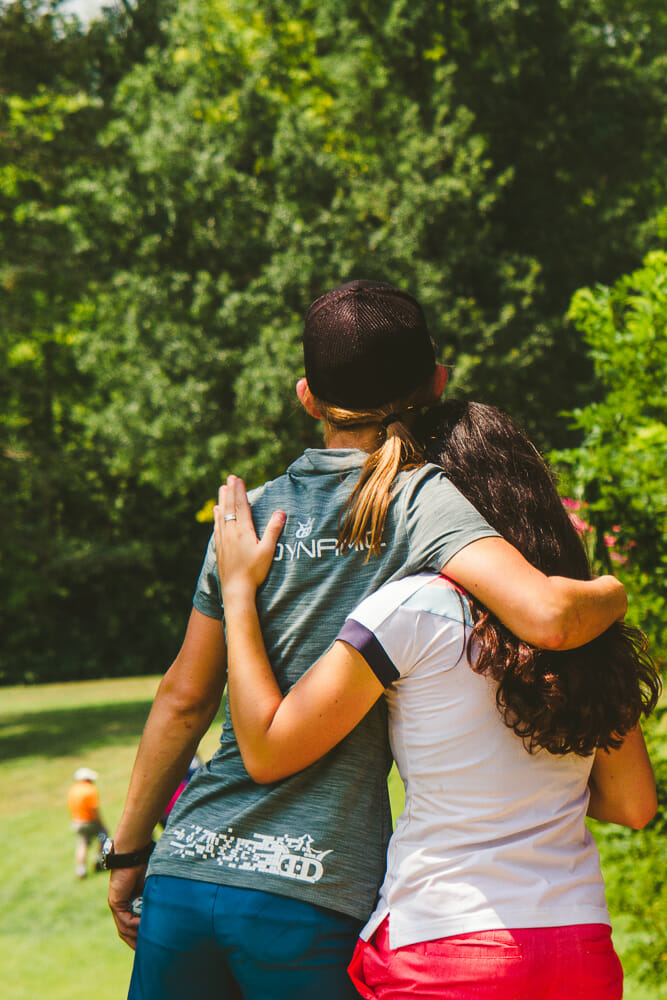 Asked if she envisions a scenario in which she beats Pierce to the 1000-rated milestone, Bjerkaas answered without hesitation.
"Absolutely!" she exclaimed. "The opportunity is there for me, I just need to take advantage [of it]. It's going to take a lot of work, but I think it's possible I could beat her to it." Bjerkaas admits that it is sometimes hard to stay in the right headspace, especially when her competitors start to pull away on the scoreboard, but her remarks on this subject show that she's got the swagger to improve in this regard.
"I'm gonna put in that effort," Bjerkaas said confidently. "The top women are so good because they've worked hard to get there, but they're used to being at the top. Someone like me or Lisa or Weesey, any of us, if we just practice hard during this off-season and really put in the time, it's gonna show, and I think the top women are gonna be in for a surprise."
Paige Bjerkaas seems poised to take the next step and compete week in and week out with Pierce, Allen, and Hokom. And it's clear that she's not interested in playing second fiddle to anyone. Perhaps Bjerkaas' ace-run on hole 14 at Northwood can be viewed as a metaphor for her current position: ready to crash chains and ready to crash the party at the top of the women's field.
Paige Bjerkaas Hole 14 – Ledgestone Round 1
She casually tapped in her birdie putt ahead of Pierce, whose drive landed even closer. The women share a friendly word as Pierce steps up to clean up her two. Bjerkaas' performance at Ledgestone showed us why she belongs in the conversation. If she keeps improving at her current rate, the end of the season could become very interesting, and justify her decision to stay on tour.
---
Jessica Weese went 26/34 (76%), Sarah Hokom went 14/20 (70%), Catrina Allen went 19/30 (63%), and Rebecca Cox went 22/39 (56%). ↩

The other three women to play hole 6 2-under par were Rebecca Cox, Ellen Widboom, and Hannah McBeth. ↩