Blomroos, Bjölycke, and Faber tied in second 3-strokes back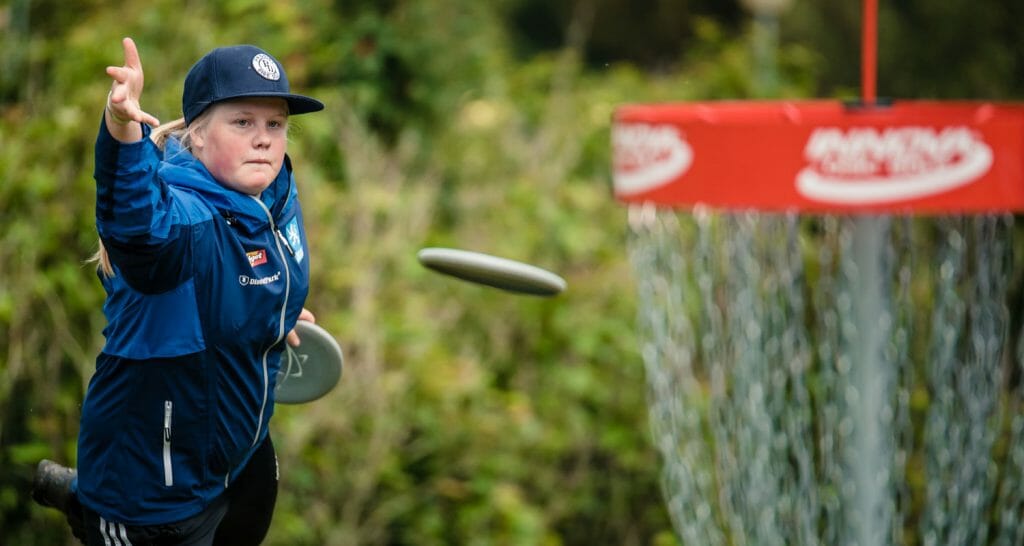 The three highest rated players in the Open Women field—Finns Eveliina Salonen and Henna Blomroos along with Swede Sofie Bjölycke—were all in the top four after the first round at the European Disc Golf Championship in Croatia. Salonen's 3-under par 59 put her in first while even-par 62s of Blomroos and Björlycke put them in a three-way tie with German lefty Antonia Faber for second place.
1st and Tied 2nd: Salonen and Blomroos
Along with the similarity in the strength of their respective games, Salonen and Blomroos also share the trait of keeping their comments about their rounds and future game plans simple and to-the-point. With such similarities between the two, it seemed only right to talk about them in the same section.
Salonen remarked that she was "really happy" with her play yesterday and was "looking forward" to round two.
Her only goal?
"Of course, I want to shoot a little bit better," she said.
Blomroos, however, was not very content with her own efforts, remarking that though her drives were good, her putting wasn't. Her main goal for the second round was also just to "play better." However, she did point to hole 9—a par 5 that she bogeyed and Salonen eagled—as a specific place she wanted to improve.
Tied 2nd: Björlycke
Björlycke was "very happy" with her first round, and said that she was almost always able to play like she planned. But there was one exception.
"There was a lot more wind than on the practice day, so I was not sure about my tee shot from hole 13 and I threw OB," she said. "Other than that everything worked out well."
Her plan for the second round was all about being realistic.
"The course is tough so I will try to get as close to par as I can," she said. "I have to stick to my plan and don't let the long throwers affect me."
Tied 2nd: Antonia Faber
Faber was really excited about her play, including "being really surprised" that a lot of her shots went further than in the practice rounds. This surprise led to plenty of highlights for her during the round, including birdies on holes 2 and 3 and an eagle chance on hole 9.
Her goals for round two were to "try to be clean in the woods and avoid the wrong disc choices" and for a score, she believed "everything under par would be perfect."
At the end of the first day of competition Eva Králová, Maris Perendi, and Katharina Gusenbauer were all tied in third place. Top European players Kristin Tattar from Estonia and Vanessa Van Dyken of Finland, by way of California, were tied in fifth place with Camilla Grundén. Sini Lindholm of Finland held down solo fourth place.
Editor's note: Due to waiting for comments from the top four players after the first round, and the time difference between Europe and North America, publication wasn't possible before the end of the Open Women's second round