Revising and simplifying an inefficient system as the sport grows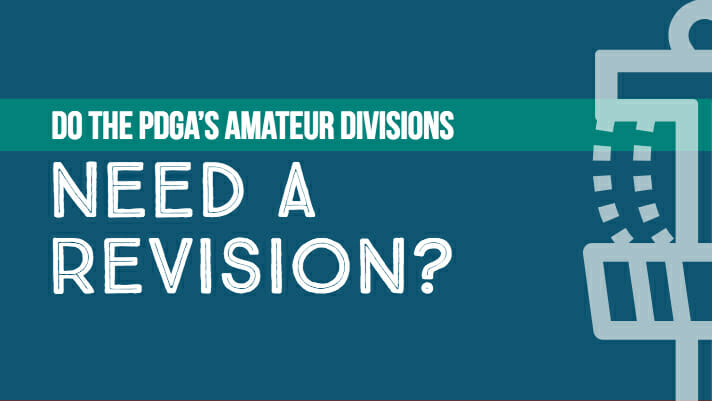 A familiar scene leading up to at any disc golf tournament includes many amateur players deciding where to compete. According to the Professional Disc Golf Association (emphasis added): "Players compete in one of more than 30 possible PDGA divisions available to members based on their gender, age and skill level (rating) in both amateur and professional categories. Most members qualify to compete in more than one division and may have the option to choose their division at each event based on the options available."
In late 2017, the PDGA announced several changes in the way divisions are separated, including subdividing age protected divisions as well as changes to the payout for amateurs playing Open (essentially removing any payout to amateurs earning prizes in Open), that went into effect for the 2018 season. Considering these changes, and the significant variation in how players go about deciding where to play, I feel that the PDGA should reconsider its path towards ultra-personalized division options and instead greatly simplify the amateur division options for tournaments.
Too Many Divisions, Too Subjective
Selecting an appropriate amateur division often varies by region and event. In some places, players pay close attention to the ratings guidelines, while in other areas divisions are often filled with players well below the suggested ratings range outlined by the PDGA. Oftentimes, players are chastised for 'sandbagging' (playing in a division below their skill level) after winning an arbitrary number of events — this is typical in cases where a player's rating may lag well behind, and not actually reflect their skill level. In other cases, players — often those who are relatively new to sanctioned play — may choose based on the arcane division names alone. Depending on the location and event, some amateur divisions may be quite large while others have very few players or none at all.
To add some context, I have had the opportunity to regularly play in PDGA sanctioned events since 2015. In that time, I've played in the Intermediate, Advanced and Open divisions. Each time I moved up a division, I 'jumped the gun' according to PDGA guidelines — moving up before my rating was technically within the suggested range. At the end of the 2017 season, I was 959 rated and struggled to find any local competitors in the Advanced division — it was time to play Open.
For myself and others, the PDGA guidelines fail to adequately define who can and should play in a given division and often leaves some divisions full of competitors and others nearly, if not completely, empty. Playing against a mere handful (or fewer) competitors over the course of a season removes the competitive aspect of tournament play. As an athlete, I've always been drawn to large, competitive, efficiently-run events in a variety of sports. Realigning and simplifying the amateur divisions would greatly improve the tournament experience for players and tournament directors and yield larger fields.
Towards A Simplified System: How To Make The Change
A realignment of divisions would function as follows: for both men's and women's amateur divisions, removing the confusing and poorly labeled divisions of Novice, Recreational, Intermediate and Advanced.1 These would be replaced with two divisions: Casual Amateur and Competitive Amateur, each with clearly defined ratings and performance guidelines, for both men and women. The other vital piece is allowing the top level of amateur players to compete in Open. These changes would create events with more robust attendance in divisions and give players a better sense of where they should compete.2
Casual Amateur: Developing brand new players and less-skilled, but experienced players
The Casual Amateur division would be made up of the current Novice, Recreational and some lower rated Intermediate players. Here, the emphasis is on an enjoyable player experience: players packs and modest payouts or trophies for winners, while abiding by PDGA rules, etiquette, and best practices. These players would compete on an easier layout (where available) and have opportunities to participate in clinics, additional side games, and giveaways to provide an enjoyable, positive and memorable experience.
Players would be promoted from Casual Amateur when any of the following take place: Win three sanctioned events in a single calendar year or reach a rating of 875+ for men, and 845+ for women.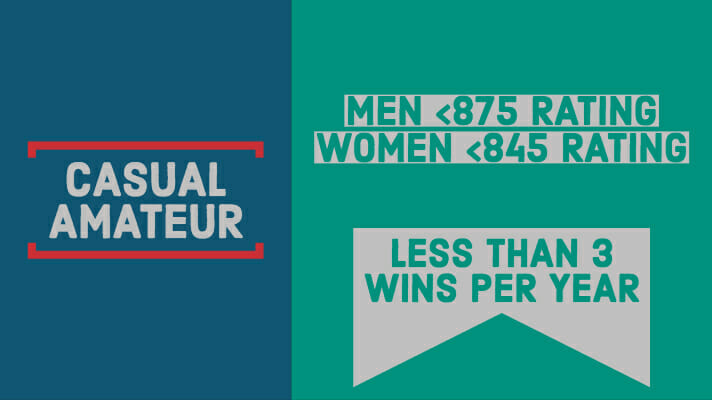 Competitive Amateur: Friendly competition and talented up-and-comers
The Competitive Amateur division would be made up of the current Intermediate and Advanced players. The emphasis is on friendly competition, understanding PDGA rules, etiquette, and best practices of the game and includes traditional 40-percent merchandise payout. These players would have a moderate entry fee and slimmer players packs. The division would include the possibility for Final 9s, to showcase the best in the field at larger events, and occasional opportunities to play more difficult layouts in some, but not all, rounds in an event.
Players would be promoted from Competitive Amateur when any of the following take place: Win three sanctioned events in a single calendar year, reach a rating of 950+ for men, 900+ for women, or accept cash in Open.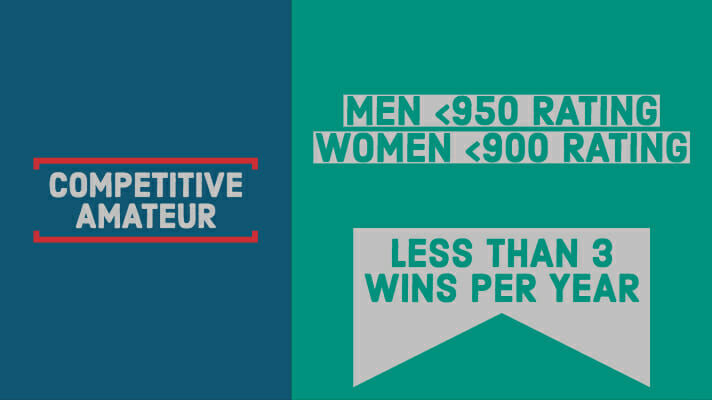 Open and Open Women: The best players around, no longer Pro-Only
The PDGA took steps to dis-incentivize amateur players from playing in Open and Open Women. If amateur divisions were re-aligned, I would like to see the PDGA move towards a wider view of the two top professional divisions by allowing the top players (whether amateur or pro) in an event to compete in these two divisions and receive payout. To ease the demand on a TD, amateur players in the Open and Open Women divisions could be paid out in a voucher format to a major (likely online) retailer instead of requiring payout onsite. Treating Open and Open Women as viable divisions for amateur players would help bridge the gap for many highly-skilled amateur players who are considering a jump to the pro divisions; this opportunity would help balance tournament groupings and incentivize players to move up.
Players could opt to play in the Open and Open Women divisions as either an amateur or pro and would receive their payout accordingly.
Related Issues
Another consideration would be to create a place for true beginners. I would propose a simple Beginner division: very low entry fee and most likely trophy only. Players could only compete in this division three times before moving on to Casual Amateur. Continuing to promote and popularize the one-day flex-start C-Tier format is another tactic the PDGA could explore to welcome more true beginners to casually competitive tournament play.

Age protected and Junior divisions: there are often issues with small fields in under-represented divisions for both the younger and older competitors. I would like to the PDGA consider

returning to the 10-year divisions for the older competitors and leave the junior divisions as-is. Events like Junior Worlds and the USJDGC, organized by Kids Disc Golf, could help in bringing in competitors to these divisions if they continue to be offered widely.

Fewer Winners: individual sports like cross country, track and field, and golf, to list just a few examples, often have large fields with only one winner. The current mindset of overly specific and individualized amateur divisions (and chasing a win against fewer competitors) would have to be adjusted with this new alignment. But given that disc golf is played as much, and arguably more so, against yourself and the course than those in your division, adjusting this mindset should not take overly long, and should be beneficial in the long run.
Conclusions
As it stands today, few players fit neatly into one division and there is a huge variation between events and regions in terms of which divisions grow large and which sit empty or nearly empty. The PDGA has an opportunity to change course as the sport continues to grow and create larger, more balanced pools of participants that encourage players to move up as they develop and find an appropriate spot for those that don't fare as well in competition, but enjoy the tournament experience. I believe that it is important for the PDGA to reward quality play instead of those who are best able to 'game' the current inefficient divisional breakdown.
Regardless of how many divisions are offered, or whether meaningful divisional adjustments are made in the future, I look forward to the growth of tournament play and welcoming newcomers to the sport.
---
To clarify, potentially adjusting age protected divisions could require its own article entirely and therefore they are not the focus of this piece, though they are mentioned later. The main focus of this piece will remain with non-age protected men's and women's amateur divisions. ↩

The details that follow for each of the divisions should theoretically work for both amateur men and women. ↩