Melton second, Johansen, Conrad, McBeth tied in third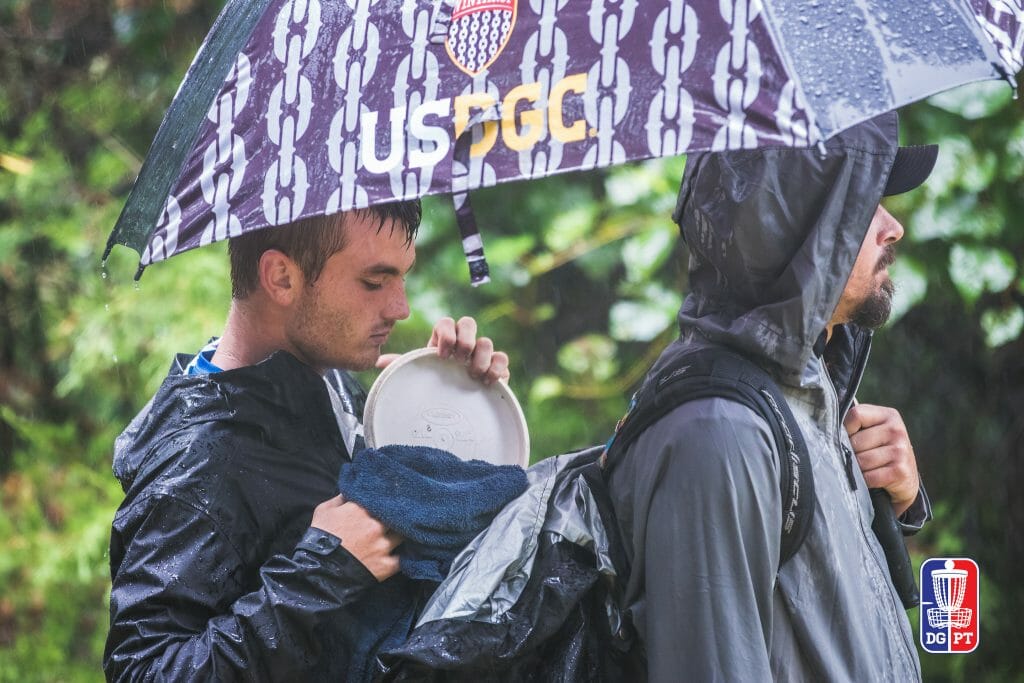 Through he had to sit idle for approximately 12 hours between the time when the first round was called off and started up again yesterday morning at 7:00 a.m., it has truly been a wild two days and two rounds for Kevin Jones. Jones currently leads the Idlewild Open after finishing his first round early and commencing with his second later the same morning.
Jones is sitting at 16-under par 118 through two rounds. He shot a scorching hot 1069-rated 10-under par 57 over a rain-interrupted first round that lasted two days. That was followed up by a less hot but still impressive 6-under par 61 in round two yesterday.
That puts Jones four strokes clear of second place Zach Melton who is sitting at 12-under par 122. Melton is two strokes ahead of James Conrad, Michael Johansen, and Paul McBeth who are all tied up in third place at 10-under par 124. Calvin Heimburg and Zackeriath Johnson at tied in sixth place at 9-under par 125.
Tyler Horne was on top of the leaderboard when play was called due to weather on day one. Horne has since slipped into a four-way tie for eighth place with Emerson Keith, Dan Hastings, and Corey Ellis at 8-under par 126. Horne carded a 2-under par 65 in the second round which must be disappointing after he went six-under par 61 in round one which might as well have been played here.
Jonesin for Birdies
Jones' first round was very impressive and is even more so given the conditions he played in given the extended delays to play on Friday. He went 7-under par through the front nine and was able to maintain his position during the Saturday morning conclusion of round one. Jones canned an eagle on 16 during his second round which helped him keep his lead after two.
One of the keys to Jones' success so far this weekend is that he has yet to miss a Circle 1 putt through two rounds. That is something to be commended considering the on-and-off rain, wind and the questionable footing given the mud and elevation changes throughout the Idlewild track.
Going into the final round of the weekend Jones looks primed to take his first Disc Golf Pro Tour win. Yesterday we said in the preview, "whoever wins this weekend will be the sort of player who can adapt their game plan to work around and maybe even with the elements," and it looks like Kevin Jones, one of the best players on the planet, is doing just that.
Melton Our Faces Off
Melton is a prototypical Dynamic Discs player. He meets all the qualifications: he is dynamic, and he throws discs. And this weekend, he is throwing his discs very well. Most remarkably, Melton was able to card an eagle three on hole 16 during round one with a 60-foot throw in.
That 60-foot throw in aside, Melton has been playing some pretty solid golf. He was one of the only people in the field to reach at least Circle 2 in Regulation on hole 13. And then he followed that up with birdies on holes 14 and 15, two of the hardest on the course, to close out round two. Here's where we note that the final six holes out at Idlewild is the toughest stretch on the course, and Melton seems to have them on lockdown. All he is doing is hitting the fairways, scrambling well enough, and floating in his putts. If you don't believe me just look at his stats.
Melton's only real errors on the weekend so far have come due to OB, which snakes riddles the course. In round one he went OB on holes 3 and 14. In round two he lost strokes to the course on holes 17 and 18. But compared to how most of the field complete the final two frames, just two bogeys through two rounds there is plenty good enough.
Air Johansen
Johansen is a well-known wizard in the woods and his second round at Idlewild only helped to grow the long-haired North Carolinians legend. Johansen scrambled at 100-percent to save his pars, and he hit his birdie putts when he had quality opportunities.
His highlight reel moment of round two came on hole 7 when he connected for birdie from 49 feet away. That hole played tough, and Johansen was one of 20 players to take a two on the day. By way of context, 41-percent of players took a bogey-five or worse there.
Ellis Island
Corey Ellis certainly should have been mentioned yesterday if the first round had been completed on schedule, but here he is now. Ellis played rather well during his first round and throughout most of his second round. Before hole 15 in round two, Ellis was sitting at 13-under par which would have put him in sole possession of third place had he finished out with pars — but that's rarely in the cards on Idlewild's demanding final third.
Ellis went 5-over par on the final four holes Saturday and, what had looked like a promising effort was ultimately deflated. Being a relatively local not far away in West Virginia, watch for him to make some adjustments in the final round as he looks to finish out stronger today.
---
Think back to what you were told about rain, hail, lightning, and 60 mile-per-hour winds. You were probably told to get outside and throw discs; that's how I was raised, anyway. I have a feeling this is not standard, however, and tournament organizers made the right call in calling off play on Friday in acknowledgment of player safety and making day Saturday effectively a doubleheader.
There will only be one round played on the final day, which must be a relief to the players, but as a fan, I was kind of getting used to the idea of double the disc golf for half the price.
The lead card of Jones, Johansen, Melton, and Conrad is scheduled to tee off at 3:15 p.m. local time, weather permitting. You can follow along with the live scoring at UDisc Live, and the live broadcast begins at 2:00 p.m. eastern time on the DGPT YouTube channel with the Open Women lead card up first before the Open card tees. Check back in here at Ultiworld Disc Golf for recaps and coverage of the final round.