Tyler Horne maintains tentative first round lead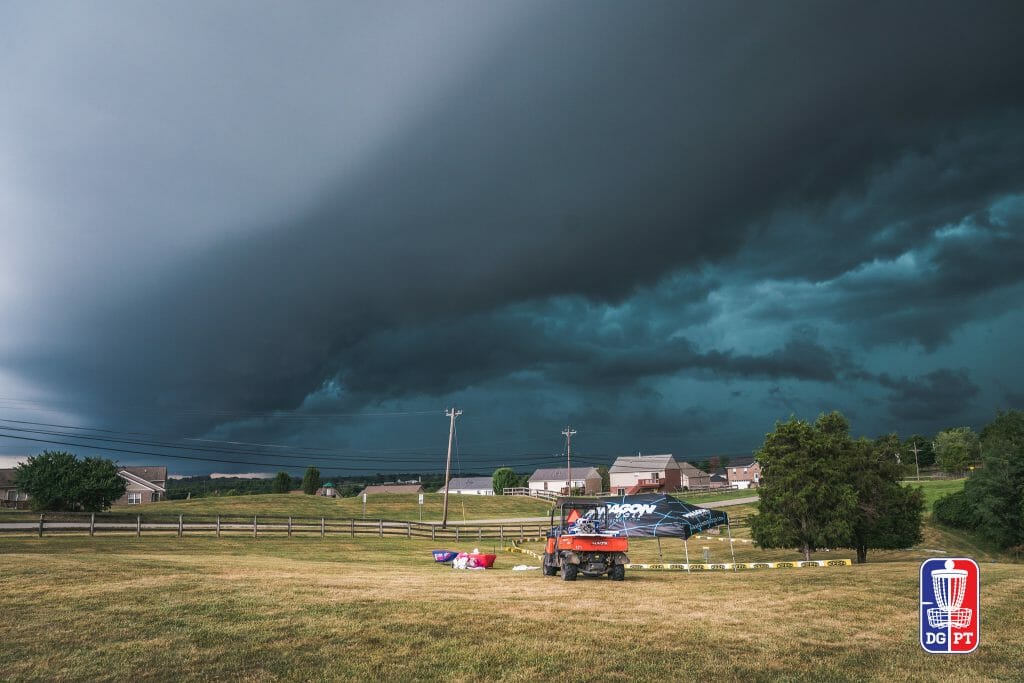 Severe thunderstorms with lightning, strong winds and rain delayed play throughout round one at the Idlewild Open. Eventually, by the early evening hours the relentless storms would not dissipate, and tournament organizers, including staff from the Disc Golf Pro Tour, were forced to suspend play before the round was complete.
At approximately 6:40 p.m. yesterday play was halted, with many players yet to even make it through the first half of the course. The feature card of Paul McBeth, James Conrad, Zach Melton, and Gary Costa was only able to play hole one after teeing off nearly three hours after their scheduled tee time. All players who are yet to complete their round will pick up where they left off at 7:00 a.m Saturday. Round two tee times will be the same as round one, per the DGPT weather announcement page.
Early (for now) Leaders
Only 34 of 120 players were able to complete their rounds before the suspension of play, and as things stand right now, Ohio native Tyler Horne is the leader in the clubhouse with a score of 6-under par 61. Behind him is Jake Hebenheimer who has played 17 holes and will finish his round starting on 18 in the morning. Hebenheimer has an ace on the day on the par 3, 192-foot 11th. Kevin Jones is 5-under par through seven holes and is in third at the moment. Jones is either in great position to take the lead once round one is actually completed, or in great position to be gobbled up by Idlewild and another day with thunderstorms forecasted.
This delay gives us a rare opportunity to talk about some of the lesser-known players on tour, so let's take advantage of it.
Horne is certainly not a household name, but he is obviously a talented player on the regional scene. That he was able to put up an under par round in what were pretty objectively terrible conditions speaks to his skill level. Horne birdied the first four holes of his round, including hole 4 which so far is not giving up many birdies at all. Horne is one of 10 players who were able to card a two on hole 4. Through the final 10 holes of his round, he went 3-under par, which given the situation, is more impressive than it sounds.
Hebenheimer has yet to crack the top 10 at an A-Tier, but he is in prime position right now. The Missourian put together a very solid performance and even if he hadn't aced 11, he would likely be sitting near the top of the board. His only mistakes on the day were costly ones, though. He bogeyed hole 8, which has played rather soft so far and double bogeyed hole 12, which has played very hard and bogeyed hole 13, which has played downright evil so far.
Idlewild Lives up to its Name
Weather kept players hanging idle, while the nature of the course kept scores….wild (I'm sorry). While the skies were angry, hole 13 may have been angrier. The 472-foot par 3 was birdied by exactly zero Open players who have made it to this hole so far. More than half the field was able to play it, and most of them didn't play it well. This is the infamous "Y" tree hole, and while the double-mandatory through the "Y" is no longer in play, only 30-percent of players were able to walk away with a par.
Hole 18 was also extremely difficult. Two of the players who were able to play it managed birdies, nine took par, 13 bogeyed, and a whopping 11 more had to write in a double-bogey six before play was suspended.
None of the 18 frames played under par, but hole 11 was as nearly there. The 192-footer is a must get for most players, as it requires a straight shot at the basket with a generous uphill backstop to corral any long carrying drives. It is easily the most straightforward of all the holes on course. Of all the players who made it this far, 47-percent of them took birdie or better; the only better was Hebenheimer's previously noted ace.
Water, Water Everywhere and Not a Drive to Crush
In total, 34 players completed the first round yesterday and, sure, each one of them plays in unique circumstances, with different winds, sun, clouds, and general conditions. But today represents something different. Players who went the full 18 will be able to (ideally) start their second round, play it, and be done. Those who were not able to complete their rounds will be forced to finish it out, and then play a second full round.
Players who got their rounds in before the weather hit in full force got to in comparatively favorable conditions. There is an undeniable competitive advantage in favor for the player who had an earlier tee time on day one compared to those who played up until the siren sounded for the final time. Whoever wins this weekend will be the sort of player who can adapt their game plan to work around and maybe even with the elements.
In the last two years, there has been a rash of high-profile tournaments canceled or shortened due weather. The 2016 United States Disc Golf Championship, 2017 Nick Hyde Memorial, and the 2017 Glass Blown Open were all impacted. Aside from robbing fans of some quality golf, the abbreviated tournaments must have impacts on players' wallets. If a player is expecting to make the cash in order to continue to tour, what happens with the weather is massively important if it means not having every chance to climb a bit higher on the leaderboard.
What's Next For Round Two
Probably more terrible weather, but let's keep our fingers crossed. Assuming that the entire field will be able to hit the course in-full today, we'll be treated to watching the top players in the world in a situation more familiar to the one-day C-Tier crowd. As always, it's anyone's guess how the weather will or will not cooperate but there's reason to be excited to see how this format will play out.