Putting struggles demonstrate razor-thin margins between 1st and 4th place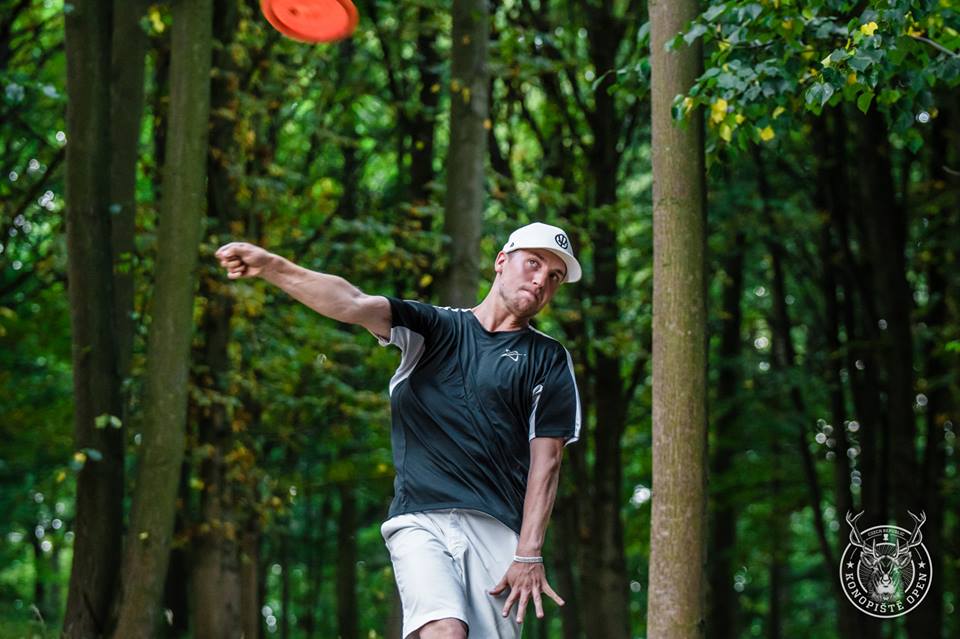 View from the Top is a new column from Ultiworld Disc Golf examining the shots that make and break contenders at PDGA Major, National Tour, and Disc Golf Pro Tour tournaments. Here you'll find in-depth analysis of the most recent coverage combined with historical perspective, statistics, and POV interviews with professionals and media. This week I review Seppo Paju's performance at the Konopiště Open.
---
"If I had putted better than Eagle, I probably would have beaten him."
It's 9:15 p.m. in Finland on the Tuesday after the Konopiště Open. Fresh off of his fourth-place finish — his best ever at a PDGA Major — Seppo Paju is relaxing on the back porch of his home in Littoinen looking out over lake Littoistenjärvi. When I called, he was practicing his putting. He walked out into the yard and showed me his lakeside green: two baskets — one full-sized and the other a skinny, sharp-shooter — 10 meters apart, 10 meters from lake's edge.
"It was the worst putting I have had all year." A pause, he reconsiders, "probably the last year, too."
Paju's birdie attempt on the first hole in the final round was emblematic of his struggle on the green. After throwing the best drive of the group, a graceful, slow-fading hyzer to approximately five meters from the pin, he duffed the putt. It struck mid-cage with a clangorous thud.
Seppo Paju Hole 1 – Konopiste Round 4
"I was just nervous [on that putt]. It got the better of me and I just missed one of those short ones. Even in the practice before the round, I wasn't able to get, like, good, relaxed putts going on and it made it hard for me to have the confidence on the green for the final round." He admitted later that his nerves weren't fully to blame for his poor putting performance and lamented, "I missed short putts the whole tournament, even the first round when I didn't have any nerves."
Paju recalls missing six putts inside of the 10-meter circle, but I counted eight. Eagle McMahon missed one. McMahon also connected on nine putts from Circle 2, between 10 and 20 meters, compared to Paju's two. "After the first round," when Paju made his only two C2 putts of the tournament, "I only had about six looks from 10m-15m… I missed [all] six of those from that range where Eagle makes most of them." Had Paju matched McMahon inside the circle and only missed one putt, had he made those six C2 putts, he would have reduced his total by 13 strokes. McMahon beat Paju by 11.
Paju put himself in the position to win because of his accuracy from distance. He lead the tournament with 74% Green Hits and 25% Bullseye Hits, virtually identical to McMahon's percentages: 71% and 24%, respectively. For additional points of comparison, Simon Lizotte, who finished second, managed 67% and 18%, and Paul McBeth, third, 65%, and 18%. Paju confidently quipped, "I would say that — just throwing the disc — I think I was the best at overall."
If the distance accuracy numbers aren't enough to back up this claim, check the highlight reel: Paju nearly bagged two aces. The first came during the second round on the 4th hole when his powerful spike-hyzer over the trees crashed chains. The second near miss occurred during the final round. On the 13th hole, he threw a lovely turnover shot that kissed the front of the cage and dropped under the basket.
Seppo Paju Hole 13 – Konopiste Round 4
Clocking in at 3353 meters and boasting three par 5s, the Franz Ferdinand course is set up for big arms. Paju displayed elite distance to rival his cardmates, the 'Crush Boys,' but he prefers to shape shots with low-speed discs. "I'm glad that I have long drives but I enjoy technical wooded courses the most… That's my favorite part [of the game], just throwing really finesse technical shots with my midranges and putters. I feel like I'm even better at that than driving."
Hole 12 is the most technically demanding on the track. Lizotte was the only player to record birdies in all four rounds, and Paju was the only player to play it three under par.1 Each of these players opted for unique gaps off the tee: Lizotte went over the top with a sky anny on Saturday and Sunday, whereas the Paju punched the wide gap left of the last guardian tree all four rounds. Paju's line is an evolution of last year's drive when he threw a touchy, backhand anhyzer with his yellow 400G M3. To execute the drive he needed to push the left side of the fairway and barely miss the last guardian tree. The disc needed enough spin to carry through the corner, but preferably, it would still fade to the left at the end of its flight to avoid the right rough.
Seppo Paju Hole 12 – Konopiste Round 1
Storms downed quite a few trees in the grove that framed the initial fairway on hole 12's tee. Compare the flyovers from 2017 and 2018. In the most recent footage, you see a shattered stump immediately to the left off the pad, already somewhat overgrown with leafy groundcover, and only one tree remains where there used to be two at the end of the tunnel. Paju chose to throw through this new gap, which allowed him to swing his preferred anhyzer a bit wider and push the forward trajectory closer to the trees lining the left corner of the dogleg. The yellow, world-stamped M3 currently resides at the bottom of the lake on the Winthrop Gold course, so Paju bags it's identical twin in blue these days. His drive was perfect on the second day of the tournament.
Seppo Paju Hole 12 – Konopiste Round 2
Paju picked up his third birdie in the fourth round. This time his drive drifted toward the right rough, leaving him an obstructed look at the pin on a tight left to right line. According to Paju, "[that approach] was my best shot of the tournament… there was a gap, but it wasn't a [clean] line." To borrow his words, it required finesse. Paju's friend and Prodigy Disc teammate Will Schusterick gushes about Paju's play on this hole, "his accuracy, his angles of release, how he can spin the disc…" – these are the qualities the best define Paju's game, in Schusterick's opinion. It's hard to truly measure the precision required to make this approach over the pond, because of how easy Paju makes it look.
Seppo Paju Hole 12 – Konopiste Round 4
Paju has the skill to win a major championship but he lacks experience on tour. He played 19 sanctioned events last year, 11 of which were in Europe; in 2016 he also played 19 events, 16 of which were overseas. Based on player ratings, the field Paju faces when playing major international or U.S. events is typically deeper than the continental events he plays in Europe. For instance, at this weekend's DGPT stop at Idlewild, there are 39 players rated over 1000, at Paju's next European tournament, the European Disc Golf Championship, there are only 19 players rated over 1000. This year, his first nine tournaments were in the states, and his average finish varies considerably more than '17 or '16.

"He's been playing pretty much full-time for about two years, but it also takes time to get used to playing on tour," Schusterick explained, "and what I mean by on tour is playing, playing, playing, playing, and more playing. Like, just non-stop playing." Specifically, playing on the lead card, against a deep field, with the cameras rolling – it's just a matter of time and experience.
Three years ago, Paju demonstrated his commitment to becoming the best when he quit his day job to focus on improving his putting. That improvement wasn't on display in the Czech Republic, but he already knew he had a ways to go. Paju rates the average putting performance by Ricky Wysocki, Paul McBeth, or McMahon 9/10 (because rarely is anyone perfect through four rounds); he rates his average performance a 7.5. This past weekend? It was a 5. But Paju put on a driving clinic at the Konopiště Open and his approach game was on point. Those nerves he felt on the putting green were nonexistent from the tee and the fairway. If he continues to refine his putting stroke and competes against the top international players more frequently, it won't be long before he challenges for the number one world ranking.
---
Teemu Nissinen was the only other player to record three birdies, but he took a bogey in the final round. ↩