Salonen takes commanding Open Women win while Tattar narrowly snags second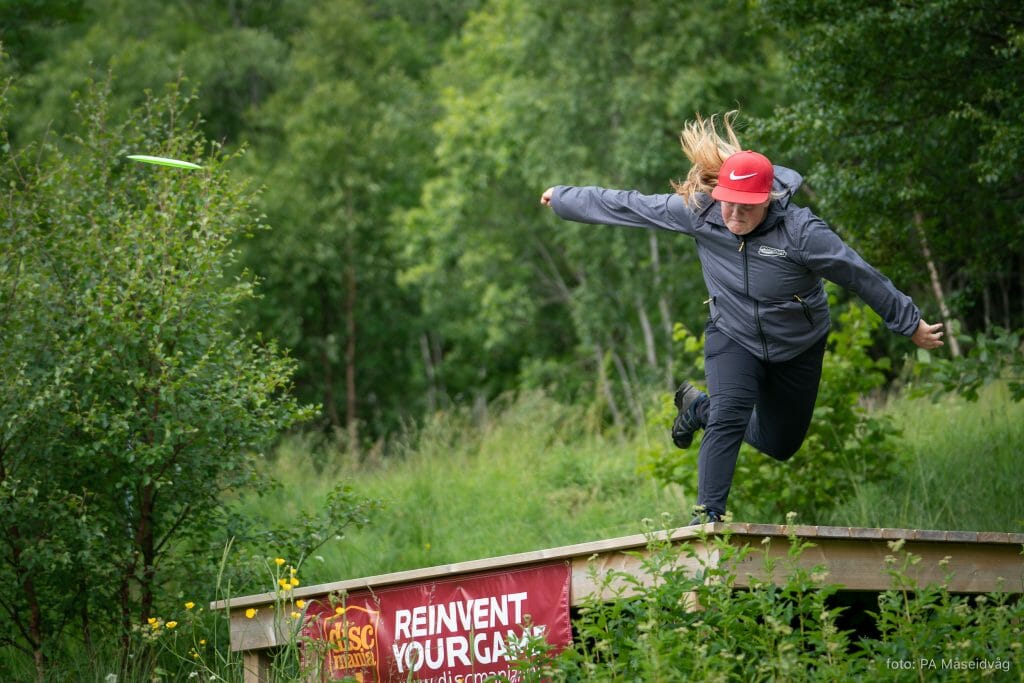 The name of the game was damage control at the Sula Open, the second PDGA EuroProTour event of the year. The Norwegian wind assailed competitors' discs in unpredictable gusts, and rain made grip, footing, and general comfort hard commodities to come by. Such conditions also meant there was a 100-percent chance of bogeys in the forecast (no player in Open Women or Open played a bogey-free round the entire weekend) on a tough course with ample OB. Just take a look at the live scoring. The real work was keeping those bogeys from becoming doubles, triples, or, in one case in Open, 17-tuples (no typo there).
In Open Women, it was Finn Eveliina Salonen—whose 940 rating is the highest of any female player in Europe—who weathered the storm, avoided catastrophe each round, and took home a resounding 17-stroke victory over her competition. She finished with a 13-over par 205. The 909-rated Estonian Kristin Tattar fought her way back from fifth to take second over Sweden's 935-rated Sofie Björlycke by a hair's breadth. Tattar's 30-over par 222 bested Björlycke's 31-over par 223 by one stroke.
Salonen said her main goal for the weekend was to 'play a safe and solid game through the whole tournament,' and there's no doubt she accomplished her goal. She averaged 26 points over her rating for the weekend and established a big lead early with an impressive opening round.
Though Salonen's first round score of 2-over par 66 may not sound imposing at first, the combination of a difficult, OB-riddled course and harsh weather earned the round a 990 rating. Also, if she had been playing Open, she would have found herself tied with K.J. Nybo and leading—among many others—Philo Brathwaite. In her own division, it was enough to earn her an immediate eight-stroke cushion, and she never looked back.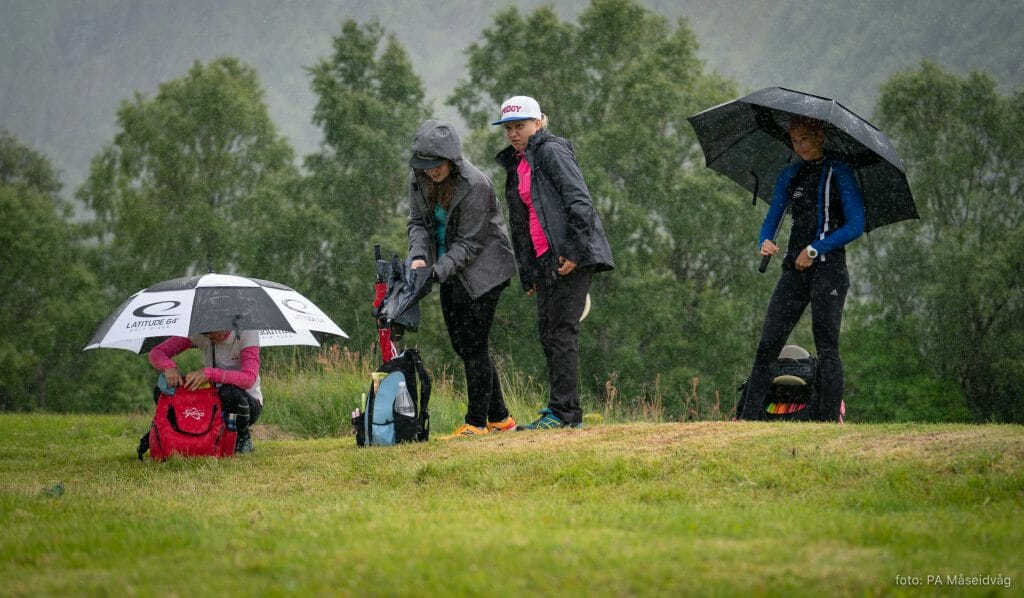 Tattar's tournament followed a much different storyline. The unforgiving weather and course did nothing but cause her frustration during round one, particularly on one hole.
"After I took an 11 on [the par 3] hole six during the first round, I just gave up," Tattar said. "I really felt it wasn't my fault since the wind was blowing so hard, and I really tried to play safe, but my most overstable discs just flipped over."
She went on, "I was devastated."
However, Tattar didn't stay that way, and thanks to renewed determination, came off the course with the hot round on day two with a 976-rated, 3-over par 67. This was enough to move Tattar from fifth place and eight strokes back of the second-place Björlycke to third and just two strokes off the second spot (still held by Björlycke).
In the end, Tattar was able to overcome that deficit and squeak into second place during the final round. According to Björlycke the one stroke difference between herself and Tattar was due to both the weather and one poor decision.
"The cold and wet got to me today," Björlycke wrote to Ultiworld Disc Golf after her round. "At one hole I should have taken a different disc from the tee…[and that cost] me an extra stroke. Other than that I did my best and didn't make any other bad choices."
Both Salonen and Björlycke are next in action at the third EuroProTour event, the Skellefteå Open in Sweden on July 6th through 8th. Tattar will be there, too, but she will also be competing with Paige Pierce and Catrina Allen this coming weekend at the Tyyni—the largest disc golf event ever to take place in Europe.