Group of fresh faces litter the top ten

In the lead up to the Utah Open, there was much talk about the Disc Golf Pro Tour event being, perhaps, a venue for a first-time winner. It's still early, but so far it's two of the winningest pros in recent memory at the top. Paul McBeth leads the field at 10-under par 48, good enough for a 1072 rating; Ricky Wysocki shot a 9-under par 49, rated at 1064 and good for second place.
Playing together on yesterday's feature card, the two paced each other through the Mulligan's Creekside course full of hazards. Wysocki was able to save his round from going sideways early after picking up a bogey, his only one of the day, on the island hole 6. His next drive found OB over the right side fence on the long par 3 hole 7. After taking relief, Wysocki drilled a 60-footer to save par. From there he stayed clean and carded eight birdies to finish his round.
Round One 2018 Utah Open – Ricky Wysocki Putt – Hole 7
Even after some lengthy travel delays and unfamiliarity with the course, McBeth was dialed in on day one. A lone bogey came early in the round on hole 4, the second most difficult hole on the course, but by that point, he'd already recorded three birdies. McBeth finished his round at 100-percent from inside Circle 1 with a top-ranked birdie rate to go with it.
Watching round one unfold, McBeth and Wysocki appeared to effortlessly dissect the rolling greens, spelling danger for the rest of the competition.
New Names On The Comeup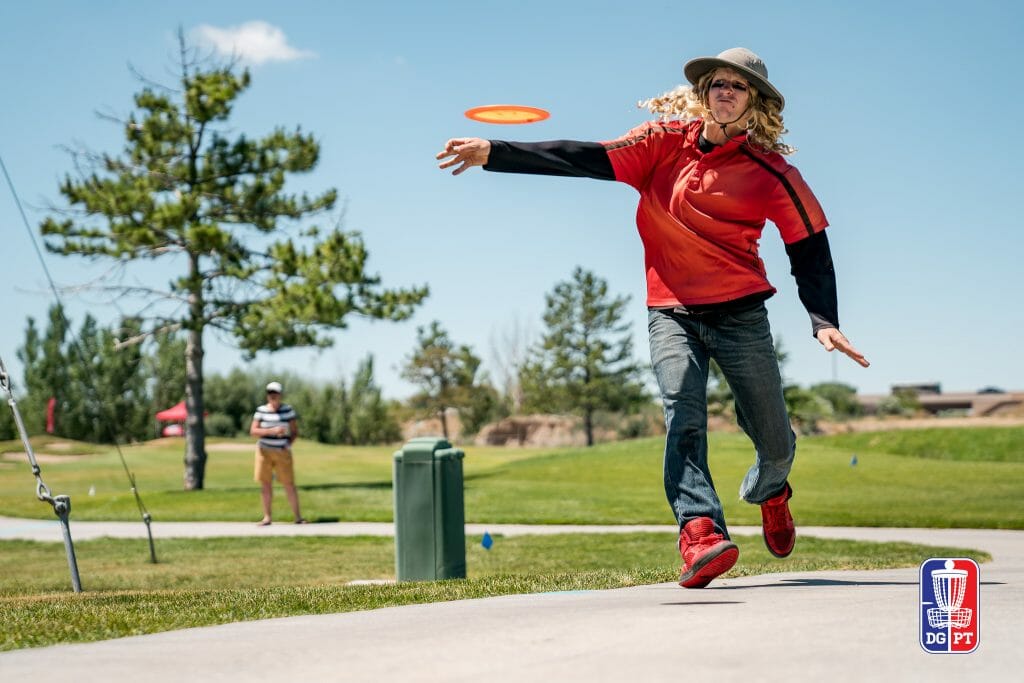 Coming as no surprise, Drew Gibson, Garrett Gurthie, and James Conrad are sitting in the top 10 — they've all been towards the top this season — but there will be some new faces on the top few cards.
Lewis Bitney proved at the Beaver State Fling that he can throw with the best of them, and he backed it up with a 1055-rated, 8-under par 50, good for solo third. Two Johnsons, Preston, and Ray, are tied for fourth and sixth respectively. Coming off a win in Colorado, Joel Freeman shot a 7-under par 51 and is tied for fourth.
Cameron Messerschmidt has been having a good first season with Prodigy Disc, raking up a number of quality finishes around the country. He was the only player to go bogey-free in round one. Sam Aldrich — a 1009-rated pro playing out of California — finds himself tied for ninth with five others at 5-under par 53. He had a 100-percent scramble rate on nine attempts and hit 95-percent of his Circle 1 putts.
Of the bunch, we're looking at Freeman for the potential to notch another impressive finish to go with his early season results.
Barela's Start
With four holes left to play, young gun Anthony Barela was in prime position to set the tone by posting an early hot score. Parring the final four holes would have had him hit 50, matching the round one hot score from last year's Utah Open and tied for third in 2018. Until that point, Barela had racked up nine birdies to two bogeys, and by all appearances, a sub-50 round at Mulligan's Creekside was well within reach. His bid started out well enough with a birdie on the 651 foot par 4 15th, but then the wheels came off. Three OB drives on the next three holes resulted in bogey-fours on each. In the end, Barela finished the round with a 5-under par 53 in a tie for ninth place.
Two immediate observations to take from how this played out are that the OB at the Utah Open seems to be as demanding as anywhere on tour and that the scenario demonstrates the benefits of years experience on tour when it comes to closing out rounds as strongly as you start them. For context, there were only five sub-50 rounds posted at the 2017 Utah Open, four of them by long-time tour veterans. Barela finished strong last year, posting 50s in rounds two and three after a 57 in round one on his way to a fourth-place finish. So far, he's already off to a better start.
Schusetrick Watch
Will Schusterick is back on his tour grind and looking to challenge the leaders for a full tournament. The Tennessean shot a 1029-rated opening round to be part of the bunch tied in ninth at 5-under par 53. He continues to get off the tee well, ranking third in fairways hit, but needs to clean up his putting. Hitting only 80-percent of your Circle 1 attempts will not find you a podium — by as we've seen this season roughly 85-percent can do it, and he's not far off.
Easiest And Hardest Holes At Mulligan's
As a whole, Mulligan's Creekside played 0.27 strokes over par, more than one stroke lower than last year's opening round.
The 546-foot par 3 7th was the hardest hole to par, and the only hole to average over the course average on the day. Bombers Anthony Barela and Paul McBeth were the only two players to birdie the hole.
Paul McBeth Hole 7 Drive Utah Open Round One.
Even with a mandatory more than two-thirds of the distance down the fairway, the 303-foot par 3 11th played lowest relative to par at -0.32. Most players are able to use the tall driving range barrier bordering the right side of the hole to easily make the mando and keep the disc close to the pin. Bitney was one of only six players to bogey the hole.
---
The lead card of McBeth, Wysocki, Bitney, and Preston Johnson tees off at 3:15 p.m. local time. You can follow along with the live scoring at UDisc Live, and video livestream begins at 4:00 p.m. eastern time on the DGPT YouTube channel. Check back in here at Ultiworld Disc Golf for recaps and coverage of the final round.