Van Dyken, Jenkins, and Allen all within striking distance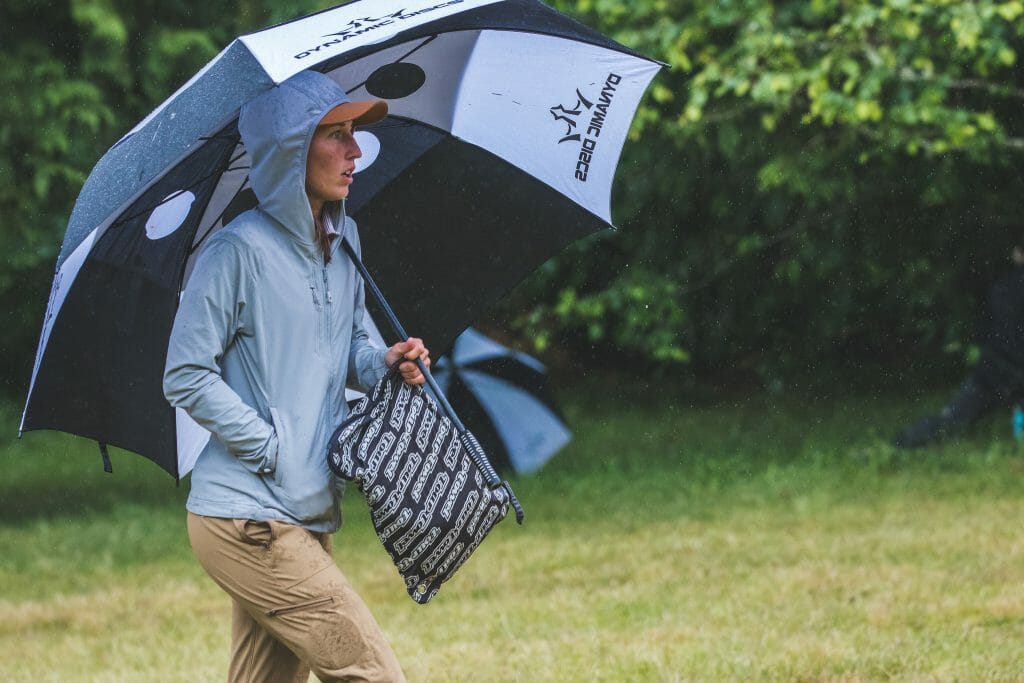 As the rains fell on the Beaver State Fling at the Riverbend East Course in Milo McIver State Park, the Open Women were fighting the elements and slippery teepads as much as they were battling each other.
In the end, Paige Pierce moved into the lead after a 972-rated 2-over par 63 third round took her total to 3-over par 186. Catrina Allen had been leading heading into Saturday's round but dropped to fourth after a 7-over par 68 brought her total to 6-over par 189. Vanessa Van Dyken and Valarie Jenkins both moved up to fill in second and third place respectively. Van Dyken posted the hot score of the day, a 980-rated 1-over par 62, while Jenkins was close behind carding her own 2-over par 63 mark. Both players are tied in second place at 4-over par 187.
Up by two at the start of round three, Allen immediately pushed her lead by a stroke with a birdie on hole one and was then blessed with another stroke the next hole when Pierce picked up a bogey.  
By 2018 Beaver State Fling standards, that's a hard margin to close, especially on the more difficult track. Unfortunately for Allen, the opening holes were about the last things to go right. Bouts of miscues and bad breaks meant Allen was scrambling on 14 of the 18 holes and only converted 50-percent of those.
With the leader position now vacant, Pierce inserted herself at the top of the leaderboard, and it didn't even take a monumental effort. Her 2-over par 63 score was tied for second-best round of the day, but Pierce left a lot of strokes out there. Pierce went cold on the back nine, going 5-over par on the backstretch with two double-bogeys and no birdies. The cold streak and inclement weather put a damper on the 3-under par round she had going through the front nine.
Van Dyken, the leader after round one, clawed her way back up to lead card with a gritty hot round. Her 80-percent scramble rate was best of the women recorded, and a circle 1 putting percentage in the 90s won't hurt either — she missed just two putts on the day, and never had to attempt one from outside circle 1, owing to her accuracy from the fairway. Van Dyken is also just one of three players in the field yet to record an OB stroke.
Jenkins has put together a quality tournament so far without drawing much attention, playing near mistake-free golf. She did can a highlight 49-foot birdie on the 197-foot hole 4 after her drive had her out of position. The veteran is leading the field in successful scramble percentage at 78-percent and ranks second in circle 1 putting through three rounds, hitting from inside 10-meters at a 94-percent pace.
Further down the leaderboard Sarah Hokom and Nicole Bradley are tied in fifth place at 11-over par 194. Lisa Fajkus is one stroke back in seventh place, while Zoe Andyke and Paige Bjerkaas are tied in eighth place at 16-over par 199. Sai Ananda rounds out the top 10 at 19-over par 202.
This PDGA National Tour event is bringing the drama on the final round, as the top four women are within three strokes of each other. Allen took the lead in round two on the West Course, which is the same course they'll play during the final round today.
Pierce, Van Dyken, Jenkins, and Allen are set to battle for the lead starting at 12:30 p.m. local time. You can follow along with live scoring at UDisc Live, and look for highlights on the PDGA Instagram account. Check back here at Ultiworld Disc Golf for recaps of the final round tomorrow.