The DGPT takes another leap of faith with a brand new event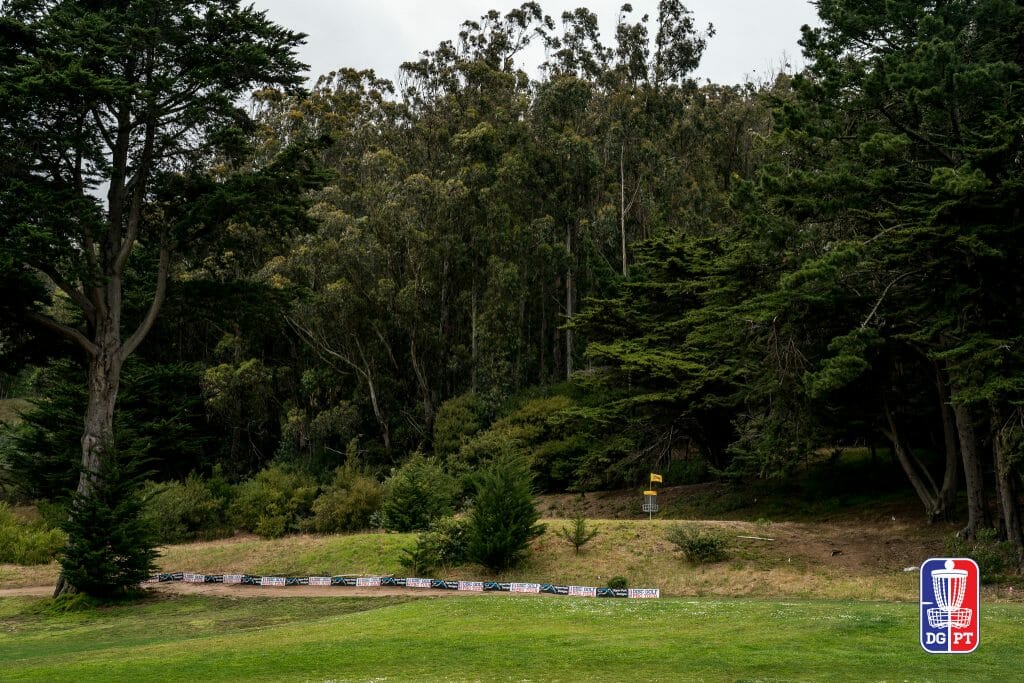 The Disc Golf Pro Tour, now in its third year of existence, has made a habit of introducing brand new events, courses and venues to the professional touring scene. This weekend we are treated to another such development with the debut of the San Francisco Open. The SFO will be held at the Gleneagles Golf Course just a short distance from downtown San Francisco, and given its location, this is one of the few times the top pros will be competing this close to such a large population center. Given that close proximity, the event has the potential to draw significant on-site crowds of spectators.
Storylines
With this tournament appearing on tour for the first time, we caught up with SFO tournament director and DGPT VP of Partnerships Sean Jack to get some details about the event.
The following interview has been edited for clarity and length.
Ultiworld Disc Golf: This is one of the few tournaments that is smack in the middle of a major city, what has that been like and is this something we should look forward to in the future?
Sean Jack: There are definitely benefits and drawbacks. I was able to raise a decent amount of money through personal experiences in business development and marketing, by selling discs at Golden Gate Park and other efforts. The disc golf scene in the area has been dying to have an event like this. The San Francisco Safari is 30 years old and sometimes we get a big name coming through like Barsby who is semi-local, and Golden Gate Park is fun but not pro ready. Having the tournament in San Francisco does have downsides- expensive housing for the players, course buy out, tee signs, food, equipment, parking, all of those things are more expensive in any major city, especially San Francisco.
UWDG: What was your experience working with Gleneagles Golf Course?
SJ: Gleneagles is in John McClaren State Park, which is the second biggest park in San Francisco. It was a 20-year effort to get the course installed. Initially, the city approved the park but some of the neighbors fought against it, but we eventually got the course installed by working with the ball golf course. Golf isn't growing anymore, and disc golf is, and so these calls are becoming easier now.  We crowdfunded the campaign to purchase the equipment and made our $10,000 goal in two and a half hours, and actually raised $20,000. We installed the course with some help from Gleneagles, but it was mostly done on our own. While it's still disc golf on a golf course, we tried our hardest to use peripheral tunnels and features to make it challenging for the best players in the world. The course is long, has lots of elevation and wind, and based on what I've seen so far in practice rounds it is kicking their asses.
UWDG: What would you say is the signature hole for the course?
SJ: Hole five. On most ball golf courses we do two-to-one, two disc golf holes for each ball golf hole. Five is the only hole that plays on an entire hole from the golf course; hole 3 but longer. It is 1,033-foot downhill par 4 with a view of the bay, and it's windy. It's pretty rad to see the guys throw downhill like that.
UWDG: Which is the toughest hole?
SJ: Some of the par threes, actually. There are a couple that are in the middle to upper 400- foot distance. Hole 18 is going to give people trouble, it's  719 feet uphill, and the basket is surrounded by the golf green and sand traps which are all OB.
UWDG: What sort of things do you have set up around the event?
SJ: As a TD, Steve Dodge has always been an inspiration to me, and I love making a festival atmosphere. We have 13 events in 6 days. We had doubles at Golden Gate Park, practice rounds, putting parties at our beer sponsor, golf all day, a kids pizza party, a $20,000 ace challenge. On Saturday we have a freestyle exhibition by Juliana Korver and live outdoor drone racing. There's a lot going on and I want to make sure people are getting their money's worth and having a great time.
UWDG:  What will the live stream look like for this event?
SJ: The goal was to have a booth onsite and have the players join in throughout the day as they wrapped up their rounds but unfortunately this location does not have the fiber optic cable laid to do onsite commentary and so it will be off-site. We can't turn back from what we did at Jonesboro; we have the technology, and having UDisc Live to do data analysis is unbelievable, doing our job and preparing beforehand was very helpful.
UWDG: What is the course layout like?
SJ: The MPO side is a 9,998-foot par 62, FPO is 9,044-foot par 66. The only difference is that the women's tees are shorter. The goal is to increase variance, and this course is meant to challenge everyone equally.
UWDG: How did you get involved in disc golf?
SJ: I started playing 10 years ago in Massachusetts at Borderlands State Park before I moved out to San Francisco, and I started like a lot of people do, at the grassroots running doubles leagues at Golden Gate Park, I was the tournament director for the San Francisco Safari. With my history in business and event marketing, the DGPT approached me and I have been the VP for Partnerships for over ten years now. Steve Dodge and I have been wrangling sponsors for the past three years. Last year we installed the Gleneagles course on the ball golf course, and it's a course that is meant to be challenging for pros. This course is meant to challenge Paul [McBeth], not me. I have always had this event in mind, and I have always wanted to bring the DGPT to San Francisco specifically, and we were lucky enough to get the spot between the Masters Cup and Beaver State Fling.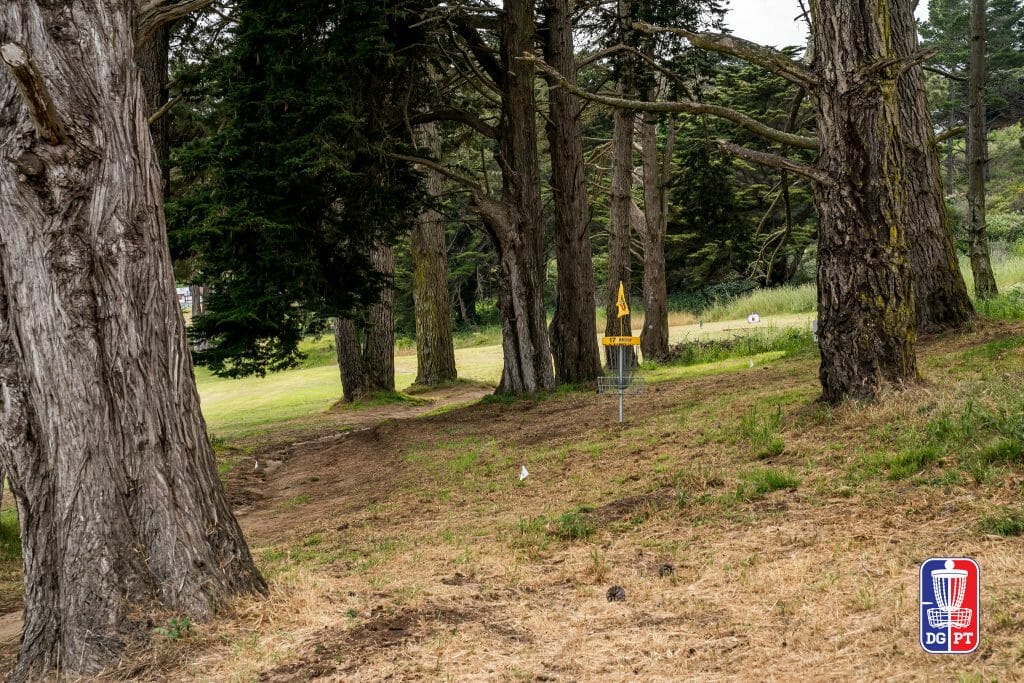 Venue and Course
Gleneagles Golf Course – Open, par 62 – 9,998 feet; Open Women, par 66 – 9,044 feet: the Gleneagles Golf Course will challenge the top pros for three straight rounds, one each day, today through Sunday. Located on some hilly terrain a short distance from downtown San Francisco, this course combines the distance we're used to seeing from disc golf courses built on ball golf courses, and the subtleties of elevation change and trees just off the ball golf fairways. Wind should play a factor on a number of the holes, while the two-meter rule is in effect, the ball golf greens play as out-of-bounds and the sand traps play as hazards. Take a look through the caddy book for detailed hole maps and plenty of other information.
How to Follow
Live scoring and stats available via UDisc Live. On hand for post-production next-day coverage is Jomez Pro and Central Coast Disc Golf. The DGPT will be providing updates via their Facebook and Instagram accounts, with event photos from Alyssa van Lanen. Live streaming of the Open division feature and lead cards are available on the Disc Golf Pro Tour channel, produced by SmashboxxTV, with the full shot-by-shot coverage of the Open Women's division feature and lead cards set to be broadcast in-full in the hour of the broadcast. Also, be on the watch for highlight footage from the entire Open Women's division.
Extended Forecast
With the SFO taking place on a relatively open ball golf style course, and the moderate Pacific climate, the wind will be the main focus of the forecast this weekend. Gusty winds Friday and Saturday may prove challenging for players ahead of the final round on Sunday. A pesky upper-level low-pressure system will also bring a chance of showers on Friday.
Friday:
8 AM: 55° with southwest winds gusting to 15 mph. Isolated showers possible.
2 PM: 59° with southwest winds gusting to 20 mph. Isolated showers possible.
Saturday:
8 AM: 52° with northwest winds gusting to 20 mph.
2 PM: 59° with west winds gusting to 25 mph.
Sunday:
8 AM: 53° with southwest winds around 5 mph.
2 PM: 61° with southwest winds between 5 and 10 mph.
With a westerly wind component in play for every day of the event, the finishing hole at Gleneagles Golf Course may play a bit more challenging. The westward facing par 4 18th measures in at 567 feet for the Open Women and 719 feet for the Open division, and plays uphill back towards the clubhouse. It features several OB areas in the fairway and a headwind, plus the uphill elevation change, may make it a bit more difficult for players to navigate to get the birdie.