Logjam at top sets up exciting finish at golf course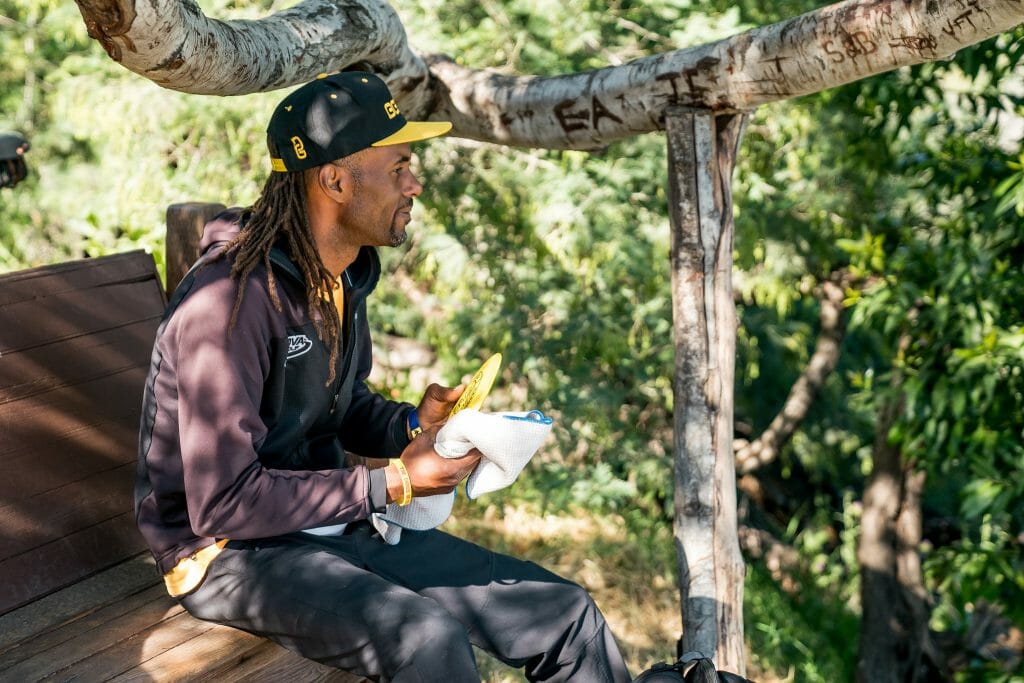 Here's some editorializing: National Tour events are more fun when no one is dominating. Masters Cup has so far lived up to this billing.
Josh Anthon may lead the pack after two rounds at DeLaveaga Disc Golf Course with a 15-under, but he is only one stroke ahead of Ricky Wysocki and Philo Brathwaite who sit tied in second at 14-under. Noah Meintsma continues his strong tournament showing staying put in fourth, two strokes off pace. Nate Sexton moved up to fifth.
Anthon put together an exceptionally solid, 1052-rated round, despite hitting only 84 percent of his circle one putts. You don't have to be perfect from 30 feet and in if you connect on half your putts from circle two though. Anthon had two big birdies from 40 feet and, more impressively, a 50 foot par save on I-5. His scramble rate of 89 percent was best of lead card and limited his bogeys. He finished 8-under par 64 for round two.
After the big first round from Wysocki, he'll be disappointed with himself for a 4-under par round. He was uncharacteristically under 90 percent on his circle one putting and also landed only one putt from circle two. We may be talking about things much differently, however if he hadn't taken a double bogey on hole 18. On the final six holes of the 24 hole layout, including the 18th, Wysocki went 1-over par. Anthon went 1-under.
Brathwaite is staying on top card thanks to ranking in the top ten in fairway hits, parked shots, birdie percentage, scramble rate and circle two putting.
Dylan Evans Watch
Hometown hero and aspiring candidate for Cinderella story Dylan Evans fell off his impressive day one pace and finished the second round in a six way tie for eighth with Gregg Barsby, Jeremy Koling, Paul Ulibarri, Austin Hannum and Bradley Williams. Evans followed up his 9-under showing on day one with a 997-rated even round on his second whack at DeLa. 
McBeth Corrects
After struggling somewhat on day one, Paul McBeth put together a much more McBeth-like second round. The defending Masters Cup champion put down a 1036-rated, 6-under effort and into up to a four way tie for nineteenth along with Simon Lizotte, Alex Russell, and Kyle Crabtree. McBeth's second round was an improvement on his so-so round 1 in every statistical measure. It might be too little too late, though.
Hole 13: Dream Crusher
Hole 13, aka "I-5", the 550 foot par three, was the toughest for both divisions. The men played it .73 strokes over par, the women at 1.55 strokes over par. Not a single player birdied it on day two in either division. Both divisions saw plenty of eponymous fives, though,
Clean Sheets for McMahon and Doss
Eagle McMahon shot the hot round on day two, carding a bogey free 9-under, 1059-rated lap around DeLa. Nate Doss shot a clean 8-under round. Doss is tied for sixth, five out of the lead. McMahon is tied for 14th at 8-under par. 
Two Aces in Two Days
Alan Wagner splash landed hole 3. Wagner may be sitting in 51st, but aces are awesome and he leaped 24 spots on Saturday.
The Open lead card of Anthon, Wysocki, Brathwaite and Meintsma tees off at 2:30 p.m local time and will be playing the DeLaveaga Golf Course. You can follow along with live scoring of their round at UDisc Live.