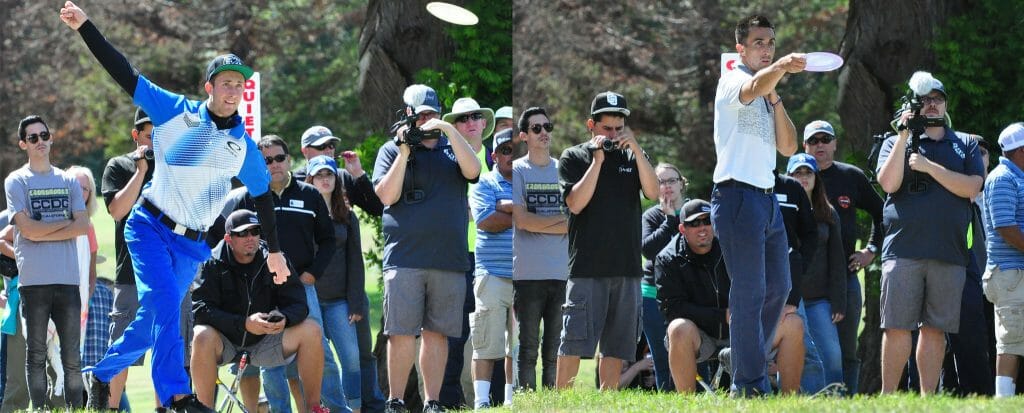 We're using this weekend's Santa Cruz Masters Cup at the beautiful and historic DeLaveaga Disc Golf Course as a reason to rewatch the 2016 version of the PDGA National Tour stop. More than 300,000 of you out there have also watched the final round so I invite you to run it back as well.
Taking it back two years, Paul McBeth was the reigning back-to-back-to-back-to-back PDGA Pro World Champion and coming off a year in which he won three NT events, four PDGA Majors, and the United States Disc Golf Championship. That haul included the 2015 Masters Cup. In fact, McBeth had won every Masters Cup since 2012.
McBeth was the man to beat and everyone knew it. And the target on him had probably never been larger. Going into the season, McBeth got the disc golf world talking after a feature in the LA Times had some spicy quotes, including some pointed at his regular lead card mate Ricky Wysocki.
So let's return to the 2016 edition. It was the first year the final round moved to the DeLaveaga Golf Course on a new 18 hole, more spectator-friendly layout that retained some of the rollaway potential that is signature of the disc golf course.
The coverage was slightly different than we've become accustomed to, as Terry Miller (The Disc Golf Guy) presented an almost 90-minute long cut, allowing more breathing room and atmosphere than many next-day videos do. Wysocki joined Miller for co-commentary.
As the leaders teed off on the final day, McBeth was up one over Wysocki, and Santa Cruz's own Nate Doss and DeLa roller-ace legend Gregg Barsby joined them on the top card. McBeth and Wysocki had separated themselves from the field after shooting 1065 and 1072-rated second rounds respectively.
---
Right off the bat, Wysocki takes an unfortunate bogey on hole 1 after missing a comeback putt for par. On the commentary, he chalks it up to some early nerves. McBeth takes a two-stroke lead and looks to be in prime position to collect his fifth consecutive Masters Cup victory.
The pair basically matched each other shot for shot through most of the front nine, neither taking an advantage.
Hole 8 is where things start to get interesting. McBeth, still up by two, tries to play up the middle on a low-ceiling shot with a cart path playing OB inhibiting the landing zones down the fairway. His shot settles on the cart path and now he's throwing his third with no real chance to par. He finishes with a bogey.
After seeing the OB stroke from McBeth, Wysocki tries to play safe but throws directly into the low ceiling early. It looks like he's rolling straight OB and won't be able to pick up that stroke from McBeth, except this happens:
Wysocki is able to save his par from there, cutting the lead to one.
On the next hole, even watching the footage now, you can feel the momentum building. Wysocki throws first off the tee and plays wind dummy, getting knocked onto the OB golf green situated in front of the basket, a chance for McBeth to retake the lost stroke. McBeth, however, does not seem to take any wind reads from his card mates and also gets knocked onto the golf green on an aggressive drive. He is only about 50 feet ahead of Wysocki, and still 50 feet from the pin.
Stepping up first on the backside of the golf green, Wysocki lines up a run at the basket, dropping his putting arm low and following through high, guiding a 100-foot par save into the chains. A look over to McBeth and an excited rundown has it looking like Wysocki might tie it up.
McBeth takes a slow confident walk to his lie, stares it down, smushes his foot into the golf fringe, and spins in a 50-foot par save. The crowd erupts, McBeth exchanges his own look with Wysocki and it's obvious the back nine is setting up for something special.
Unfortunately for McBeth, he responds on hole 10 by clipping a tree on his drive and collecting a par to Wysocki's birdie. The score is tied.
On the par 4 hole 12, Wysocki takes the lead for the first time. McBeth finds himself in a tricky spot off his drive and his approach leaves a bit of meat on the bone. He clanks an inside-the-circle putt for birdie. Wysocki does not, connecting on his three. Wysocki is up one.
McBeth again finds himself in trouble on a par 4. His drive goes out of bounds on hole 14. Wysocki is playing his approaches safe with the basket situated on a dangerous green. Down one, McBeth does not have the luxury and needs a putt from at least 40 feet to save par. He does. Wysocki drops in a par and remains in the lead.
Into the final stretch of holes, it seems like Wysocki is now in control and McBeth is the one who needs to find the breakthrough, as Wysocki is refusing to make mistakes. Off his drive on 15, that didn't look like it was changing. A 430-foot par 3 with a bunker and OB grass near the pin, Wysocki overthrew the basket on a big hyzer but stayed safe. McBeth stuck his drive on the edge of the grass for a 15-foot look at birdie. In something rarely seen, Wysocki's comeback for two draws no metal and lands directly in the nearby bunker. A tap-in bogey. McBeth easily birdies. Just like that, a two-stroke swing has McBeth up one with three to play.
Stepping up to 17 with a lead, McBeth was in a holding pattern. A narrow landing zone, some large trees, and an elevated basket saw McBeth play a safe tee shot, landing 70 feet short for a pitch-up par. Wysocki made a move. Playing a little more directly toward the basket, Wysocki found himself just outside circle one, still facing a precarious putt. Rising to the occasion, he runs the birdie look, connecting on the elevated basket to tie it up going into 18.
All that was left for the world's two best players was a downhill 485-foot par three with water down the left side and behind the basket. Wysocki takes the wide route right, an easy par if he wants it. McBeth lines up a straighter shot, attempting to set-up a decent chance at a tough birdie. He lands outside the circle, but closer than Wysocki who is sitting around 70 feet out.
McBeth has been putting well, having hit chains from similar distances already this round. If he was a player in NBA Jam his clutch number would be green. Even with the score tied and Paul 40 feet away, Wysocki is thinking he has to hit his putt to force a playoff. He runs it, he senses it midair, the disc hits center chains, he's already running it down before the disc is in the basket.
What is this high stepping he's doing? He looks like a dinosaur.
Wysocki has again taken the lead. McBeth steps up, not unlike hole nine. He's been feasting from this distance, and out of his hand it looks good. Putting up to the basket perched just a bit higher on a ridge, his Aviar is tracking beautifully but, just never drops, hitting the top metal housing.
There will be no playoff. Wysocki wins.
---
Not only did Wysocki end McBeth's four-year title run at the Masters Cup, he would also go on to end his four-year world championship run later that year.
The 2016 Masters Cup can now be looked at as the place where the wave finally broke. Wysocki had already at this point won Majors and NTs, but McBeth was dominating and didn't seem to be letting up. For lack of a better term, Wysocki was the bridesmaid.
Just listen to the way Wysocki talks throughout the round. Listen to Paige Pierce's interview on hole 14. He was an underdog. McBeth was expected to win. He always was at these big tournaments. And who was to argue?
Since the 2016 Masters Cup, Wysocki has won four Majors, four NTs and four Disc Golf Pro Tour events, including the last two Pro World Championships. McBeth has won one Major, four NT, and two DGPT events.
With neither Wysocki or McBeth's 2018 living up to the lofty standards they've set, will the Masters Cup again be a turning point in two Hall of Fame careers? Or will 2018 be someone else's coming out party?