We talk how Gibson got started in disc golf, the 2018 GBO and more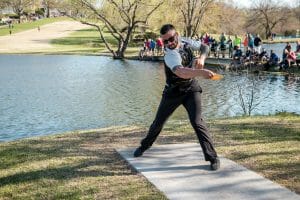 Drew Gibson is a lot of things, let's list them. He is:
Insanely talented

Talkative

Friendly

Competitive

Young

Controversial
Gibson is known for his monster drives, pure form, and ruffling some feathers along the way. The 23-year-old from California has drawn the admiration and ire of the disc golf community since he burst onto the scene in 2013. Never once has Gibson's talent been in question, and his 2018 season is off to a remarkably hot start. We got in touch with the man behind the booms, and here's what he had to say:

Ultiworld Disc Golf: How did you start playing disc golf?
Drew Gibson: My dad's friend and our neighbor played and I started playing with them. They had a bunch of discs and they let me use them.
UWDG: What was your first course?
DG: Shady Oaks. It's still my home course and it's not a championship level course, but it's a lot of fun.
UWDG:  What was it like for you to jump into MPO and start touring?
DG: Well when I came in second at The Memorial playing amateur in 2013, once I got back to California the guys kind of bullied me into playing Open. The TD at the San Francisco Safari asked if I was going to play Open and then told me he would pay my entry fee if I played Open so I did. I'm a firm believer that if you play up you play better. Even as a kid I was playing a lot with Josh Anthon who at that point was the number one player in the world so I was already kind of used to playing with that sort of competition.
UWDG: Speaking of Josh Anthon, could you talk a little about your relationship with him?
DG: He's been my best friend in disc golf since I started playing, we are always and have been at each others' side. We would play together after I got out of school, and I caddied for him at Worlds. We are probably closer with one another than we give ourselves credit for. Whenever I have a question or need advice on something it's my Dad, Josh, and Derek Billings who I talk with.
UWDG: You're off to a hot start this season, what do you credit that to?
DG: I'm feeling very comfortable with Innova discs right now. I think my performance this season reflects that. I appreciate the opportunities that Dynamic Discs afforded me and they do an incredible amount for the sport, just look at the GBO. I have nothing but respect for DD, I always speak highly of them.
UWDG: Can you talk a little bit about the controversy around hole 16, round 2 at the GBO?
DG: You know, there's a difference between when you're playing with your buddies, a casual round, and when you're playing with five grand on the line. All across the course there were painted lines and ropes but not on the island at 16. Nobody is trying to call OB on one another out there, we're not trying to screw one another over. The goal of the hole is to hit the island, not just get close and Eagle [McMahon] didn't make the island.
UWDG: What do you think could be done differently to avoid that in the future?
DG: I think just painting lines or putting down string. On a hole like that so much can change with the water, wind, rain, all of that. I think putting down a line would solve a lot of it.
UWDG: When did you first realize you were capable of playing at the level you are right now?
DG: I think in 2014, my first real touring year when I came in third at The Memorial I kind of thought to myself, "wow! I can do this, I have the ability to be one of the best." You know, growing up in California I played with lots of talented players, but being 17 and playing with Nate Doss and Paul McBeth was an incredible experience and gave me the confidence to know I could make a mark here. I've been on the road touring for four years now and I don't necessarily feel like a young-gun anymore. I look at guys like Eagle McMahon and think, "I was that kid not that long ago."
UWDG: What is the strongest part of your game?
DG: Control. I can throw all distances accurately. I can throw 600 feet or 100 feet accurately and with control. I think I have control over all the shots.
UWDG: You just got sponsored by Grip 6 belts, can you talk about how that happened?
DG: It's a funny story, I posted on Instagram and asked at the bottom, like, "what do I have to do to get sponsored by you, Grip 6?" And they replied and we're setting something up. I see them as a company that is really trying to get involved with the sport and it was kind of funny how it worked out like that.