They're Regitnig's & Perendi's, winners at last weekend's Bluebell Woods Open

Last weekend 91 players from 13 countries arrived in Dunbar, Scotland to compete in the Bluebell Woods Open. This second PDGA EuroTour event of the year pitted players against mostly tight, wooded fairways, and very few navigated them successfully. In both the Open Women and Open fields, the top two players clearly distinguished themselves from the rest, leaving other competitors to play in the dust of their battles for the top of the podium.
Estonian Maris Perendi made up what at one point was a 5-stroke deficit by finding the fairway and cashing in putts as previous leader Sini Lindholm of Finland struggled in the latter half of the final round. Perendi finished at 3-over par 186 and Lindholm at 7-over par 190 to take first and second respectively in the Open Women's division. Their closest competitor was U.K. resident Sue Underwood at 28-over par 211.
In Open, Sweden's Max Regitnig capped off a four-stroke final round comeback to tie U.S.-born Swiss resident Tony Ferro by winning a one-hole playoff. Both players ended at 21-under par 162. Icelandic 15-year-old Blær Örn Ásgeirsson—last year's surprise Bluebell Woods champion—and Chris O'Brien of the U.K. tied for third at 12-under par 171.
The Bluebell Woods Open takes place on a course that's been developed by Massachusetts native and tournament director Seamus Scanlon. His enthusiasm for disc golf has earned the support not only of Foxlake Adventures—the outdoor activity center that owns the land where the course stands—but of local government (the East Lothian Council).
"We started off five years ago as a nine-hole course," recalled Scanlon. "And the people who owned the land liked what they saw…and we've just been growing it from there."
With the course offering challenging but reachable holes that weave through a mature beech forest on what used to be an "old mansion estate"—one hole even plays over former "grass tennis courts from the 1890s" according to Scanlon—it's easy to understand why the course and tournament have found success.
Success, though of a different sort, was exactly what Perendi had in mind when she started her final round on those beautiful, hazardous, beech-studded fairways.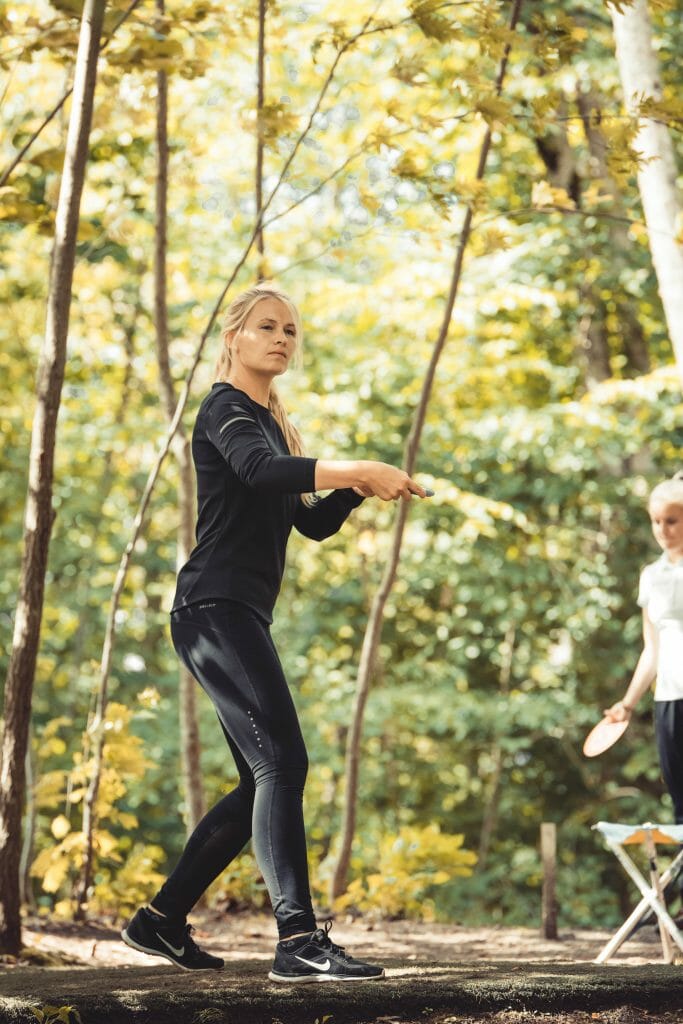 Though somewhat intimidated by Lindholm's 2-under par 59 second round performance (the best round of any player in the division all weekend) and three-stroke advantage, Perendi was still sure of one thing: "I really, really wanted to win the Bluebell Woods Open."
However, things looked bleak for that dream 11 holes into the final round, with Lindholm having expanded her lead from three to five strokes.
"I thought she [Lindholm] had a safe lead already, and I felt that there was not much that I could do to beat her," Perendi said. "She just seemed to be so confident and determined to win."
"And then," in Perendi's words, "everything changed. I got my putting back. I managed to get a few birdies and that encouraged me to keep trying. At the same time, Sini was struggling to stay in the fairways on those wooded holes, and she added a few double and triple bogeys to her scorecard."
The turn in fortunes meant that by the fifteenth hole of the round, Perendi had demolished her five-stroke deficit and suddenly had a slim one-stroke lead. By staying one stroke under par on her next three holes, while Lindholm shot a triple-bogey assisted 3-over par in the same span, she secured the victory.
Eventual Open champion Regitnig didn't go into the tournament with hopes quite as firm as Perendi's. Having spent most of his time playing volleyball rather than training for disc golf in the offseason, Regitnig admitted, "to be honest I wasn't too sure where my game was at."
After shaking off some of the rust in his first round, the 968-rated Regitnig moved to second place after a 991-rated, bogey-free, 8-under par 53 second round. He was four strokes behind the 997-rated Ferro, who had shot a pair of 8-under par 53s to start his tournament.
However, it wasn't all easy going for Ferro early on.
"On Saturday I tore my thumb open on my throwing hand, and pretty much every time I held a disc it was some pretty intense pain," Ferro explained. "I tried to forget about it and just play my game, but I would be lying if I didn't say it was in my head."
With the now rust-free Regitnig's renewed confidence and Ferro's injury affecting him both mentally and physically, the stage was set for a comeback.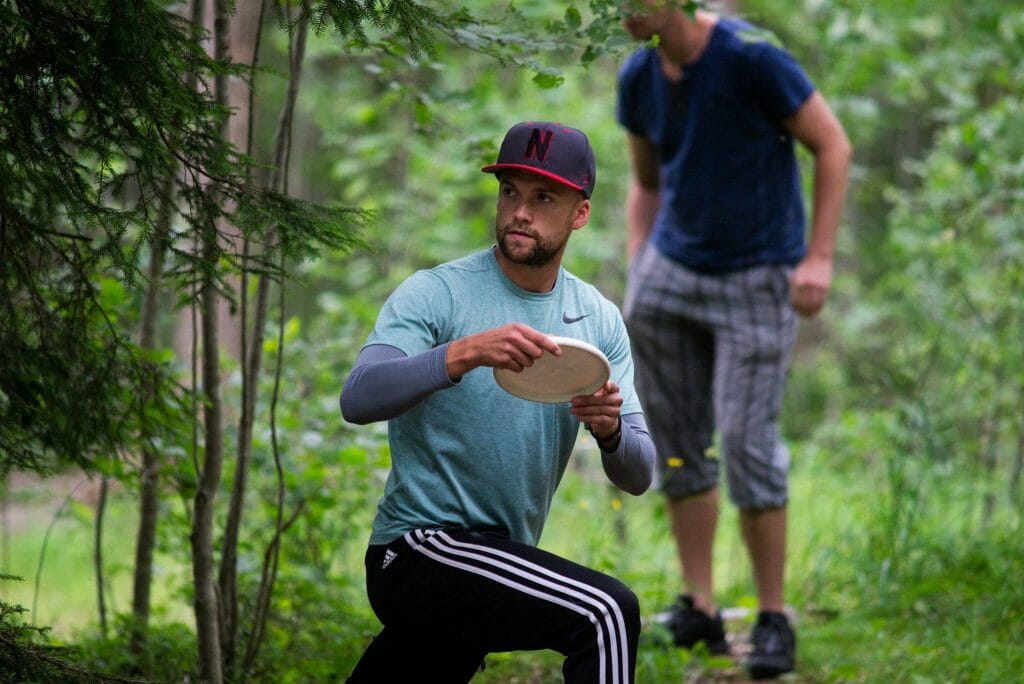 "The turning point in the final round came relatively early," Regitnig said. "Both of us matched one another for the first three holes but over the next seven holes, I made up five strokes and had the lead."
Regarding the same stretch, Ferro commented that he "started having some grip issues and ended up with a couple errant approaches," and that "Max definitely took full advantage of those moments."
Ferro righted the ship and was eventually able to make up the stroke difference to tie the score. After both players tapped in birdies on hole 18, it was on to the playoff.
"It being the first time of the tournament playing with a gallery might have caused a few jitters," Regitnig mused about the playoff hole. "Both of us miss our lines but put our approaches close. An unfortunate chain out from Tony gave me the green light for my first B-Tier win."
The next PDGA EuroTour Event is the Kokkedal Open taking place May 19-20 in Kokkedal and Hillerød, Denmark. The more prestigious PDGA EuroProTour kicks off this coming weekend, April 20th through 22nd, with the PDGA A-Tier RE/MAX Open in Vierumäki, Finland.