Teenager's mental fortitude draws praise from veteran pros after Battle At Bluebell Woods triumph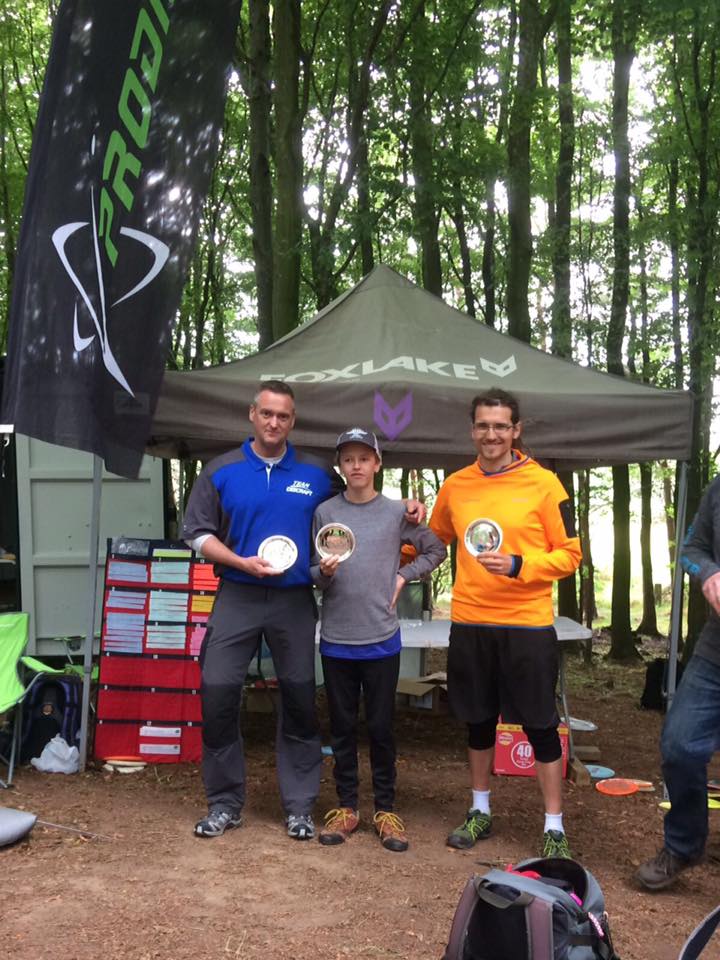 The tall, shady trees and eponymous flowers that provided the backdrop for the EuroTour's Battle at Bluebell Woods in Dunbar, Scotland, brought a storybook quality to the event. So it followed naturally, then, that an unlikely hero would rise to the top and enjoy a coming out party as a possible future star of European disc golf.
Blær Örn Ásgeirsson, all of 14 years old and the lowest rated player in the division, traveled from Iceland to take on an MPO field which featured power thrower Bert Brader of The Netherlands and the cerebral Tapani Aulu of Finland. Despite surrendering around 80 ratings points, decades of experience, and many kilograms to each player, Ásgeirsson found himself tied with Aulu for the lead entering the third and final round, with Brader lurking one shot off the pace.
Still, the teenager did not yield to the pressure.
"We were warming up before the third round and chatted a lot [with Ásgeirsson]," Aulu said. "And one thing I asked was what he was planning to shoot on the last round. He said he should get a 51 if he gets everything going. So I told Bert Brader that we need to match a 51. Of course it was all in good fun and we laughed about it together. And what do you know? Blaer ended up shooting 51, me 52, and Bert 53."

Indeed, Ásgeirsson's well-planned and well-executed 8-under par 51 final brought him to a 16-under 161 for the tournament, which was good enough for his first career A-Tier win in the Open division. Aulu battled through an ankle injury and a poor second round to finish with a 15-under par 162, while Brader rounded out the podium in third place with a 14-under par 163. Ásgeirsson, who came into the weekend rated 901, shot a 1000-rated second round and a 1002-rated final to complete his stunning victory.
"To play with Tapani and Bert is no doubt the most fun thing I have ever done — really nice and cool guys," Ásgeirsson said. "The final round was the most fun round I have ever played, and I really learned a lot from it. You can really learn a lot from playing with someone who has more experience than you, so playing these rounds definitely made me a better player."
Brader, a 30-year veteran of the game, was gracious in defeat and heaped praise on his young counterpart.
"Losing to a 14-year-old doesn't bother me at all," Brader said. "I personally think he is a world champion in the making. Losing to somebody who almost makes no mistakes and sinks every putt from 10, 15 meters — sometimes more — feels for me like a privilege to look at. His positive attitude is really gonna make him a great player."
Ásgeirsson's putting was a highlight of the tournament, but his demeanor and approach to the game is what really sets him apart from many juniors — not to mention Open players — and is what should propel him to future success.
"So his greatest asset is the putt for sure — it's amazing," Aulu said. "I consider myself one of the better putters out there, and he was better. And he has a great attitude. Doesn't get bothered by mistakes. They happen, you brush them off, go to the next shot. He also doesn't try things out of his reach. I mean, he has a reasonable plan for each hole."

Tournament Director Seamus Scanlon was also impressed. "The young man from Iceland is very reserved, so it's hard to say," Scanlon said. "He's either blissfully unaware of the pressure, or a mental giant. One of the two is certain. I followed the last round on Sunday to watch as this 90- rated 14-year-old slowly tightened the screw over 18 holes on two seasoned disc golf veterans. It was magical."
It certainly sounds like the youngster is not only talented, but also putting in the necessary work to build his game.
"My parents gave me a portable basket as a summer gift, and I started putting almost every day and we took it with us wherever we went," Ásgeirsson said. "When I was not playing on a course I was outside putting, at least until my parents called me in to do my homework. I practice my putts for an hour a day at least five to six days a week. When I take my dog for a walk, I take a driver and a midrange to throw. During summer in Iceland it's bright almost 24/7, so I can play from morning until late in the evening."
Battle At Bluebell Woods Video
In the Open Women's division, British legend Sue Underwood cruised to her 24th career win with a 17-over par 194, beating second place finisher Emily Wilsdon by 31 shots and third place  finisher Sian Lee by 33. This is Underwood's second EuroTour victory of the season, as she also won The Isle of Mull Classic.