Pierce maintains lead with tight battle happening behind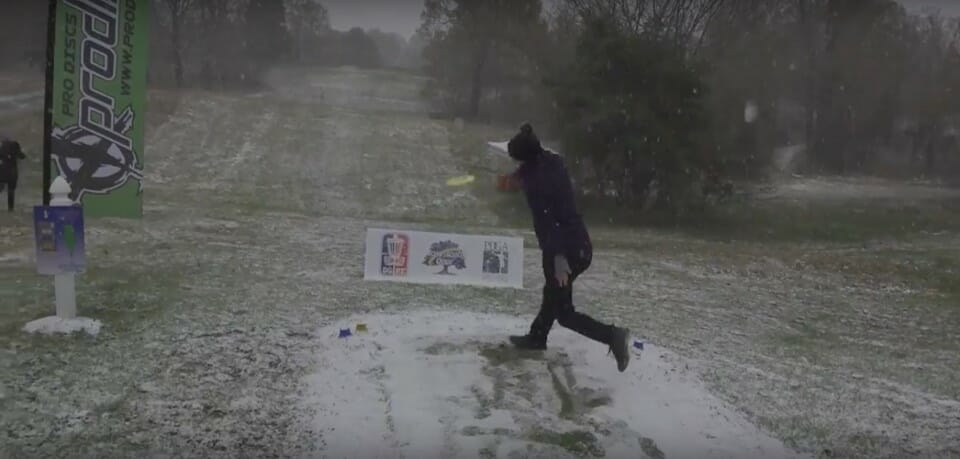 Scoring opportunities in the Open Women's field were stymied by an unseasonably cold Arkansas spring day at the Jonesboro Open Saturday. Snow fell throughout the early morning tee times, temperatures hovered in the 30s and no competitor responded with a hot round to heat up the day — not even any lingering warmth from Paige Pierce's scorching hot opening round was able to thaw out the division's scorecards.
Thanks to that massive opening round, Pierce retains a cushy six-stroke margin at an 8-under par 124 total heading into Sunday, despite shooting 16 strokes worse over her second round. Pierce wasn't alone in her weather-related struggles, as the 977-rated hot round, a 2-over par 68 belonging to Catrina Allen, was still 18 strokes off Pierce's blistering start. Allen was at least rewarded with sole possession of second place at 2-under par 130.
Sarah Hokom, at 3-over par on Saturday and 1-under par 131 for the tournament, will retain her spot on the lead card in third place. Jennifer Allen's 3-over par 69, moving her to 1-over par 133, was enough to replace Madison Walker in the top four. She bagged four birdies along the way, tied for most on the day with Hokom and Jessica Weese.
Second, through fifth place, where Walker currently sits, are separated by only four strokes, whereas sixth place is 16 strokes off the lead.
Fairways Not Too Fair
A quick glance at UDisc Live statistics points directly towards the problems those difficult conditions caused for throwers early on Saturday.
Fairway hits by the field also dropped by 11 percentage points to 62-percent, with only Lisa Fajkus' 77-percent rate registering above 70-percent. That was opposed to ten of the 15 players in the field at 70-percent or better on Friday. Birdies effectively disappeared and over-par marks on the scorecard skyrocketed to the tune of 22-percent.
Circle 1 putting remained steady round to round, but reaching circle 1 and 2 in regulation were halved to 17-percent and 27-percent respectively from Friday's numbers. Go ahead and chalk that up to the conditions making accurate drives a rarity and errant approach shots on the expansive confines of the Disc Side of Heaven course.
A New Name
Christina Linthicum is most likely a name not known on the national scale. Two consistent rounds, however, have her sniffing a respectable top-ten finish. The Nederland, Texas native has not played much outside of her home state in the past but has a couple A-Tiers and PDGA National Tour stops on the horizon: a trip later this month to the Glass Blown Open. She looks like another woman to keep an eye on going forward.
Christina Linthicum personal post about her play
Names You Already Knew
Walker has her putter dialed in this weekend, drilling 90-percent or more of her circle 1 putts in both rounds, which makes her the only woman to claim that feat. And that's pretty impressive when wind gusts were hitting 25 miles per hour Saturday.
Kona Panis couldn't follow up an above-her-rating round on Saturday, dropping off the pace of the leaders and that, most likely, put her out of contention. Lisa Fajkus, who many observers pegged as a lock for a top-five finish going into the tournament, has yet to get anything going and remains outside the top ten after shooting well below her rating for two consecutive rounds.
Weese, a perennial contender for top-5 finishes, had a strong second round considering the weather, but unfortunately, when climbing out of an early hole a tournament of more than three rounds might be necessary.
---
The Open Women's lead card of Pierce, Catrina Allen, Hokom, and Jennifer Allen tees off at 9:00 a.m central time. You can follow along with live scoring of their round at UDisc Live, and watch select footage from the group included in the live broadcast of the Open Men's lead card at 4:00 p.m. eastern time on the DGPT YouTube channel.