Walker lands in second place after 965-rated opening round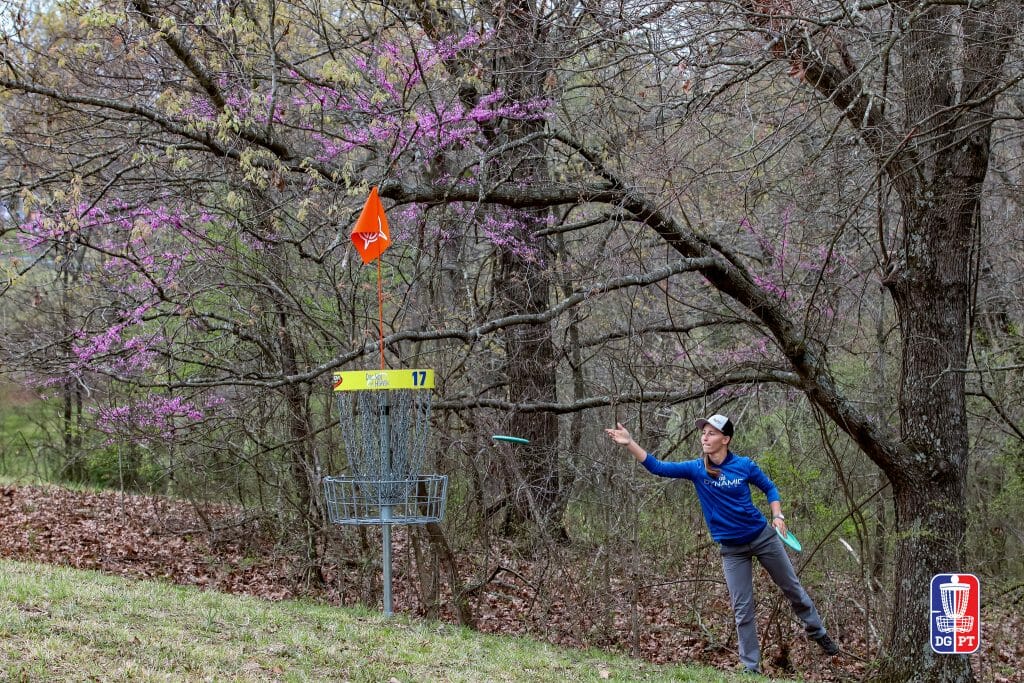 Great sports need great athletes, great athletes need great opponents, but in an individual sport like disc golf, the sport is as much about competing against oneself and the course as it is about competing against the field. In all facets, currently, Paige Pierce is undoubtedly outpacing all competition.
Paige Pierce's dominant early season pace continued at the Jonesboro Open, where she has a commanding lead. With an incredible course record 12-under par 54 first round rated at 1025, Pierce very nearly was in a league of her own Friday. The next closest opponent to Pierce, Madison Walker, posted an impressive 965-rated 5-under par 61 to take sole possession of second place.
Pierce started the day with a bogey, but after the first hole she hit cruise control and found herself carding birdies on 11 of the 17 remaining holes, and snagging a monstrous eagle on a 715-foot par 5 9th. Pierce finished out Friday with a division-leading birdie percentage of 67-percent accompanied by parking an astounding 28-percent of the 18 holes. That high birdie percentage was due in large part to her accuracy from the tee where she hit fairways at a 90-percent clip. That mark was second only to Rebecca Cox. Compared to Pierce's opening round at the 2017 Jonesboro Open, she improved nearly 30 percentage points in each cumulative stat category recorded.
While there was considerable disparity between Pierce's round and the rest of the field, second through ninth place is only separated by six strokes. With that slim margin behind Pierce every shot mattered. Walker vaulted into second place after carding six birdies on the back nine. Sarah Hokom and Catrina Allen each shot a 62 for a 4-under par 62 to end the day in a tie for third place.
After some early season success in Las Vegas and Arizona, Kona Panis again turned heads with a strong 948-rated 3-under par 63, finishing the day in fifth place. Panis was in line to finish much higher though. An errant OB drive, a missed scramble opportunity, and a missed circle 1 one putt led to a double-bogey on the difficult 818-foot par 5 18th.
The Open Women's lead card of Pierce, Walker, Hokom, and Allen tee off at 9:00 a.m local time. You can follow along with live scoring of their round at UDisc Live, and watch for footage from the group included in the live broadcast of the Open lead card at 4:00 p.m. eastern time on the DGPT YouTube channel.