Allen, Pierce, Fajkus round out the top four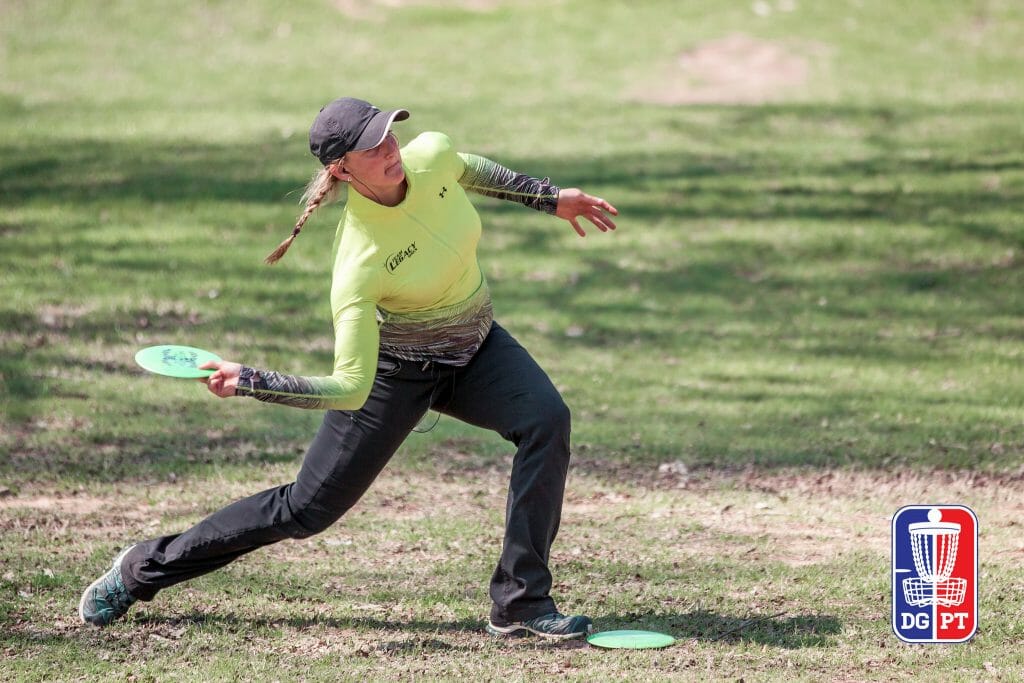 The second event in the Disc Golf Pro Tour circuit, the Waco Annual Charity Open, began yesterday with Sarah Hokom taking the lead in the Open Women's division.
Hokom finished the round at 1-under par 66 and holds a one-stroke advantage over Catrina Allen at even-par 67. Paige Pierce is in third place at 2-over par 69, while Lisa Fajkus rounds out the top four at 3-over par 70.
Hokom mixed birdies and pars in throughout her round, going OB only once, on the final hole after her upshot went out on the 492-foot par 4 6th. All four of her birdies came via parked shots and tap-ins. That accuracy was on display throughout the round, as she was rarely putting for par or birdie from outside five feet. According to UDisc Live's statistics, Hokom led the field in fairways hit, parked shots, reaching circle 2 in regulation and circle 1 putting.
Catrina Allen kept a clean card through the first 12 holes of the day, collecting four birdies, while consistently reaching the green with a chance for par or better and hitting all but two of her circle 1 putts. She had her first hiccup on the 609-foot par 5 18th, after missing her scramble attempt and a bid for par from circle 1. From there, her putting fell off as she missed five circle 1 putts on the final six holes. One thing Allen can hang her hat on as the tournament continues was her accuracy from the tee and fairway. She led the field, reaching circle 1 in regulation on half of the holes in round one; the next closest in the field was Shannon Prendergast, who hit circle 1 in regulation at a rate of 39-percent.
For much of the first round, it appeared as if Pierce would have another early deficit to overcome — much like at the Las Vegas Challenge earlier this season — but she overcame some early miscues with three birdies in the final five holes. In all three of those birdies, she hit circle 1 and converted her putts. True to her aggressive style of play, Pierce went for an eagle look on the final hole but went OB off the tee. Though, with a successful scramble to 38 feet, she was able to hit her circle 2 attempt for par.
Further down the leaderboard Stephanie Vincent and Jennifer Tasby are tied in fifth place at 4-over par 71. Ellen Widboom, in her first year of full time touring, is tied in seventh place with Prendergast in seventh place at 6-over par 73. Rebecca Cox and Jessica Weese round out the top 10 at 7-over par 74 and 8-over par 75, respectively.
Elsewhere in the field, three-time PDGA Professional World Champion Des Reading was unfortunately forced to withdraw during the first round due to injury.
The lead card of Hokom, Allen, Pierce and Fajkus tee off for the second of three rounds at 9:40 a.m. local time. You can follow along with live scoring at UDisc Live.