Eagle McMahon, Nate Sexton fill out the podium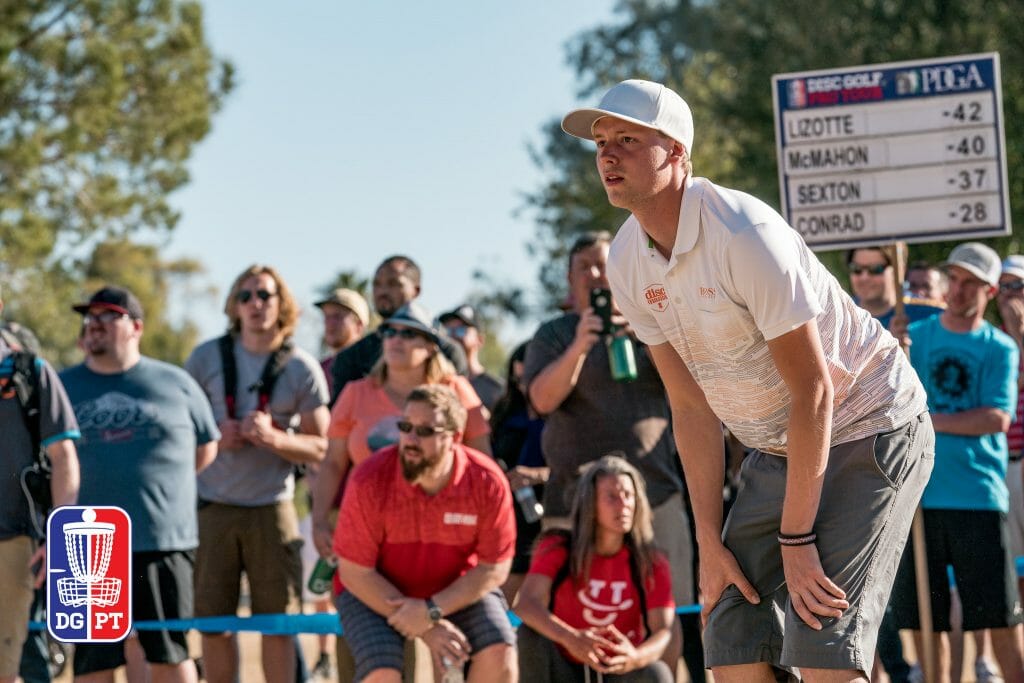 After plenty of close calls at past Memorial Championships, Simon Lizotte finally emerged victorious at the long-running early season event, now in its 30th year and kicking off the Disc Golf Pro Tour. For Lizotte, every aspect of his game was fluid throughout the event, which meant all the pieces had finally come together for him in a tournament known for slim margins of victory.
"The standards are just going up and up, so everything has to be working," Lizotte said. "At The Memorial, on those courses, I've been playing so well the last few years. I've been third, third and second the last three years and only like one or two strokes off each year. On courses like this, where I can pretty much throw a hyzer on every hole, then for me, it's all about the putting and my putting was just on all week. The whole week I felt confident and we know this game is all about confidence."
Lizotte averaged 1063-rated golf throughout all four rounds and after a 1088-rated third round that gave him a two-stroke advantage heading into the final day, where he only had to maintain his workmanlike pace of racking up birdies to stay ahead. He did just that during the final round at Vista del Camino Park finishing with a 9-under par 51, and a 43-under par 189 winning total.
"Pretty much any tournament we play nowadays the field is just packed with 20-plus 1000 rated players and any win feels amazing, whether its a Pro Tour, National Tour, Major it almost all feels like the same kind of caliber now," Lizotte said. "That being said, of course, it feels great. I don't know, its weird, it kind of just feels like my job so I'm not like super excited. I just feel like I did my job well finally. I'm happy. I'm happy that everyone's pleased, I'm happy that I played well, and everyone that works with me and I work for are happy with me now."
Eagle McMahon was a close second at 40-under par 192 after an 8-under par 52 final round. Nate Sexton finished third at 39-under par 193 after a final round 11-under par 49, which tied for the best round of the day. Ricky Wysocki finished fourth moving up three spots from the third card after a 9-under par 51 final round took his total to 34-under par 198.
Lizotte said having his Discmania teammate and McMahon, who had just won the previous event in Las Vegas, on his card and rooting him on for the final three rounds was invaluable.
"He was so supportive to me during The Memorial. It was really surprising for me to see and feel," Lizotte said. "It felt like he was rooting more for me than he was trying to win himself. I was feeling that from the second round on. He wanted me to win and he wanted us to have a good start together for the season."
McMahon said that after his Las Vegas Challenge win, all the pressure was off at The Memorial, which allowed him to play calm and relaxed, one hole at a time. For McMahon, it wasn't until the final round that that feeling went away slightly when he realized he actually had an opportunity to win back-to-back tournaments.
"It was a really cool experience following up my first NT win with another solid performance," McMahon said. "If I was to lose to anyone it was cool that I lost to Simon just because he's a good friend and we literally did the same offseason training so it just shows who is the most ready for the season right now."
Not only did the mutual support during the event help both players, but Lizotte and McMahon both credited the time they spent this winter in Switzerland training for the upcoming season for their early season successes.
"Discmania pulled the trigger in the offseason and sent us both to Switzerland for five weeks, so we were living together," Lizotte said. "We cooked for each other, or my like he cooked for me because I'm not a good cook. And we trained together and everything, strength training, coordination, speed, all the kind of stuff. We were pushing each other to our limits. It's great now to see that hard work pays off. It was great to see him finally capitalize on his chances and crumble like a cookie in the last couple holes."
"I cooked maybe five or six times," McMahon said. "I didn't think he wanted me to cook for him, but there were occasions where our coaches said today you have to make a certain meal. Usually, I made noodle type dishes. Pad thai, tacos…I think I'm a pretty good cook."
All that hard work, and vegan fare, made life on the course easy for Lizotte last week. The long-throwing German led the field in reaching circle 1 in regulation. Here's one of his most impressive park jobs of the final round, with Follow Flight courtesy of Jomez Productions:
He made the most of all those chances with a 92-percent success rate hitting circle 1 putts, and hit 40-percent of his chances from circle 2, which was good enough to rank seventh in the category. Lizotte was matter of fact when discussing his putting accuracy around all the treacherous greens at Fountain Hills, and Vista.
"Sometimes you just get those days when a 40-footer feels like a 15-footer," he said. "At that point you just do, you don't think."
But, he was a little more reflective about what winning the 30th Memorial Championship meant after coming so close for the past three seasons.
"This tournament has it's own kind of thing, its been around for so long and it's been a huge deal for many years," Lizotte said. "I remember being a kid and watching Ken Climo, Barry Schultz, Nate Doss, Avery Jenkins competing on the exact same courses and one of my dreams came true by winning this tournament, for sure."
Further down the final leaderboard Paul McBeth finished fifth at 33-under par 199. Seppo Paju, Noah Meintsma, Anthony Barela, Grady Shue and James Conrad all finished tied for sixth place at 31-under par 201. Paju jumped up 14 places to notch the finish after a 10-under par 50 final round, while Meintsma and Barela each moved up 11 places after matching 8-under par 52 rounds.
The Disc Golf Pro Tour heads next to the Waco Annual Charity Open in Waco, Texas beginning on March 15th.