McMahon in second, Sexton third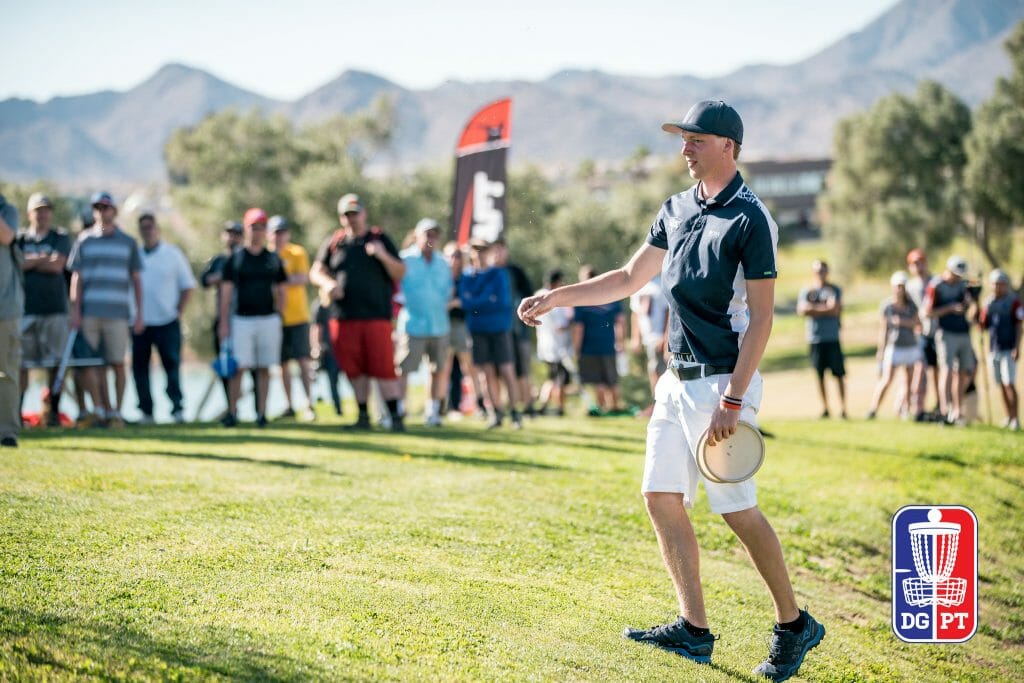 Simon Lizotte has not finished outside the top three at the Memorial Championship, since 2017. The closest he has come to victory was last year when he finished second, losing out to Paul McBeth by just one stroke. Yesterday, Lizotte took a significant step towards ending his drought of close calls.
Lizotte carded a 1088-rated 14-under par bogey-free third round at Fountain Hills. That mark put him in the lead at 34-under par 138, two strokes ahead of Eagle McMahon, who matched Lizotte shot-for-shot through the first two rounds. McMahon tossed a 12-under par 44 moving him to 32-under par 140. Nate Sexton shot a 12-under par 44 to move up 11 places to third at 28-under par 144. Those three will be joined by James Conrad on the final round lead card after his 8-under par 48 round moved him to 27-under par 145. Conrad gets the nod for the lead card over McBeth, whose 6-under par 50 round tied him with Conrad, due to his lower PDGA number.
Lizotte's move to the top was due in large part to his accuracy from the tee. He reached at least circle 2 in regulation on all but one hole on the day while reaching circle 1 at 61-percent clip. From there his putting was near perfect: he hit all fifteen of his attempts from circle 1 and hit three of six fro circle 2.
Were it not for two OB drives on holes 1 and 10, McMahon's scorecard totals would have nearly mirrored Lizotte's. McMahon was also 100-percent from putting from circle 1 and 50-percent from circle 2 while reaching circle 1 in regulation at 67-percent. McMahon was one of four players to card seven consecutive birdies.
Sexton's march to the lead card has been one of the most compelling stories of the event. After a difficult first round put him in 65th place, he got caught fire at Vista in round two, carding the hot round along with Conrad and McBeth to move up 51 places to 14th. Sexton hasn't carded a bogey, and only missed two putts from circle 1 since hole 15 in round one.
Grady Shue and Drew Gibson also made impressive moves up the leaderboard in round three. Shue birdied the first six holes en route to a 9-under par 47 that moved him up five spots to sixth place with a 26-under par 146 total. Gibson notched a bogey-free 8-under par 48 to move up four spots into seventh place at 25-under par 147.
Further down the leaderboard, the field was cut for the final round with 50-percent of the field, plus ties moving on. The line was between 5-under par 167 and 4-under par 168 and Thomas Tomaselli made the biggest jump to 5-under par to make it, moving up 35 spots with an 8-under par 48 round where he birdied the final seven holes.
The lead card of Lizotte, McMahon, Sexton, and Conrad tee off at 2:00 p.m. local time. You can watch the live broadcast of their round on the Disc Golf Pro Tour YouTube channel, beginning at 4:00 p.m. eastern time.