Panis hit the books and used some sage advice to complete the best performance of her young career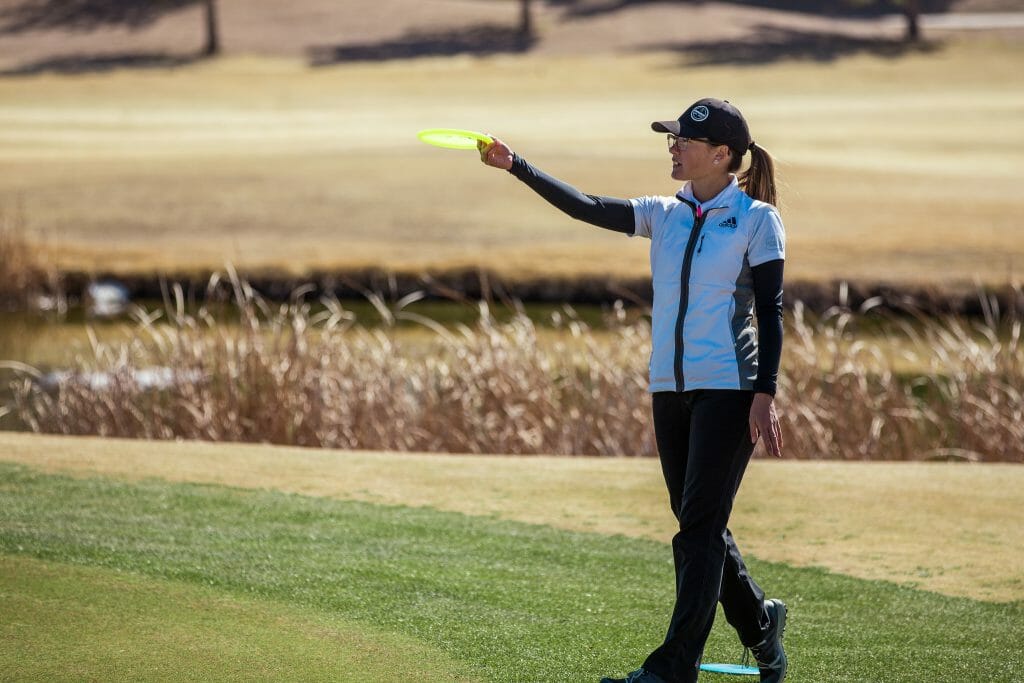 Kona Panis made an impression in the first high caliber event of the season, finishing sixth at the Las Vegas Challenge while averaging 950-rated golf, which is well above her current player rating. Quality play early on in the event, highlighted by a 982-rated second round at the Innova course, had the young, up and coming pro even make the jump to the lead card for the third round alongside world champions Paige Pierce and Catrina Allen. Panis is in just her second year as a pro and the sixth-place finish was the highest of her career at a PDGA National Tour event.
In an interview after the event, Panis relayed that a combination of offseason training and a new pre-tournament preparation routine, inspired by fervent notetaker K.J. Nybo, was largely responsible for the early success. For Panis, studying the caddy book at the Las Vegas Challenge, taking notes during her practice rounds and reviewing them before each round made a significant impact.
"Every night I studied the course and OBs and everything. I write down everything I want to do on that hole and when I practice it I change things as I go," Panis said. "But when it was tournament time I look at that notebook, and that's what I'm going to do. It's kept me from seeing, like Paige [Pierce] throwing a huge hyzer, and thinking 'oh, I can do that.' But no, I look at my notepad, this is what you're doing instead. Sticking to my game plan has been helping me with my mental state during rounds."
Besides hitting the books Panis said she received workouts throughout the offseason from fellow pro and trainer Hannah McBeth that focused on strengthening muscles specific to disc golf as a way to prevent overuse injuries in the long term. She also put in plenty of reps of field work to work on adding an element of consistency to her game that she lacked last season.
"I would, either every day or every other day, I would go to Ralph Lewis Park," Panis said. "It has a 9 hole course and it's perfect for upshots and short drives and field work. What I would do is one day I would do just putting for an hour, and next day I'll do just upshots, and the next just drives. So really I would just focus on one part of my game at a time, instead of just practicing everything at once."
Besides the physical preparation for the season, Panis credited some wisdom shared by Lesli Todd for a renewed mental approach to tournament golf. Panis and Todd were able to enjoy a number of rounds, and practice sessions together this winter and competed together in the NorCal-SoCal Team Match Play tournament in January.
"There aren't really many other pro women in my area, so I asked her if she wanted to get some rounds in," Panis said. "She's a very experienced veteran, and it was nice to play with a woman for a change."
"She's a very chill and supportive person to be around while playing," Panis continued. "I had a whole conversation with her, she said don't really let anyone get to you, just focus on your own game. And that was meaningful because when I first got into the pro game I had all these people trying to give me tips and change my form and it actually messed me up; messed with my mental game. And she said, 'at one point you need to figure out something that works and just perfect it.' And I have been, and that's the best tip you can really give anyone who has improved in the game and trying to get better."
Going into the Las Vegas Challenge Panis had some goals in mind: to make the cut and the top 10, and to shoot all her rounds over 900. With both of those accomplished, she's setting her sights a bit higher for this week's Memorial Championship in Scottsdale, Arizona, while still remembering to focus on just playing her own game and lean on the preparation she puts in before the event.
"I might raise my goals a little bit more. Maybe to get a top eight," Panis said. "I want to trust my game and instincts, and just play like I can and be confident. Hopefully, I can keep moving up and play with these top women every round."