A quick way to reference information about the season's high-profile events.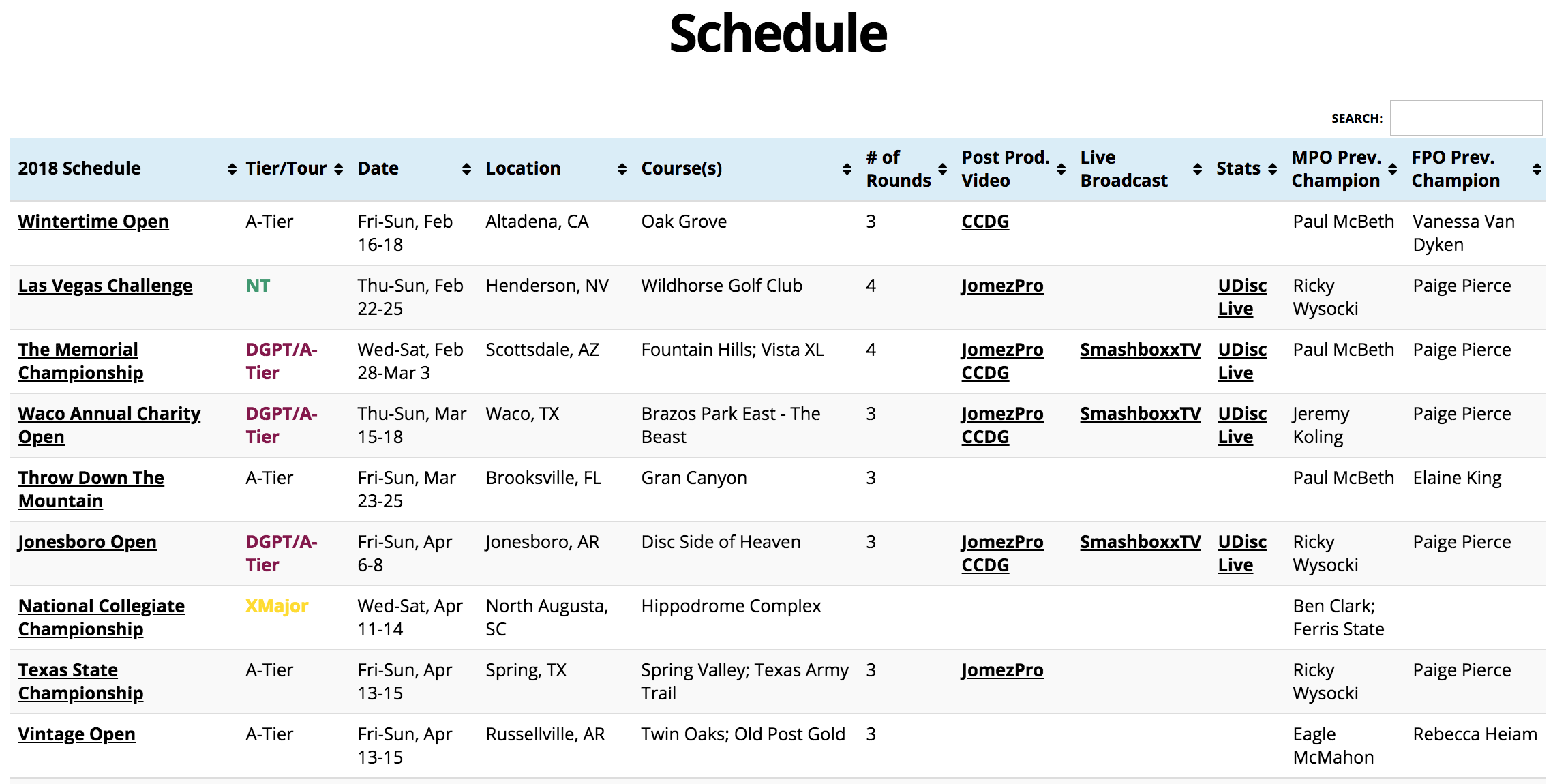 Every year, a number of questions come up throughout the professional disc golf season from fans wanting to stay up-to-date while they follow the tour: What big event is coming up next? Which video crews will be there filming? When does it start? Is there a live broadcast? What courses are they playing and how many rounds? Do I live close enough to an event to go see it in person?
Ask no more. We've got all those questions covered and a bit more with our 2018 Schedule. You can find the link for it at the top of our website right next to the header logo.
A quick clarification up front: this schedule should be treated as a living document, meaning we will keep updating and adjusting it throughout the season as we get more information that requires additions and subtractions. Even though there will be updates, this is the general format you can get used to seeing. Don't hesitate to reach out if you have ideas on how we can make it better!
We endeavored to include high-profile events from North America and Europe where the top men's and women's players should be. This means the schedule of events include PDGA Majors, PDGA National Tour Series (NT), Disc Golf Pro Tour (DGPT), European Pro Tour (EPT) and select A-Tier and B-Tier tournaments top players are known to attend. Each classification of event in the Tier/Tour column is color coded.
We also chose to include events that will have video or statistics coverage. Not all videographers have their 2018 schedules in place yet, but for those that do–like Jomez Productions, Central Coast Disc Golf, and SmashboxxTV–we have that included along with links going directly to their YouTube channels. UDisc Live is also expanding their reach in 2018 and even collecting statistics for a European Pro Tour event. Each of the events where UDisc Live is in attendance are noted and include hyperlinks directly to their tournament page for the event.
A few notes on the schedule's functionality and how to use it:
Even though the columns are sortable, we recommend using the search feature to quickly find any specific information you're looking for.
You can search for specific months by typing in at least the first three letters of any month, or the full name in the case of May, June, and July, to find out which events are coming up next. For users on smaller monitors or on mobile, this feature should make schedule slightly easier to consume.
The name of each event is linked to the PDGA event page for that tournament. There, you can get up-to-date information about which players are registered for the event. Current registration lists are also available on the linked UDisc Live pages.
This is more than just a schedule for what we're covering on Ultiworld Disc Golf this year. We wanted to create a place where readers can go to quickly access information about upcoming high-profile events and get directly connected with video and statistics from them. The PDGA Events page is, of course, the most comprehensive, but we wanted fans of pro golf to be able to quickly catch up with the most important events.
We will keep this updated as the season goes along and announce any updates via our Twitter and any major updates in our regular news column and social media.
If you have any suggestions, corrections or other ideas, just let us know in the comments and we will make adjustments when possible.