Tennessee pro taking more time to return from injury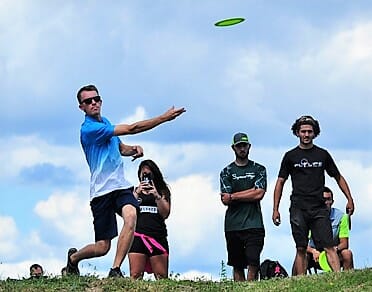 With the 2018 season just around the corner, three-time United States Disc Golf Champion Will Schusterick revealed in an article on Prodigy Disc's website that he will hold off on competition just a while longer: He will not make the trip to the desert for the Las Vegas Challenge or The Memorial.
Schusterick has played The Memorial every year since turning pro in 2007 and won it in a playoff over Paul McBeth in 2013.
The Tennessee pro relayed that he is "100 percent there" in terms of his mental game, but wants more time to build up his throwing motion after 10 weeks off. During this time he focused on strength training and physical therapy to heal a shoulder impingement caused by tendonitis in his rotator cuff. Now back to throwing, Schusterick cited a desire to build around his work at the gym as he focuses on breaking any of the bad habits his body adopted while playing through the injury for much of the past two seasons.
"I was a top-3 player two years ago, and I wanted to get back to being the No. 1 player in the world, so I would play four rounds a day, putt 1,000 times, go to the field—I mean it was honestly 10 to 12 hours of throwing," Schusterick said in the article. "I wanted to just get better no matter what. Once you reach the top level, you're always looking for more and more and more, and your body can only stand so much of that."
Indeed, effects of the impingement were noticeable. Before 2016, Schusterick finished inside the top four at the PDGA Professional World Championship four times in the prior five seasons, but dropped to 14th and 57th in each of the last two years. Additionally, his current 1004 rating his lowest since May 2009 and is 42 points lower than his career high rating of 1046 in August 2012.
In addition to using the past 10 weeks to rehab, Schusterick spent time launching his new company, Disc Golf Instruction, focused on teaching the sport's fundamentals in a systematic way.
Schusterick will return to tournament play one week after The Memorial at the City of Mobile Championship in Mobile, Alabama on March 10th and 11th. He is also currently registered for Throw Down The Mountain two weeks later, but is not pre-registered for any PDGA National Tour or Disc Golf Pro Tour events.