Aggies take tight Texas Collegiate Disc Golf Championship battle as rules waiver stirs debate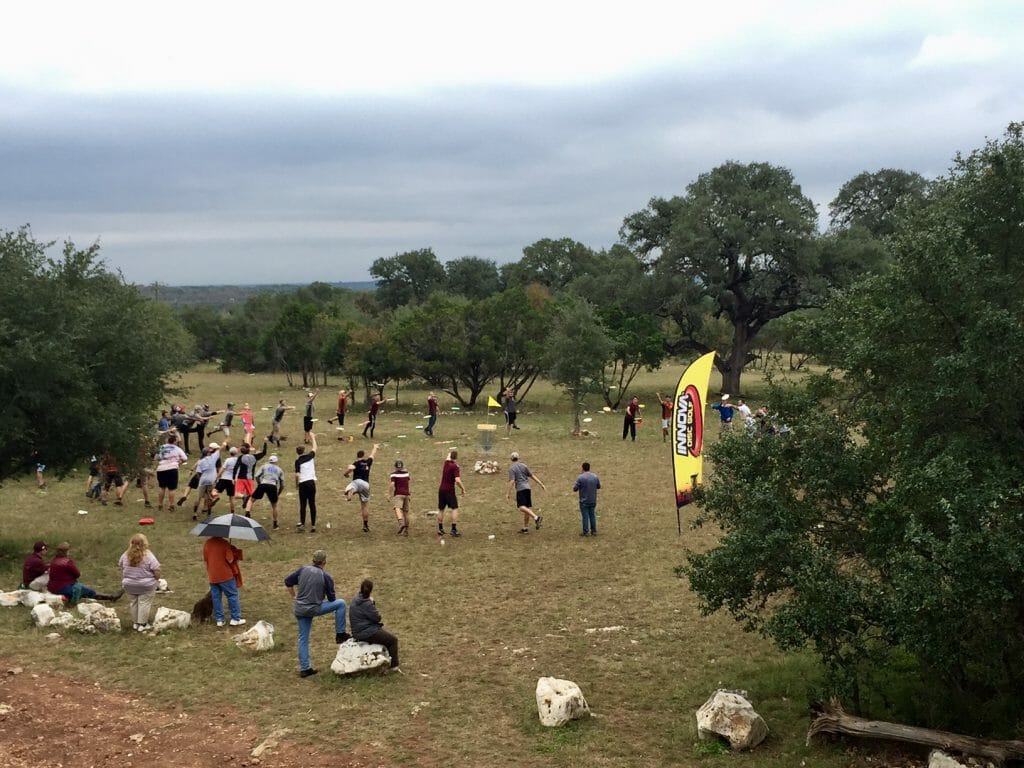 Three more National Collegiate Disc Golf Championship bids were awarded at this weekend's Texas Collegiate Disc Golf Championship, with Texas A&M taking home top honors after a tough tilt with Texas State.
Little was able to separate the two teams in the four-player per side match play final, with each school cobbling together a victory and a tie to bring the battle to a deadlock. This left the deciding match to a showdown between Texas State's Andrew Hoyland and A&M Team Captain Caleb Wilkins. The pair were tied going into the island hole 18 at San Marcos' private Flying Armadillo Disc Ranch, and both landed safely off the tee. Wilkins found himself furthest away, needing a long putt to continue the match. He had struggled on the green all round, though, and needed to compose himself before the shot.
"Man, on 18 I was doing my best not to feel anything," Wilkins said. "Anyone who had watched our match play knew I had air-balled some really short putts throughout the nine holes we played. I just tried to forget everything from that round and not think about anything other than making the putt."
Wilkins banged chains, and the pressure was now on Hoyland. With an ant pile obstructing his stance, Woyland pushed his putt high off the band, leaving the Aggies victorious. Wilkins said the team's jovial spirit was a key component to the triumph.
"I think one of the most important aspects of the success we have had is the camaraderie and friendship we have within the team," Wilkins said. "Our team keeps it pretty light-hearted whenever we can, and [we] enjoy trash talking and joking with each other between shots. I think being able to have that attitude and stay relaxed helps us play to our potential and lets us encourage each other."
The University of Texas was able to pick up the third and final bid to Nationals with the help of individual champion and Austin native Andrew Lowrie, a transfer from Rhodes College.
"We're all optimistic about our chances and everyone is motivated to work on getting better between now and then," Lowrie said. "Come April, we'll be ready."
Besides the action between teams, the tournament was also notable for its venue. The shift to Flying Armadillo came with a special rule request from tournament directors Jay and Des Reading: No overhand throws from the tee box. The PDGA granted a waiver for the tournament to allow the rule, but the decision spawned plenty of internet chatter that such a provision could set a dangerous precedent. Jay Reading, though, said that the young trees on the course necessitated the move in order to keep with the design's original goals.
"There's a lot of immature trees, space is confined," Reading said. "The course designer really wants you to throw down more technical tunnels and shape-curving shots. You can tell the course designer's intentions on many of these holes, and by throwing an overhand shot you circumvent what the course designer is trying to do."
Reading, who also serves as the chair of the PDGA Competition Committee, said the waiver process allowed the rule to be properly vetted by the PDGA and was communicated to players "well ahead of time."
"This is something I did as a tournament director, not as the chair of the competition committee…to have the fairest competition with the course designer's intention, for this single course and event," Reading said. "…The players had no real issues with the restriction, and several commented that it forced them to practice other shots that have ultimately made them a better player."
According to Lowrie, debate on the rule wasn't limited to just the internet.
"It was definitely a topic of conversation on every card I was on the entire weekend," he said. "Just to clarify, the rule was no overhand shots off the tee, but overhands from the fairway were perfectly legal. Mostly, people were pretty unhappy with the rule…Personally, I think limiting the amount of overhands would have been better, but eliminating them outright seems excessive to me. It's a tough call either way, but ultimately I hope that this rule is not in play for the same reason that you wouldn't have a tournament that bans backhands or forehands."
Limiting the type of shots allowed, though, didn't impact alumni division winner Michael Carvalho. The Texas State graduate is primarily an overhand thrower, but he was still able to hold off fellow Aggie Ryan Fite for a playoff win. And the event wasn't all about the controversy, either: Reading noted that there were 35 new players at this year's version of the tournament, and that four of them were newly-minted PDGA members with six-digit numbers.
In other weekend action, Arkansas State beat Ole Miss in the finals of the Southern Collegiate Disc Golf Association Conference Championship in Russellville, Arkansas. The Red Wolves won in convincing fashion, beating Hendrix College early on by a final score of 5-1, including three match play victories and a three-stroke doubles victory at Pleasant View Disc Golf Course. Arkansas State then kept the finals drama-free, downing Ole Miss by three strokes in an extended 27-hole doubles format at Old Post Disc Golf Course to claim the title of back-to-back champions.
"It feels amazing to go back-to-back," Team Captain Parker Sitton said. "We returned a lot of guys from last year and it was one of our goals to win this year. There's some fantastic competition in the SCDGA, so we really had to play well to win the championship."
Sitton credited the team's depth for its continued success and said the conference's strength has prepared them for a national title run. "The SCDGA is as great of a primer for the National Collegiate as you can find," he said. "You are competing every single weekend and working on your team's doubles chemistry, which is essential for Nationals. The conference has some terrific competition and we are pleased to be so battle-tested and prepared for the stiff competition at Nationals."
With Arkansas State earning a bid from last year's third place NCDGC finish, Ole Miss will also represent the conference at April's tournament. Hendrix College rounded out the top three after beating Southern Arkansas University by six stokes in the third-place match.
Collegiate action will stay in Arkansas next weekend, with the Mid South Collegiate Open at Disc Side of Heaven in Jonesboro, Arkansas, awarding two bids to the NCDGC.