Fajkus paces the field after the first day of Open Women's action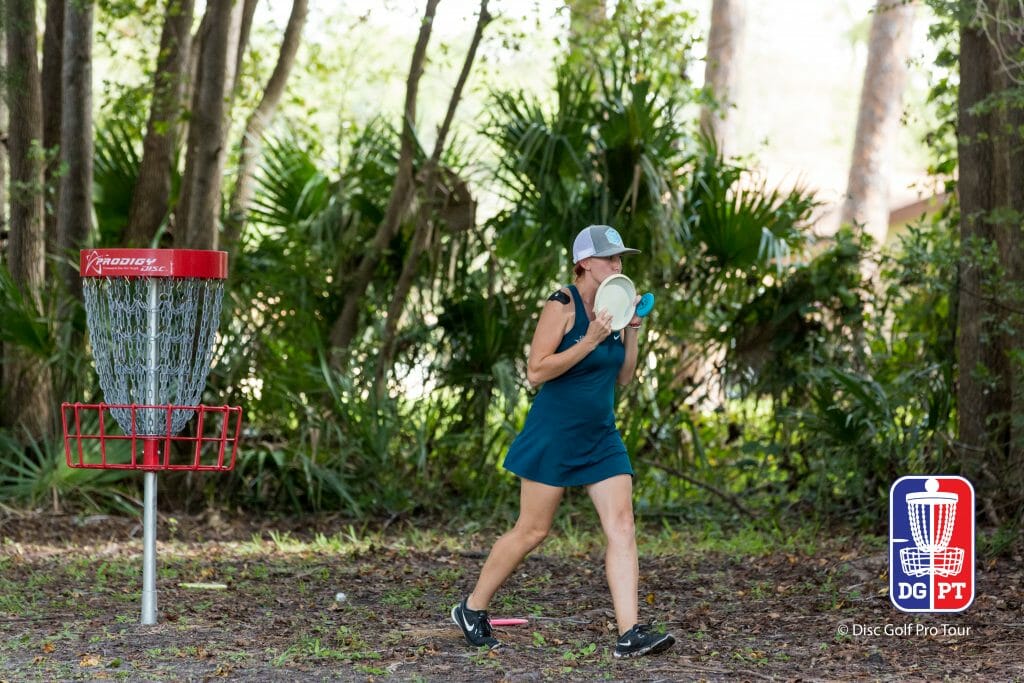 Ultiworld Disc Golf's coverage of the 2017 Disc Golf Pro Tour Championship is presented by DUDE Clothing; all opinions are those of the authors. Learn more about the Australian brand's offerings and player ambassadors here.
With its elimination-style format and real-time updates, the Disc Golf Pro Tour Championship can suck a player into her phone screen. Information is queen as players navigate New World Disc Golf, and knowing where one sits on the leaderboard can make or break any decision.
So when Tina Stanaitis took an 8-over par into the final six holes yesterday, needing to at least par out to snag the last semifinal spot from Erika Stinchcomb, it would have been understandable if she suddenly resembled a millennial more than a disc golfer.
Instead, she simply chipped away at the course, collecting pars on holes 13 through 16 with relatively short putts. She only missed one quality chance for a birdie, when her bid from circle 2 on hole 15's island green came up just low. The miscue didn't get to the Oregon pro, though, because it couldn't: She refused to check the scores until the round was finished.
"Paige [Pierce] was caddying for me, and she was [checking]," Stanaitis said. "And I don't think it was until hole 16 that she said, 'Just get your pars.' And other than a couple missed putts I didn't know where I was at, but I wasn't too worried about it because I was playing pretty decent. I was staying in bounds except for one shot.
"Based on what was going on on my card, I was pretty confident I was going to make it," she continued. "I honestly didn't know it was that close."
Stanaitis then moved to the 395-foot 17th, where she was faced with a 40-foot attempt to save par. Yet again, while the implications of the putt were numerous, it was just another stroke for her, and she connected.
"The rest of my card bogeyed it, so it was kind of a bonus par for me," Stanaitis said. "But turns out that was really important."
Such was life as the women kicked off play at the DGPT Championship. Even with more than half of the field advancing there was still a memorable finish, and Stanaitis wasn't the only player pushing the cut line: Jessica Weese got in the mix on 17, too, but with a negative instead of a positive.
Weese bogeyed the par 3 after her drive faded left too quickly and went out-of-bounds, moving her score to 8-over, as well. Like Stanaitis, she held the tour points tiebreaker over Stinchcomb and only needed to stay at that score to advance.
Now both Weese and Stanaitis needed a par on the 775-foot, par 5 18th to see Saturday. Weese found the fairway on her first two shots and reached circle 2 for a long look at birdie. She gave that putt a run, but settled for par to clinch another day of play. Stanaitis, on the other hand, had a bit more work to do after her approach to the green came out nose-down, then hit a stump and kicked right. She was left with roughly 180 feet to reach the green for an attempt at par, and she put her upshot to 27 feet.
"I asked Paige how Erika did, just out of curiosity, and she said, 'We'll talk about it when you're done. Now go bang this putt,'" Stanaitis said. "That was it. I was a little nervous about it — my putting was a little shaky."
Not that shaky, as Stanaitis sank the putt and survived to play at least one more round. She'll stick to the same plan for the semifinals, she said, making sure to just play her game and not worry about the leaderboard.
"Erika is my best friend, so if she was playing tomorrow or I was playing tomorrow it wasn't going to be a big deal — it was going to turn out well either way," Stanaitis said. "I'm super excited to play in the semifinals. It's a big accomplishment. I know that I play better when I'm just playing, so I think the only thing I can do under pressure is make myself worse at this point. So it's kinda better for me to not know scores and just play."
Though it wasn't the nail-biter found at the lower end of the field, Lisa Fajkus put on a show as she paced the division by four strokes, carding an even-par 65 to easily book her ticket to the semifinals. The Texas native carded three birdies on the first four holes, canning two putts from 40 feet before adding a 60-foot jumper to save par on hole 5. She made another 40-footer on hole 8 and a 73-foot birdie putt with her Nova on 16.
"I wasn't feeling any pressure on how to play today," Fajkus said. "Basically just going out there with no expectations and trying to knock down some putts and give myself looks. I got a good one early, so it felt really great to just get my putt on line."
Fajkus credited her preparation and routine for her field-leading 80 percent success rate on putts from outside 10-meters and knew it would be important to find her stroke again today.
"The momentum of my good putting, I think that's something you can ride high on," Fajkus said. "I want to carry that over. Trying to find that headspace again moving forward would be great."
With every player starting with a clean score sheet in the semifinals, Fajkus felt like the experience of having played a competitive round on the course already bodes well for her prospects. That sentiment was echoed by Nicole Dionisio, who finished with the second best score in the quarterfinals after a 4-over par 69.
Dionisio, a forehand-dominant player who traveled to the event with sponsorship funds from her local course, Bittersweet Ridge in North Yarmouth, Maine, arrived in Jacksonville on Monday and piled up practice rounds at New World's USA Links track. She spent the quarterfinals flicking 11x Firebirds and 11x Eagles under the pin, then relied on an old Star XD from inside 150 feet to lead the field in parked shots. She also had one of the lowest average putting distances, clocking in at 10 feet.
That accuracy came to bear late in the round, as Dionisio handled hole 15, a 222-foot par 3, with aplomb.
"The double mando-island hole, I ended up pinning it — I took a drop-in deuce there," Dionisio said. "I felt like that's where I really sealed the deal to move on to [today]. My game really felt on at that point. It was clicking."
Melody Waibel and Rebecca Cox also notched Saturday berths after finishing with a 5-over par 70 and a 6-over par 71, respectively.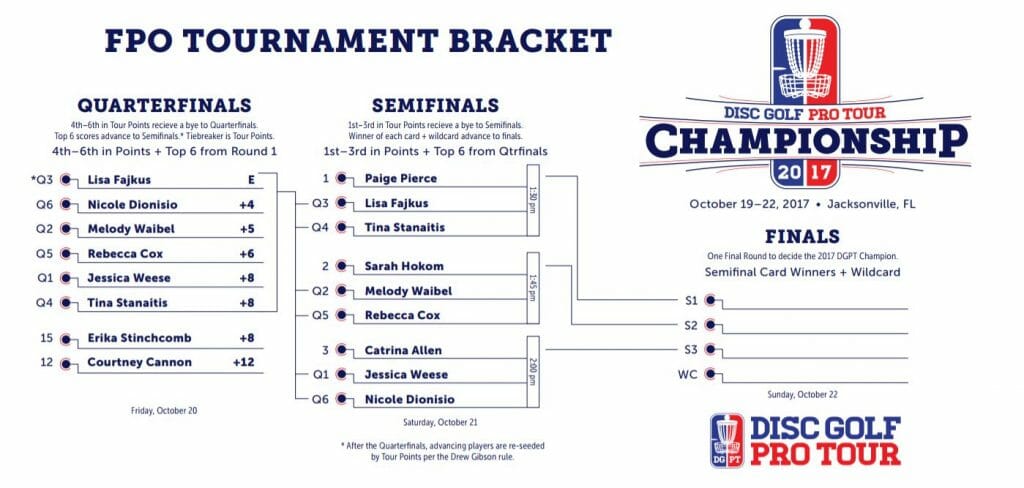 Both Fajkus and Dionisio were ready to make a few corrections in an attempt to better their scores today, and both said they would check the scores to see what they need to do to move on to the finals. Fajkus, who wasn't keeping track yesterday, was a bit more reluctant to do so, though.
"There are certain times when that's really crucial," Fajkus said. "If I can get away with it, I want to not have my phone out looking at it."
Dionisio was not shying away from today's round and what an opportunity in the finals on Sunday would mean. "I feel like I'll go for a couple bigger shots, because tomorrow is the day you have to go big or go home," she said. "So tomorrow I'll definitely be trying to go a little bigger."
Fajkus, meanwhile, was hoping to get back in the zone like she was yesterday.
"Tomorrow's a big day," she said. "I want to go out and find that headspace again like today, where I'm not putting a lot of pressure on myself. It's just a matter for finding that relaxed mind and body and executing what you know you can do."