"Flatter and deeper" could help bring in more participants, they said
With the disc golf season winding down and another professional touring series wrapping up last weekend, Sarah Hokom and Melody Waibel had payouts on their minds. Namely, they want to make them enticing enough that more women will hit the road.
In many ways this is a continuation of the assessment of the gender gap in disc golf, which has been one of the underlying storylines of the 2017 season. Valarie Jenkins' departure from Innova in January was a de facto catalyst that pushed many of the issues women in the sport face into the general conscious, while the PDGA Women's Symposium in February took the discussion further.
Hokom kept the conversation going after the Ed Headrick Disc Golf Hall of Fame Classic, where she said she would have liked to see the payouts go deeper into the 15-player Open Women's division.
"Everybody in that field is really good," Hokom said. "So it was a real shame that only six — well, seven with the tie — ended up getting paid, because that really hurts the women's side of the sport. When quality tour players are out of the cash, it really hurts our division. People can't afford to be on tour if they don't cash."
Hokom suggested that flattening the upper end of the payouts so more players could be rewarded would not only help touring professionals, but would also encourage more local and regional competitors to attend larger events or move up from amateur divisions. This was a major point she highlighted at the Women's Symposium, as deeper and flatter distributions could alter the division's top-heavy earning environment, where the majority of professional women over the last 10 years have earned less per week than the average cost of touring.
Forty percent of the field was paid out at the HOFC, but Hokom said that she typically advocates for tournament directors to go to 50 percent. She expressed that anything less, given the current state of the women's professional game, is unsustainable.
Hokom said the support from others in the women's field is there. After asking the tournament director at the Pittsburgh Flying Disc Open if he would pay out half of the 14-player field, he said that if the rest of the players were on board with it, then he would.
"I put together a poll, and everyone agreed, including the top players," Hokom said. "Even the top players recognize they're going to lose a little bit on the top end because the payout will be a little bit flatter and deeper. But they know it's the right decision for our division, and it's better for the women's field in general."
The desire for growth in the women's division goes beyond just individual tournament payouts, though, as season-long points series have become a major aspect of the professional game. To that end, the PDGA National Tour Elite Series bonus increased by 350 percent from 2016 to 2017.
While Hokom and Waibel, who finished third and fifth in the NT series points standings, respectively, found the increase in the bonus to be a welcome development, they said the distribution of the purse was plagued by many of the same issues as individual tournament payouts.
"It's awesome that they increased the payout by a ton — it seems like it's more worthwhile to attend as many as you can, and I'd like to see the NTs have a few more events," Hokom said. "But it doesn't need to be a payout similar to how a normal [tournament] payout works."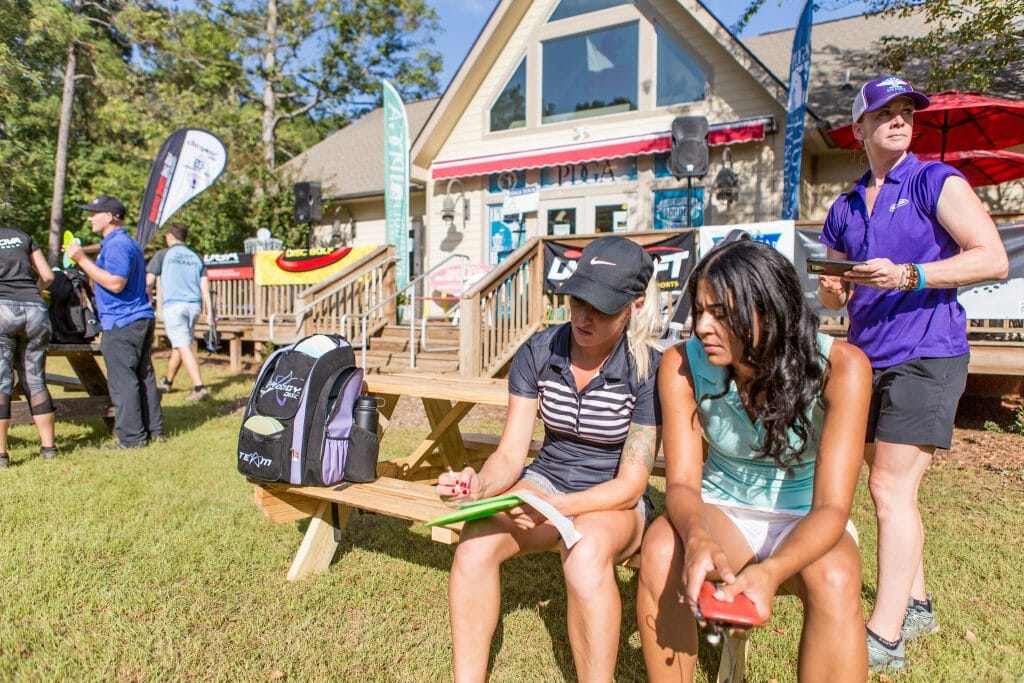 Paige Pierce took $5,000 for first place in the NT series, while Waibel's fifth place finish netted her $300. According to Hokom, the combined entry fees for all NT events this season cost a minimum of $1,200 before factoring in travel costs.
Waibel said spreading out the top end of the tour bonus would be a reward for those who grind it out on the road, noting the consistency and dedication needed to place well.
"Five isn't very many of all the people who play NTs," Waibel said. "So to me it seems pretty top-heavy when you say one of these players is getting $5,000 and the other is getting $300…It just sounds a little crazy when you say it out loud, which I did actually mention to one of the PDGA officials just as, like, an off the cuff kind of — 'Hey, does this seem like it makes sense to you?'"
PDGA Events Manager Mike Downes and Tour Manager Andrew Sweeton did not immediately respond to a request for comment.
Waibel wasn't sure dividing the payout by roughly half with each descending position was the right process for splitting up a prize meant to reward a season's worth of play. The fact that $300 barely exceeds even one roughly $200 entry fee in the six-event NT series was a sticking point — one that, if corrected, she said could encourage more women to join the tour.
"The entry fees are not cheap," Waibel said. "[The $300 NT bonus] isn't even two entry fees for me, which—I'm not upset about making any money, obviously. I'll take any bonus I can get, but it's definitely a pretty big extreme from $5,000 to $300."
Waibel offered examples from other sports, like bowling or poker, where the field of competitors is paid out in a flatter manner, while still acknowledging that the problem won't be around forever in disc golf.
"You kind of have to have a perfect record just to win the National Tour series," Waibel said. "[Paige has] definitely earned it, but it would be nice to see a little more of a flat situation. I think we're a growing sport and we're trying to work out kinks like that."
With the pro fields setting their sights on the Disc Golf Pro Tour Championship this weekend in Florida, both Waibel and Hokom praised that series for providing an avenue for pro women to tour continuously and encourage participation in its final event. Each appreciated that they had to qualify for the tour — "I like that earning your spot kind of thing, I think that's encouraging," Waibel said — and that there was no entry fee for the championship. The guaranteed $400 for attending is also a plus.
It's concepts like that, and the ability to track series points and other statistics, that Waibel said adds to the professional feel of the tour and helps keep her on the road throughout the season. After taking some time away from high-profile events in recent years, Waibel credited the DGPT and PDGA National Tour for making it possible to be a near full-time professional athlete.
"I think series are a little more encouraging, knowing that if you play a certain number of events — similar to the NT series — that you can acquire some points and then get another bonus. And the higher tier of the tournaments, as well, gets me extra bonuses for my sponsors," Waibel said. "So that encourages them, as well. The sponsors take notice of that."
Earlier this week the DGPT announced six changes in an attempt to foster more growth in the Open Women's division in 2018. While a specific discussion of payout distributions was not among those, an emphasis on reduced entry fees was, with the goal being to "increase the percentage of cash added to the women's payout relative to the pay in" and lead to the women's division getting a larger percentage of the series' mandated $10,000 added cash at each event.
With plenty of time before the 2018 season begins, perhaps adjusting payout distributions is another area to explore as the women's game continues to grow.