Risley, Johansen one shot back as play moves to Jackson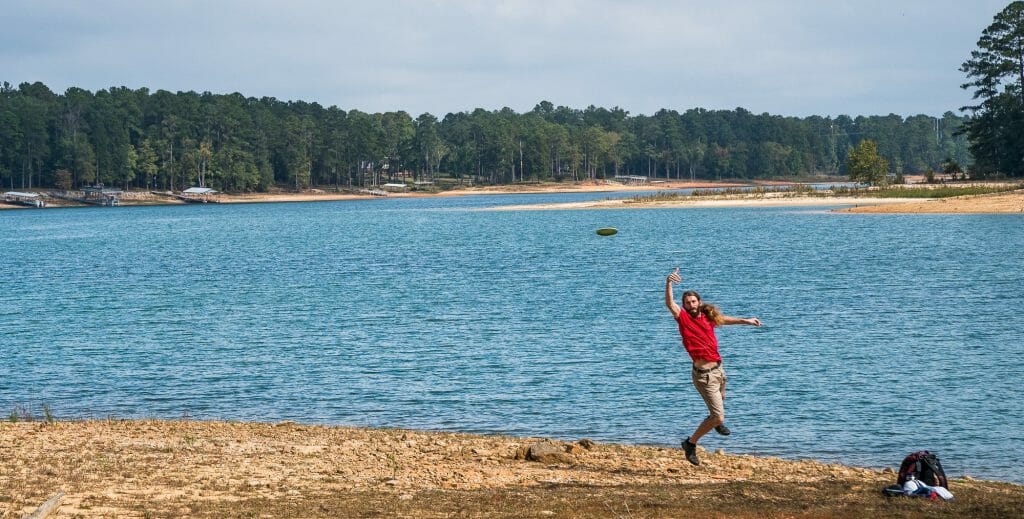 After tangling with the ropes of Winthrop Gold last weekend on the way to a season-low 64th place showing at the United States Disc Golf Championship, James Conrad was ready to return to his natural habitat.
"I was obviously not stoked on how I finished out there," the 27-year-old Virginia pro said. "I was looking forward to getting back into the woods — courses I like a little more."
The move back to some friendly confines yielded strong results, as Conrad tossed a 16-under par 48 yesterday at the International Disc Golf Center to take an early lead at the Ed Headrick Disc Golf Hall of Fame Classic. 2015 HOFC Champion Michael Johansen is tied for second place with A.J. Risley after the duo shot 14-under par 50s, while a five-player logjam makes up third place at 13-under par. Cam Todd got the nod for today's lead card with his lower PDGA number, while Ricky Wysocki, Zach Melton, Austin Turner, and Devan Owens will give chase.
Conrad's 1062-rated performance at the IDGC's Ed Headrick Course tied for the record in its current 6,945-foot configuration. Will Schusterick and Matt Dollar also logged 48s during the 2015 HOFC.
"Definitely glad to, like you're saying, bounce back with a hot start out here," Conrad said.
Hot, though, might not be an accurate descriptor. Torrid, perhaps? Conrad carded eight consecutive birdies on the front nine, navigating the shoreline of Clarks Hill Lake with ease despite it being his first tournament round at the venue.
"It was pretty evenly solid across the board, I'd say," Conrad said. "I was getting off the tee well. I didn't hit any early trees, I never really had to scramble too bad."
When he did have to, though, he finished the job. After going station-to-station on the 535-foot 11th, he was still able to convert his ninth birdie of the round with a massive putt.
"My drive kinda trickled into the edge of the woods, my upshot caught a tree," Conrad said. "But I saved probably from 60 or 70 feet, maybe. I saved a 3."
As Conrad has shown plenty of times in 2017, though, it wasn't just putting that made his game. His power came in handy on the par 5 15th, where he carded an eagle despite misfiring off the tee.
"I'd definitely say it's a gettable par 5, just in terms of distance and the gaps," Conrad said. "My drive wasn't spectacular, by any means. I kinda jerked it, didn't really get it in the air, so it left it a lot longer than I was hoping. I was able to flex a Thunderbird through a pretty small gap and ended up almost parking it for the 3, so the fact I was able to do that off a mediocre drive kinda makes me think it's more of a par 4. But either way, 3 is a good score there."
Like Conrad, Risley also finished in 64th place and out of the cash last weekend in Rock Hill. He was able to compartmentalize the performance, though, and came into this weekend's PDGA National Tour finale with a fresh mindset.
"You kinda look at it as the whole season is like a round of golf," the Southern California pro said. "I started off with a bunch of birdies and was playing well. I maybe took a bogey in there when I missed cash a couple times. So, basically, USDGC was a bogey. I can't go back and say, 'Oh, I foot faulted on some of these shots, can I go back and throw it?' It's like, no, the round's over, the tournament's over — there's nothing I can do about it. The only thing I can do is move forward."
Taking advantage of the Headrick Course's shorter layout, Risley attacked off the tee and estimated he was on the green in regulation on 14 of 18 holes. Though he carded one more par than Conrad, and mixed in a bogey, he made up for it with two eagles. The first, on the 700-foot 9th, was particularly rewarding: It's a right-bending shot, but Risley does not throw any forehands.
"My play was try to just land it right at the corner, kinda go 350-350," Risley said. "When you try to think about it that way, it makes it seem a lot more manageable…I don't have a sidearm, so a hole that goes straight-to-right like that, left-to-right, or whatever, usually there's a lot of guys who are gonna bust out that 400-foot forehand and try to make that corner. But I knew what the hole was going into it. I tried to just stay in the middle where the gaps were the biggest." After a Legacy Rival-Enemy combo, he connected from 40 feet for the trey.
Johansen, meanwhile, went bogey-free during his 1044-rated round, closing out the affair with five straight birdies to match his 2015 performance at Headrick. Todd, Melton, Turner, and Owens all managed clean sheets as well, with Wysocki's lone blemish coming in the form of a 4 on the 290-foot 3rd.
The top 17 players on the leaderboard are only separated by five shots. Charlie Goodpasture, Lance Brown, and Chris Dickerson are tied for ninth place after 12-under par 52s, while six players, including newly-minted United States Disc Golf Champion Nate Sexton and 2015 U.S. title holder Jeremy Koling, are tied for 12th at 11-under. Paul McBeth, who came in second place at the 2015 HOFC, is in 26th place after his bogey-free 9-under par 55. The score is currently rated at 999, and if it holds will be McBeth's first sub-1000 performance since the 2016 Vibram Open, when he threw a 992-rated second round.
Competition now moves across the complex to the 9,501-foot, par 68 W.R. Jackson Memorial Course. The track hosted two rounds during the PDGA Professional Disc Golf World Championships in June, when Conrad posted a 3-under par 65 during round one and a 1044-rated, 9-under par 59 in round three.
"It's one of my favorite types of course," Conrad said. "It's demanding. It's long. It's technical. I think it's a great track overall, and I'm looking forward to two more cracks at it. Hopefully I can do a little better than I did down here in June."
Risley now finds himself on the lead card during the second round of a high-profile event for the second week in a row. His walk around Winthrop Gold last Thursday was spoiled by a mix of bad luck and errant shots, and he dropped from fourth place to 42nd after his 6-over par showing. Still, he wasn't concerned with logging a repeat performance today, instead looking to the teachings of Zen Golf: Mastering The Mental Game to help him adhere to his game plan.
"One of the biggest things that I take away from that book is to hold onto the positive experiences — kind of remember what made them positive, and how you felt, and all sorts of stuff like that — and the negative experiences you have to learn from," Risley said. "That's the only way you're gonna succeed: Hold onto the positive and learn from the negative. Luckily enough, USDGC had a little bit of both."
And if he needs something else to lift his spirits, there's always this: Today is Risley's 26th birthday. He'll take on Jackson with the rest of the lead card at 11 a.m. ET, with real-time scoring and updates available on PDGA Live.