Colorado State, Ole Miss notch early-season Ws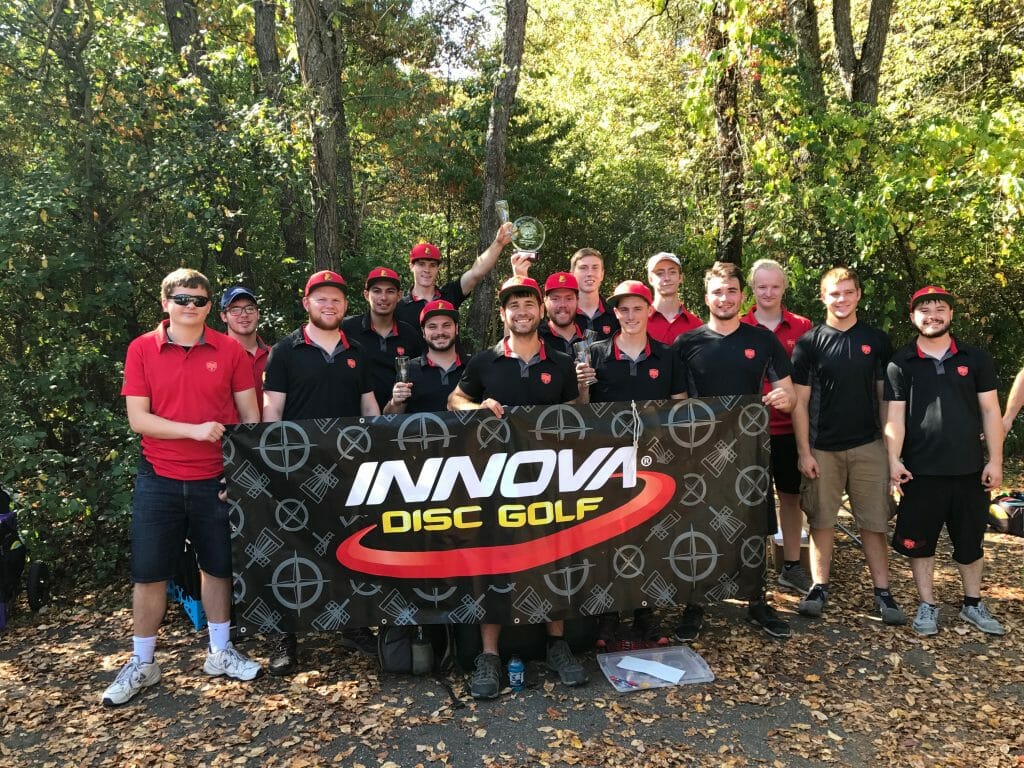 School is back and session, and along with it the college disc golf season. Action began around the country last weekend, with Ferris State and Colorado State picking up victories in National Collegiate Disc Golf Championship qualifiers and Hendrix College, Ole Miss, and Arkansas securing wins in Southern Collegiate Disc Golf Association play.
Ferris State, the defending national champions, took the first step in the pursuit of a title defense with a convincing victory at the Great Lakes Collegiate Open in Kalamazoo, Michigan. The Bulldogs shot a 62 in the event's first doubles round to go into singles play nursing a one stroke lead over Central Michigan. Led by individual champion Sam Mrdeza, Ferris State gained separation in singles and went into the last round of doubles action with a sizable 12-stroke margin. In their victory lap, Ferris combined for a 52 to gain an additional stroke over CMU and finish with a 22-under par 332 for the victory.
Central Michigan finished in second with a 9-under par 345, while Saginaw Valley State University and Ferris State's B team rounded out the field. All three of the upper-tier squads are now qualified for April's championship.
Ferris State Coach Leonard Johnson was proud of not only the unit's victory, but also the depth shown by the school's two teams.
"Perhaps the most telling outcome of Sunday's doubles round was not the fact that the team was able to with their fourth GLCO title in a row, but rather the fact that the B team posted the hot round, beating their A team counterparts by two strokes," Johnson said.
The Colorado Qualifier in Fort Collins saw the home team win in lopsided fashion. Colorado State logged 313 strokes to best the field by 23 and punch their ticket to the NCDGC next April. The Rams' efforts were aided by strong singles performances from Maverick Robertson, who tossed a 2-under par 60 to take second place in the competition, and Noah Newman, whose 2-over par 64 was the third best individual score of the event.
The battle for the second qualifier spot saw Colorado Mesa and Kansas grinding it out. In the end, it was Colorado Mesa, led by the tournament's individual winner, Landen Fledderjohn, who edged the University of Kansas by one stroke to earn their spot in the NCDGC.
Down South, the Southern Collegiate Disc Golf Association's first weekend began with an upset.
Arkansas State looks to be the favorite to repeat as conference champions after finishing third in last year's NCDGC. But with some of their players opting to play a local B-Tier, they found themselves in danger of getting swept in singles play. Ole Miss tallied individual victories from Jeff Weber, Cole Neal, and Parker Brewster, and only needed a win from Parker Sowers to send the Red Wolves home empty-handed. Sowers was matched against a new face from Arkansas State, Brennan Koester, and after a nine-hole match was not enough to separate the pair, they went into a five-hole playoff.
Koester went on to earn the victory, but it was still not enough for Arkansas State to complete the comeback, as Ole Miss bested the squad by three strokes in doubles play to garner the 5-1 overall victory.
Despite the team's loss, Arkansas State team captain Parker Sitton was impressed with Koester's poise down the stretch.
"On the last hole, Brennan was probably 35 out, and he knew that he needed to make that putt so we wouldn't get swept. And he went up there and banged that thing," Sitton said. "Brennan has just been playing for a few months and this was his first competitive disc golf match or tournament, so we are very proud of him."
Other action around the league saw the University of Arkansas, an expansion member this season, beat Central Baptist College 5-1. The Razorbacks got singles victories from Brandon Johnson, Dom Hackman, and Liam Martin and won the doubles in a playoff for the win. Hayden Moore picked up the lone victory for CBC.
In Conway, Arkansas, Hendrix College swept singles play against another expansion school, Southern Arkansas University, for the 4-0 victory. The Warriors leaned on strong driving from returners Drew Coker and Nate McKenna and putting from Charlie McCracken and Patrick Bell. Bell, the Warriors' lone newcomer, connected on a 45-footer to seal his match and cement the victory for Hendrix.
Coker, Hendrix's captain, was pleased with the team performance and what it could mean for the rest of the season.
"Getting a strong win against a good SAU team, at the start of the season, really sets us up well for our upcoming matches," Coker said. "I think being able to get all the pre-season nerves and jitters straightened out, with this convincing win, will help us make a serious challenge for the conference championship this year."
SCDGA action will continue next week with Southern Arkansas taking on Ole Miss; Hendrix battling Tulsa; and Arkansas facing Arkansas State. The Heartland Collegiate Disc Golf Championship will also take place in Ottumwa, Iowa.