Hokom and Pierce headline group tied for third place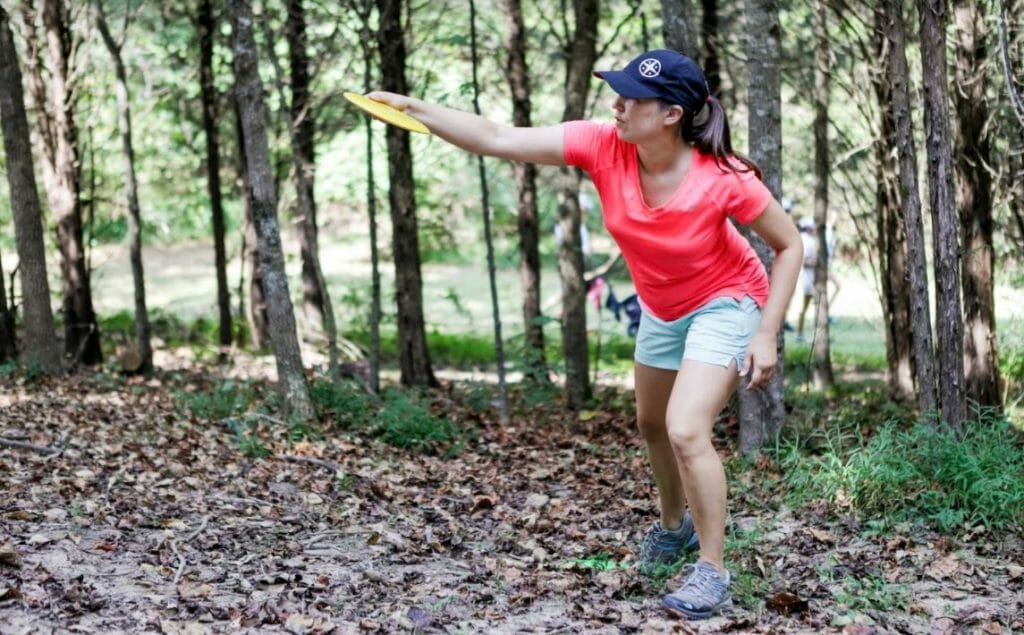 Ultiworld Disc Golf's coverage of the 2017 United States Women's Disc Golf Championship is presented by DUDE Clothing; all opinions are those of the authors. Learn more about the Australian brand's offerings and player ambassadors here.
Before the first day of the United States Women's Disc Golf Championship had even begun, Lisa Fajkus was going to have a great day regardless of the outcome. It was her birthday, after all.
"I had a couple ace runs [warming up] before the round and I was trying to get the birthday ace," Fajkus said.
While that shot didn't come before, or during, yesterday's first round in Tennessee, Fajkus still walked off the course with a gift to herself: a share of the lead alongside Catrina Allen.
"To shoot a hot round on my birthday, it's awesome," Fajkus said. "It's like the best present to give myself."
Allen and Fajkus each tossed matching 983-rated 7-under par 50s at Johnson City's Winged Deer Park to gain three strokes over their next closest competitors. Defending U.S. Women's Champion Sarah Hokom, Paige Pierce, Jessica Weese, and Stephanie Vincent all carded 4-under par 53s and are tied for third place. Valarie Jenkins, Vanessa Van Dyken, and Estonian pro Kristin Tattar, in her first time competing in the U.S., all finished day one with 3-under par 54s.
Between the two leaders, Fajkus managed the keep the cleaner scorecard, going bogey-free on the day.
"I had a lot of good birdies, and to shoot bogey free — that's always a goal of mine," Fajkus said. "I feel really good about that, and I know moving forward I just have to keep grinding it out, though. It's a good start to the weekend."
Fajkus collected seven birdies, displaying confidence and accuracy with lower speed discs as she attacked the relatively short, wooded holes at Winged Deer Park. As a result, she enjoyed relatively stress-free putting after quality drives and approaches.
But in between the birdies, Fajkus still had plenty of work to do on many of the course's narrow fairways. The Round Rock, Texas, pro said her tee shots got caught up by early trees, but she was able to recover on those holes with accurate second shots.
"On hole 14, hit the first available [tree] and [ended up] being right of the fairway and having a few different options," Fajkus said. "But I took out my beat up Roadrunner. I threw a nice turnover shot, hit the line perfect, and saved the three from way out."
Fajkus credited caddie Weston Isaacs, a Johnson City local, for providing timely advice.
"I had Weston on the bag, and that's his home course," Fajkus said. "He definitely had some good insight for me. He helped me stay level-headed, and moving forward for tomorrow at Harmon Hills I'm going to have him on the bag and I know that's going to help me. It's added confidence, definitely. And of course, my bag is really heavy."
Allen found plenty of scoring opportunities on the front nine, collecting two birdies and one bogey through the first six holes before finishing out the front half with three straight birdies, including one on the downhill 426-foot hole 8. After going just even par through the first six holes of the back nine, Allen put down a roller on the 577-foot par 5 16th that put her in position for an easy up-and-down eagle on the course's longest hole. After the eagle, Allen was able to card one more birdie and a par to close out the round.
Hokom got off on the right foot in her bid to defend her 2016 USWDGC title with a birdie on hole 1, but was unable to connect on another deuce during the next seven holes. She finally snapped that cold streak with a birdie on hole 9 and gave her some momentum moving into the back nine, where she finished out the day with three birdies and a bogey on the par 4 15th.
Vincent started off with three straight birdies to open the round, but she also went on a scoring drought played par golf for the next eight frames. She grabbed two more birdies on the back, though, and, like Hokom, also bogeyed hole 15.
As for the other two tied in second, Pierce and Weese had much more convoluted paths to their 4-under par round. They both managed two of the higher birdie rates in the field, with Pierce at 44 percent and Weese at 39 percent, but Pierce scattered four bogeys and Weese added three to sap any extended runs of clean golf.
Further down the leaderboard, Rebecca Cox and Karina Nowels are tied in 10th place after their 2-under par 55s. 2017 Amateur World Champion Heather Zimmerman is tied for 12th place with former World and U.S. champion Sarah Cunningham, Michelle Frazer, and Jennifer Sawyer at a 1-under par 56.
After a short turnaround between the Green Mountain Championship and the three courses on tap for the USWDGC, many competitors had limited practice time to fully familiarize themselves with each track. With 13 players within six strokes of the lead and two rounds to play today at the challenging Harmon Hills, Fajkus knew that to stay near the top she had to think "3."
"I was playing a round a couple days ago at Harmon and I was just like, 'Man, I wish I had a week to hang out at this course, I wish I had more time to take it all in,'" Fajkus said. "I only had time to play each course one time, so I'm focusing on just getting 3s at Harmon Hills. Pars are good. If I get pars, I know I'm playing well. If there's birdie opportunities, that's definitely an added bonus."
On the last leg of a tour that's taken her across the country this season, Fajkus was looking forward to another day of soaking up some more of the Volunteer State.
"Tennessee in general has been really great," Fajkus said. "It's cool to go to a place that you don't really know about, like Tennessee or Iowa, and you find that their disc golf scene and their courses are so well taken care of by the community. The courses are amazing. It's kind of like a hidden gem. I'm looking forward to going back to Harmon Hills, it's really beautiful scenery."
The field has a shotgun start for round two beginning at 9:00 a.m. local time, with round three beginning in the afternoon. Follow real-time scoring updates at PDGA Live and watch for video coverage from both Prodigy Disc and TheDiscGolfGuy.