Fajkus in second, with Pierce and Weese tied for third at the tournament's halfway mark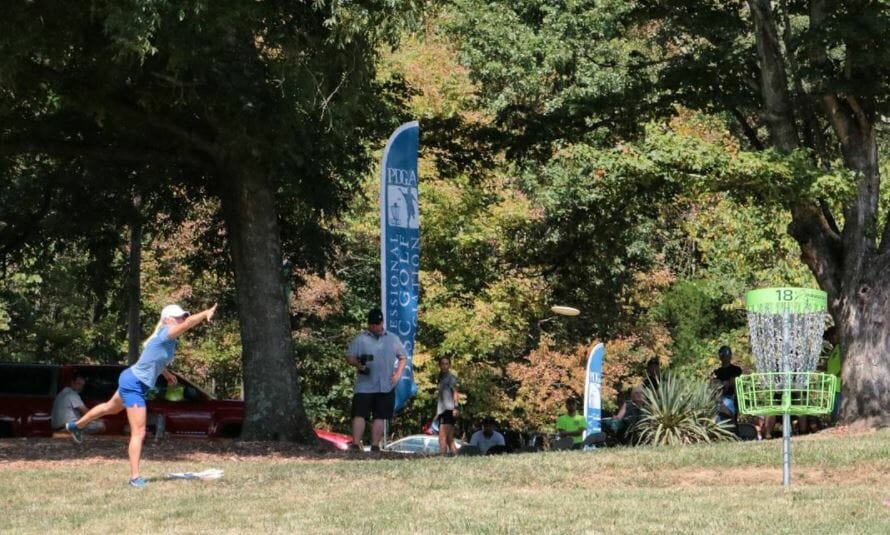 Ultiworld Disc Golf's coverage of the 2017 United States Women's Disc Golf Championship is presented by DUDE Clothing; all opinions are those of the authors. Learn more about the Australian brand's offerings and player ambassadors here.
Catrina Allen and Lisa Fajkus traded the lead four times throughout the second round of the United Stats Disc Golf Championship, but it was Allen who came away ahead at Harmon Hills this morning, with round three at the same venue this afternoon.
Allen carded a 965-rated hot round with a 3-under par 64 and now sits at a 10-under par 114 at the tournament's midway point. Fajkus' even-par 67 performance kept her overall score at a 7-under par 117, while Paige Pierce and Jessica Weese are tied in third place with 6-under par 118s after matching 2-under par 65s. Sarah Hokom's 1-under par 66 round moved her to fourth place with a 5-under par 119 total.
There were 13 players within six strokes of Allen and Fajkus' lead before play started at Harmon Hills, but now only four players are within that same margin. Allen carded a bogey on hole 1 and kept it clean all the way until the 573-foot 17th, where she carded a double bogey. She recovered well, though, closing the round with a birdie on the 564-foot, par 4 18th to push the gap to three.
Fajkus began well, going 3-under par through the first 12 holes, but dropped strokes down the stretch with double bogeys on holes 14 and 17. Pierce had similar difficulties with big numbers, grabbing two bogeys and a double-bogey, which mitigated her six birdies.
Weese finished the strongest of any players currently in the top 5. After staying at even-par through the first six holes, Weese went 2-under through the final 12, recording no bogeys and two pars. Hokom was in position to finish out the round in third place after playing 3-under par through the first 16 holes, but back-to-back bogeys to close the round kept her behind Pierce and Weese.
Vanessa Van Dyken heads into the third round in fifth place with a 3-under par 121 after an even-par 67 second round. Rebecca Cox also carded an even-par 67 to stay one stroke behind Van Dyken with a 2-under par 122.
Round three at Harmon Hills is now underway, with updates available through PDGA Live. We'll have a full recap on the day's action tomorrow morning at Ultiworld Disc Golf.