Hannah Croke shares her advice for those looking to make the leap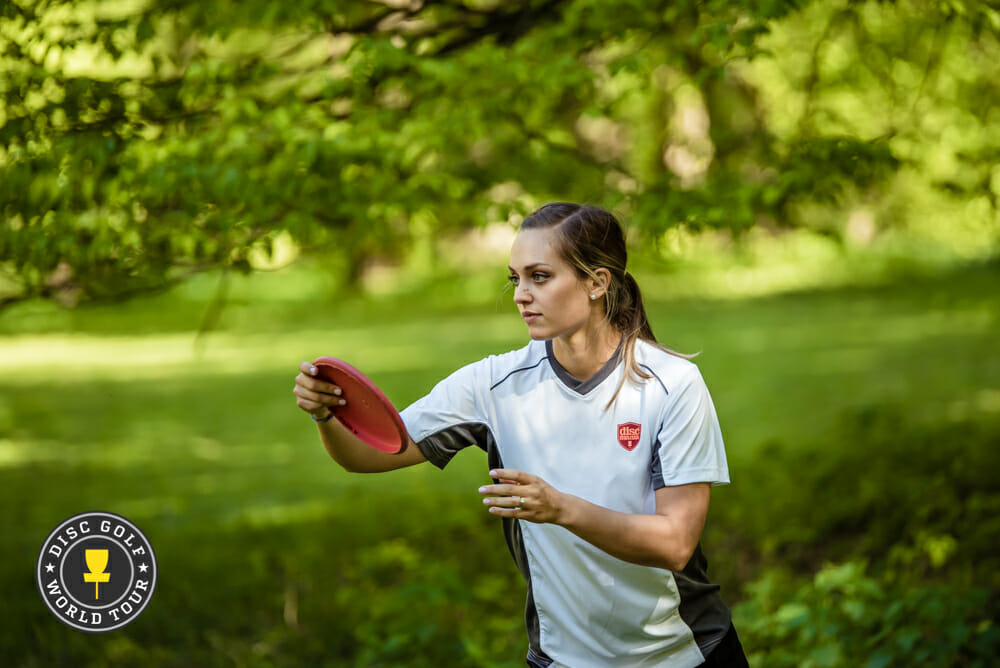 Disclosure: Ultiworld Disc Golf was compensated for writing this article.
Hannah Croke's road to the professional circuit has been unique, to say the least.
The Massachusetts native dipped her toes into PDGA play as part of Liberty University's women's disc golf team, playing four tournaments between 2015 and 2016 before taking on the Advanced division at last year's United States Women's Disc Golf Championship. After spending time traveling the world with fiancé Paul McBeth and fellow pro Nate Sexton, Croke waded further into the pool in February, parlaying a last-minute sign up for the Advanced Women's division at the Gentlemen's Club Challenge into a 17-shot victory.
From there, she jumped into the deep end: Discmania offered a sponsorhip, which she gladly accepted, and she headed to the Czech Republic for her Open Women's debut at the Konopiště Open, where she won a fan vote to be featured on The SpinTV's coverage of the event.
"It's all kind of just happened," Croke said. "There was never really a plan like, 'OK, in October I'm gonna start playing pro events.'"
Her travels alongside McBeth and Sexton have found her traversing the globe, and she's been able to pick up a trick or two from the seasoned pros in the process. That doesn't mean the (not so) long road to pro has always been smooth, though. In fact, Croke embraces how far she has to go.
"I'm very blessed by these opportunities to learn things and to be in a position where I can soak up all this knowledge and information," Croke said. "But it is a constant, constant effort to humble myself enough to realize that I am not a professional — yet."
Though she hasn't racked up a ton of wins, she has certainly accumulated wisdom. With that in mind, Croke shares three main lessons from her time on the road.
1) "I know you can do it. But should you?"
One of Croke's first learning experiences came at the GCC. Although her score indicated she took down the division handily, there were still hiccups:
"We were stepping up to an island hole — it was the Adidas course, I'm pretty sure. It was this weird — you throw it from an island, to an island, to an[other] island. It was a par 4…Everybody hated it. It was really weird. It wasn't really disc golf — it didn't really highlight anybody's skills. It was more of a risk and reward type thing.

"I stepped up to the hole and I had a putter. And my first thought was, 'Jump putt to the first island. Jump putt, jump putt, get out of there, take a par.' Then I thought about it, and I was like, 'That basket is not far away, I know I can get there…I disced up and I grabbed my midrange, and Nate and Paul both kind of looked at me like, 'Wrong.'

"In practice I stepped up and I threw it, and I had a really good shot, and I skipped and I had a bad result and it went out of bounds. So Nate Sexton came over to me and said, 'I know that you can do this right now. I've never doubted that you could not get there…But should you do this? I know you can do this, but should you do this right now? And I was like, 'Whoa.'

"I think, when you're a low pro or a high am, you have these moments where you look at a shot and you think to yourself, 'I know I can do this. I know I can take this risk and get this reward'…Even though you can do it, you have to be strong enough to ask yourself, 'Should you do this right now? Is it worth it? Is this a wise decision?' If you're not willing to accept that punishment, then you shouldn't be doing it."
2) Check your expectations.
Croke's second major piece of learning came from her first foray into the Open division, when she headed to the Konopiště Open in the Czech Republic. It was her birthday weekend, and she was playing simply to celebrate. While practicing for hole 3 at the event's Franz Ferdinand Course – again with McBeth and Sexton – she faced another hard truth.
"It was a very tactical par 5…I watched them, they crushed forehands, they crushed backhands, straight…

"I was starting to analyze the hole, and I'm feeling pretty good, and Nate goes, 'Hannah.' And he looked at me, and he was like, 'You will not birdie this hole.'

"I was like, 'OK.' That was the first time somebody in sports had told me, no matter what, I would not be able to do it. I played soccer my whole life, and I practiced with guys and I was always told if you just try harder and train, and put in the effort, you're gonna be able to do it…

"I kind of sat there and swallowed that.

"I was like, 'OK, that wasn't so hard to swallow, because there's a lot of holes I can't birdie.' And then he was like, 'And I don't think you're gonna par this hole either. A par will feel like a birdie for you. A 6 will feel like a birdie for you at some point'…I had to have four perfect shots to have a good putt…That was very, very difficult for me, but I realized, in talking about it with Paul later, at that point I wasn't competing on a course that was designed with me in mind. I was competing for the first time on a course that was designed with Paul, and Rick [Wysocki], and Nate, and Simon [Lizotte] and Eagle [McMahon] in mind, and I had never done anything like that before.

"I felt very grateful for his advice. I felt very grateful that he felt comfortable enough to tell me that and to trust me with that knowledge, because that's very hard for people to hear, is that 'You won't be able to do this.' But when I did card a 6 during the tournament, and when I carded a 7, and when I carded a 5, it felt exactly the same way, so it didn't hurt me.

"For the first time, I had to play shot for shot. I wasn't competing in Konopiště against the course. I could not mentally compete against the women on my card. I had to compete shot for shot, and it was mentally exhausting. But it was so necessary for my growth as an athlete in this sport.

"You have to accept yourself where you are if you want to be successful in disc golf right now. That has carried through to so many tournaments…I don't step up to a tee and demand perfection. I do what I know that I should, and I do it to the best of my ability…I feel like I have a leg up on a lot of women – and even men to in the sport at my level – because I was taught that, and I was willing to accept it. There's a lot of people that, if you tell them you can't do this right now, they won't believe you and they'll try to push through it because they want to be that story…There's a lot of pride swallowing.

"You can survive if you check your expectations."
3) Be a sponge, not a rock.
Croke's final piece of advice may seem obvious, but can be difficult to heed whether you're playing with the best in the world or your home course's locals.
"The third thing I've learned since touring with Nate and Paul is if you don't understand something, speak up. Ask questions, and be humble enough to accept what you're learning.

"It's kind of just like, if you're not a sponge and you're just a rock, people's advice — instead of being able to absorb, it's just gonna run right off of you and you're not going to change. If you know 'I have a hitch in my putt,' 'I'm a bad driver,' 'I can't do approach shots,' 'I have zero confidence with sidearm.' …If there's some specific skill in this sport that I know I should learn and I have an opportunity to learn it and you're not doing everything you can to learn it, then you will not change. And I see it a lot.

"Some days I wake up and I go out to a course with them, and I don't have a good mindset that day. I'm not perfect — I don't always want to hear what they have to say, I don't want to be taught, I just want to be left alone. Sometimes I have to take myself away from them for a couple holes, and then I go back into it and I'm like, 'They aren't saying this because they think I'm dumb. They're saying this because they care about me and they know I'm trying and they want to help me succeed.'

"I guess what I want people to get is that disc golf takes confidence, but if you go from having confidence to cockiness, you will never be able to learn. You want to be confident, but you want to be teachable."