Andyke, Pierce knotted up in second place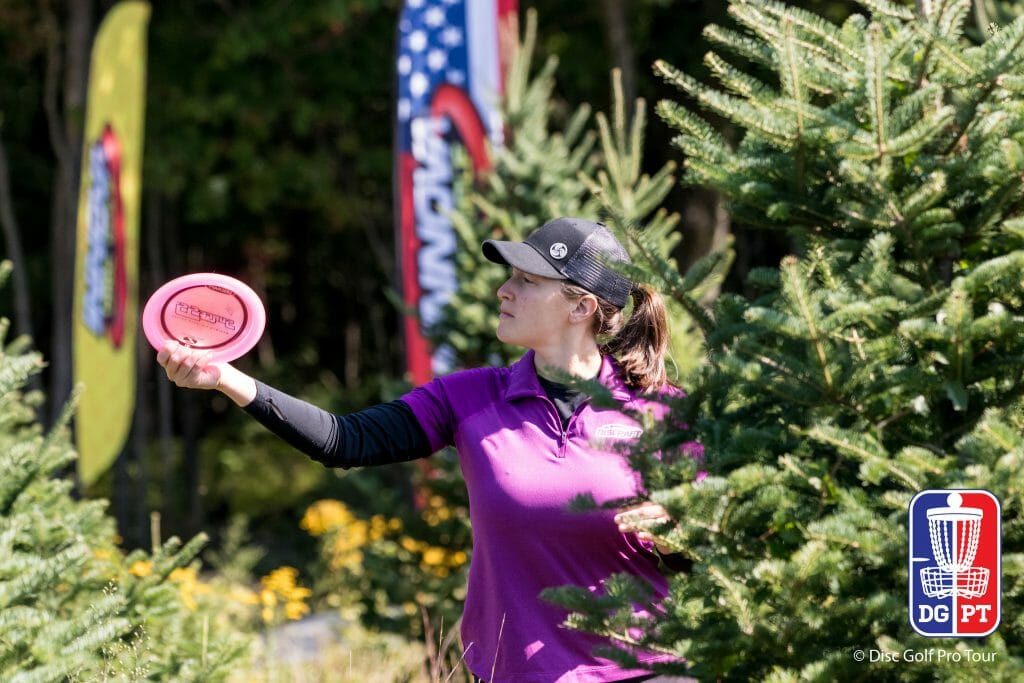 Ultiworld Disc Golf's coverage of the 2017 Vibram Open is presented by the Disc Golf Pro Tour; all opinions are those of the authors. Catch up on everything DGPT here.
Valarie Jenkins might not be hitting all the pro touring stops in 2017, but when she does, she's always a force to be reckoned with.
After the first day of the Vibram Open at Maple Hill, Jenkins is already in the hunt to become the second three-time winner of the event, after a 991-rated opening round has her five strokes ahead of the field.
Jenkins had a near flawless day, carding just one bogey on her way to a 3-under par 59. Zoe Andyke and Paige Pierce are tied in second with 2-over par 64s, and Catrina Allen, Sarah Hokom, and Hannah Leatherman are all knotted up in fourth place after matching 3-over par 65s.
Jenkins began her round with a par and birdie on the opening two holes, parking her drive inside 10 feet for the deuce on hole 2. She was just one of three competitors, including Hokom and Jessica Weese, to begin the round 1-under par through the first two holes. Jenkins then went on a run of pars over the next five holes, scrambling successfully twice — she led the division in that statistic on the day — and getting to circle 2 in regulation on the other three.
"I stuck to my game plan and got the pars on the longer holes, and really my mind is going toward getting pars, staying in the fairway, and saving my shots when I can," Jenkins said. "I think that's the name of the game out here. The Maple Hill course is just really demanding on all aspects of your game. You have to throw it really far, but also be accurate and make sure you're landing in the right spots. So I felt like today it seemed really easy to play, and my upshots were pretty easy. It's one of those days where it felt like everything was going right."
Jenkins found her only real trouble spot on the course at hole 8, with its roughly 250-foot water carry off the tee. There was a strong headwind on the hole, but Jenkins didn't deviate from approach, opting for a midrange off the tee. She turned her drive a bit too much, and it found the trees right of the green, which knocked her into the out-of-bounds water.
"It's my first year with new discs," Jenkins said. "I know I can reach the basket with a midrange, so I'm throwing a Buzzz, whereas in years past I would never even think of throwing a Roc across the water. But a Buzzz just goes a little bit further, and I can throw it a little bit harder, so that's what I was practicing."
She rebounded quickly from the error with a par on hole 9, which played as the second most difficult hole for the field at 1.09 strokes over par. Jenkins grabbed her second birdie of the day on hole 10, a right-bending, uphill 370-foot par 4, with an approach shot that landed inside of 10 feet for an easy tap-in. She then spent the next three holes successfully scrambling for pars to put her in prime position to before adding birdies on holes 16 and 17 to pad her lead. When she closed with a par on 18, she was rewarded with a five-shot margin.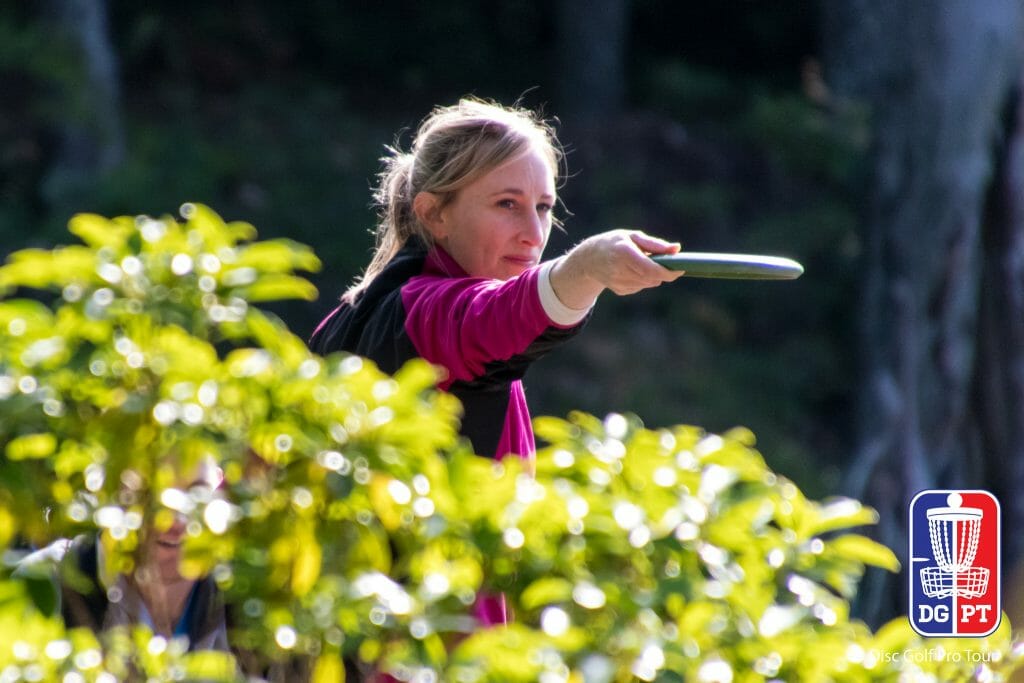 Jenkins' consistent round was paralleled most closely by Andyke's performance. The Oregon pro started her round off with seven straight pars, which stood in stark contrast with the majority of scorecards in the division.
"It felt good. I stuck to a practice plan that I had made, so I guess my favorite answer is that it felt smooth," Andyke said. "It's always kind of a good feeling when the golf doesn't feel like a grind or hard."
Andyke went on to card four bogeys between holes 8 and 14, but, like Jenkins, finished out with birdies on 16 and 17 after reaching the green in regulation. She partly credited her play to the atmosphere on her early morning grouping with Vanessa Van Dyken and Erica Johnson.
"I think the other biggest thing is just that it was good energy on the card," Andyke said. "Everybody was focused on their own shots and what they were doing. On a course like this, with how big and how long it is, as long as you're able to have your own time and take your own focus you should be able to shoot pretty well. So that was nice to have the card company and nice to be able to focus."
Andyke hasn't played in a high-profile event since the Beaver State Fling in June. Besides being awarded a PDGA Innovation Grant to bring disc golf equipment to an Oregon school district, she's spent the last six weeks creating a non-profit to bring disc golf education to schools, which just received official non-profit status earlier this week. Andyke said getting the non-profit organized was the main reason she hasn't done a full summer tour, but that the time off has actually helped her refocus her game.
"One thing that I'm really thankful for is I've been on a break for about six weeks," Andyke explained. "In order to be ready to come back out on tour I set a bunch of due dates for myself to get that done and used golf to take a break from work every day. And I used it as a way to be healthy and free from really hard focus, and I think it's taken a lot of pressures off of my game."
After being away from the touring scene for an extended period, Andyke is eager to play on the lead card with Jenkins, Pierce, and Hokom.
"These girls are some of my favorite in the game," Andyke said. "We train together and have traveled together and practiced together in the past, so I'm excited to golf with my friends."
Jenkins, meanwhile, wasn't getting comfortable with her lead, as she knew danger lurks around every corner at Maple Hill.
"I think it was a really solid round, but you never know what happens when you're playing a course like this," Jenkins said. "I felt like maybe I had some shots that found their way through the trees, where on other days they might not. I want to keep my focus on hitting those fairways and sticking to my game plan as usual. Three more days, so there's still a long time before the end of the tournament."
The lead card tees off at 8:40 a.m. today, with coverage included in the Open division live broadcast at 3:30 p.m. Statistics and real-time scoring can be followed on UDisc Live.