Reigning world champion recovers after slow start in Kentucky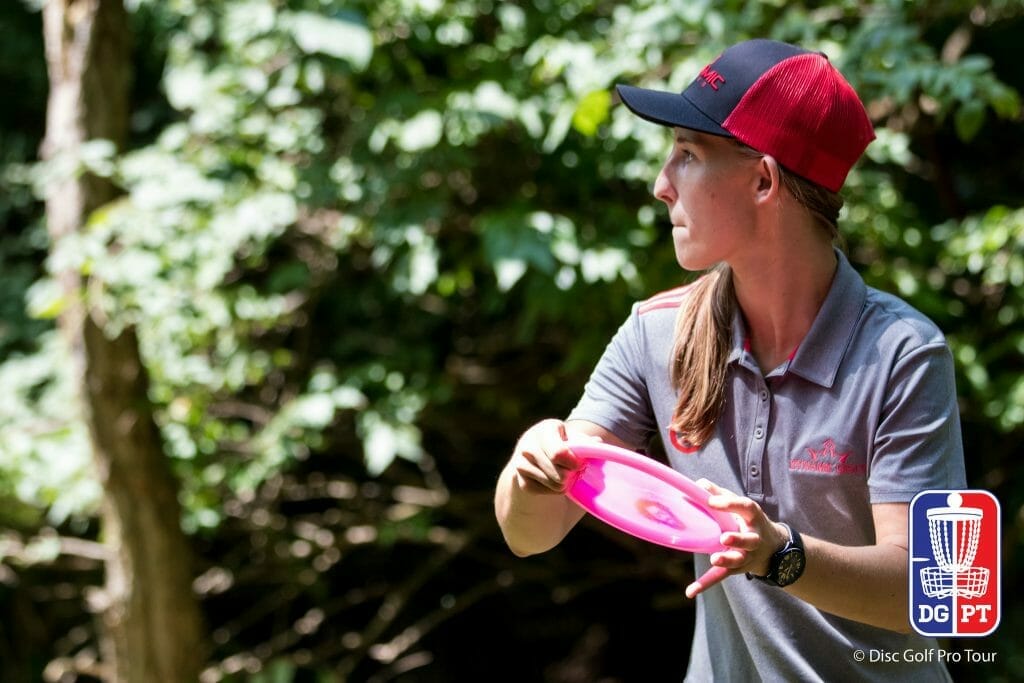 Talk about bouncing back.
After uncharacteristically struggling at the Ledgestone Insurance Open, Paige Pierce pulled away from the field for a resounding nine-stroke victory at this weekend's Idlewild Open. It called to mind her last such DGPT performance, when she was in her home state for the Waco Annual Charity Open and won by seven strokes.
Pierce finished out the final day with the best score thrown by anyone at the event, a 984-rated 3-over par 69, which brought her three-round total to 15-over par 213. Sarah Hokom finished in second place after her final round 6-over par 72 brought her to a 24-over par 222, and Lisa Fajkus' 10-over par 76 to added to a 26-over par 224. Jessica Weese rounded out the top four after her final round 8-over par 74 helped her card a 28-over par 226 total.
Pierce held a four-stroke advantage over Fajkus and a six-strokes gap on Hokom heading into Saturday at Idlewild. Pierce added a stroke to those leads early, taking the lone birdie on hole 4. On hole 5, after all three competitors tossed clean drives, Hokom's second approach hit an early tree, and her third went long of the pin and into the out-of-bounds creek. The extra approaches and penalty stroke resulted in a double bogey for Hokom. Fajkus two-putted for bogey and Pierce's lead began to swell.
Despite the relative struggles, Hokom was able to stay relaxed and fight through the tree kicks in an attempt to keep pace with Pierce.
"What I really realized by the end of the event was this course, in particular, required just a ton of mental toughness, because of the fact that the lines were so tight," Hokom said. "You could literally throw really good shots and get punished or not, and the people you're playing with could also have the same situation throwing a bad shot and ending up in the middle of the fairway."
With the margins staying the same through hole 11, Pierce took a bogey 5 on the challenging 12th hole, but Hokom managed just a par and Fajkus carded a triple bogey 7. As a result, Pierce's lead jumped to seven over Hokom and eight over Fajkus, and there was no looking back.
Even though Pierce's lead was growing, Hokom remained focused solely on her game and reaching the goals she began the round with.
"I realized I needed to stay positive throughout the entire round no matter what happened and not let anything work me up," Hokom said. "Stay relaxed and calm through those woods, and just sneak through them and deal with what happens and not get upset about anything."
Pierce played out the final third of the round just 3-over par, while Hokom and Fajkus couldn't avoid taking big numbers, as each carded two double bogeys down the stretch. Ultimately, Pierce capped off her stellar final round with a 40-foot par saving putt on the 18th green. The win was her fourth of the DGPT season and her 16th overall. It also helped Pierce solidify her place atop the DGPT's season-long points standings.
After Pierce had one of the highest OB rates in the field during round one, when she carded five penalty strokes, she cleaned up her play the final two rounds and only collected five penalties combined. Keeping it between the lines allowed Pierce to make the most of her division-leading putting performance, scramble percentage, and green hits in regulation.
The tour heads next to Portersville, Pennsylvania, and Lakeview Disc Golf Course at Moraine State Park for the Pittsburgh Flying Disc Open PDGA National Tour event later this week. Moraine State Park hosted the fifth and semifinal rounds of the 2015 PDGA World Championship, in which Pierce beat Hokom by a single stroke.