Allie Stone and Andrew Fish directed the Women's Open of Maryland Edition 1 last weekend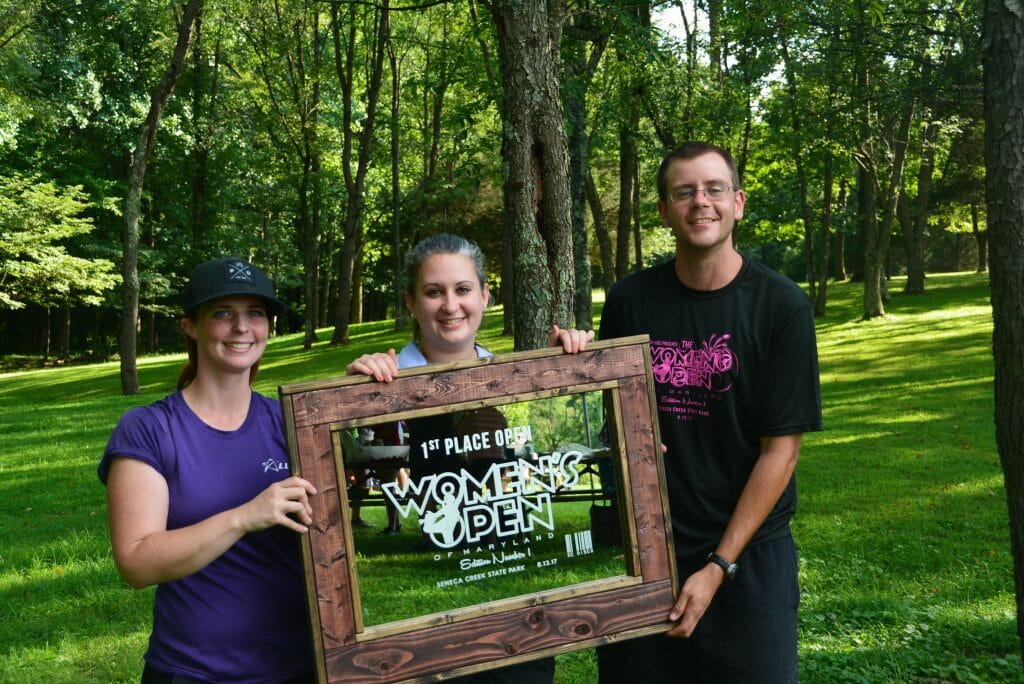 This past Sunday co-Tournament Directors Allie Stone and Andrew Fish hosted the largest ever gathering of women disc golfers in Maryland at the Women's Open of Maryland Edition 1. Not only did 53 players in 10 PDGA divisions from all over the east coast come to Seneca Creek State Park in Gaithersburg, just outside of Washington D.C., but so did over 40 volunteers, caddies, and spotters to help put on the event.
Two Open Women's players, Lori Merriman and Julie Ferdella, traveled the 408 miles from Delaware, Ohio, where they competed in the Ladies at the Lake women's event on Saturday, to play in the Women's Open of Maryland.
Despite having tournament directing resumes that only featured a small C-Tier and two-years of running a regular women's league, Stone and Fish were able to raise well over the minimum added cash for a B-Tier from a host of sponsors. They also raised the necessary funds from the community to have the Women's Open feature and lead cards filmed by videographer Marty McGee of Prodigy Disc Video and even got some television coverage from the local Comcast Sports Network affiliate.
How did they pull it all off? I caught up with Stone and Fish the day before their tournament to talk about women's events, women in the sport, and advice for others who might be interested in running their own women's events in their area.
The following interview has been edited for clarity and length.
In a very general sense, what kind of impact can your event have on disc golf and women's participation in the sport?
Fish: I think the best result we could have is that women who come to this event tell their friends about it, whether those are friends who play disc golf or don't, just somebody at the office or at school or in the community. Really, one of the great things about disc golf is that there's a speed for everybody. There's the really competitive national and international touring folks, and there's also those who just like to go out there with their dog or with some of their friends on the weekends. So it's important that, as much as we want to grow this tournament and this sport, that has to happen at all levels, and giving people a good opportunity to enjoy [disc golf] is a great start for that. They will tell people about it.
Stone: We're having Marty McGee from Prodigy Disc do film coverage of FPO both rounds, so I think that that could have a pretty huge impact on women. A lot of people these days are watching disc golf on YouTube, and when you turn on the latest tournament and all you see are the lead MPO rounds it kind of sends a message to women that—it might be subtle—but we don't necessarily matter as much if TDs aren't willing to go out of their way to cover us. It was pretty important to Fish and I for this tournament to get women's coverage. It's just one of those things that can definitely impact growing the sport for women in general, getting more tournaments out there and having a larger impact. I'm just grateful that we were able to get the funding to get the coverage and get it filmed.
Fish: And you know, that happened really quickly, too. We talked about it, and we shopped around to a couple of videographers and within a day we had the funding from local disc golfers who wanted to see that coverage, which tells us that there's a market for it.
Women's Open of Maryland Video
You're running one of many large women's only B-Tiers on the PDGA calendar this year. How do you think these higher tiered women's tournaments are impactful in terms of drawing women to the game?
Fish: I think having B-tiers or A-tiers definitely makes it bigger in number, and it can probably draw more people, but it's likely to be those who already know about disc golf. Just having more events is great, and women's-specific [events] I'd like to think that just giving the opportunity, and a safe environment, and good community of people who are supporting women's disc golf makes [participating in the sport] more attractive.
Stone: Yeah, I would say that having the B-tiers or the higher tiered events definitely brings more women from out of state to travel to them because there are typically bigger player packs or added cash, that kind of thing. Like Fish said, just having more women's events in general makes it less intimidating for women who might be casual players or playing with their friends to sign up. Because sometimes on the local scene you sign up for a tournament and you're one of two women playing, or the only woman playing, [and] you kind of think, "Do I belong in disc golf? Why am I here?" or that kind of thing. So just having larger tournaments in general brings out more numbers — girls want to invite their friends and it's more fun.
How can women's events like yours lead to more women playing disc golf more regularly, whether that's in other tournaments, leagues, or just meeting up to play?
Stone: I think that the women's-only tournaments definitely have sort of that safe environment, or encourage more women to come out and play. And then when they have a really good time at these tournaments or when you make them all about women — and you do things like a ring of fire or CTPs, and you show them that tournaments are actually fun and don't just have to be crazy competitive — girls can go out and have fun, meet each other. The camaraderie aspect comes into play, and then they can go home and be like, "Hey, let's start our own women's league, or have our own women's tournament here."
One thing about Maryland to note that's pretty cool: In Maryland there are eight PDGA members that are women, and we have 53 women signed up for this tournament all the way from Massachusetts down to Florida. And so it's kind of like, in your area, even if you don't have a whole lot of women that are PDGA members, if we can run a tournament and get 53 women to come out and play from all over the east coast, any area can do it.
What kind of advice would you have for someone who might be interested in running their own women's event?
Stone: Like I said earlier, there are eight women who are registered players in Maryland and we have 53 signed up. I would say, honestly, just go for it and start planning. Start doing fundraising, it will happen. We had 53 women from all over the place sign up and come play, and all we did was decide that we were going to do it. If you put something out there, people will come. If you build it, they'll come.
Fish: We were pretty ambitious in our first year, and we were able to get more than the minimum added cash [necessary for a B-Tier], and I think a couple of keys to this were that Allie kind of hit social media really early. Like six months ago we started a Facebook page and posted to all the local clubs. Try to get the word out early and build the hype for it. We were constantly updating with information about the player's packs, or when we got the videographer. Build the hype. Don't just expect that people are going to seek it out, because there are a lot of tournaments out there and we're catering to a fairly small market.
Stone: That's true, we did pick a date early in the year. I think Fish reached out to me in maybe January or February, and we picked August and set registration up in February or March and I even created a group on Facebook for the entire state of Virginia and got over 115 members within maybe two weeks and was just inviting everyone I knew. And then created an event for our tournament and posted pictures of player packs, posted what we were trying to achieve in terms of added cash — any time we got a sponsor I'd throw them in there — that Marty [McGee of Prodigy Disc Video] was coming to film. Just hyping it up as much as possible, getting the interest out there to the social media world.
Fish: We got $2,000 guaranteed added to the pro purse within a month, and then we have a bunch of added value to the AMs with the player packs.
Stone: We have about 15 or 20 caddies coming out. Next year we might even try to do a caddy program, where you throw in $15 or $20 and you get your own caddy pack — kind of like what the Rocky Mountain Women's Championship does — to encourage even more caddies.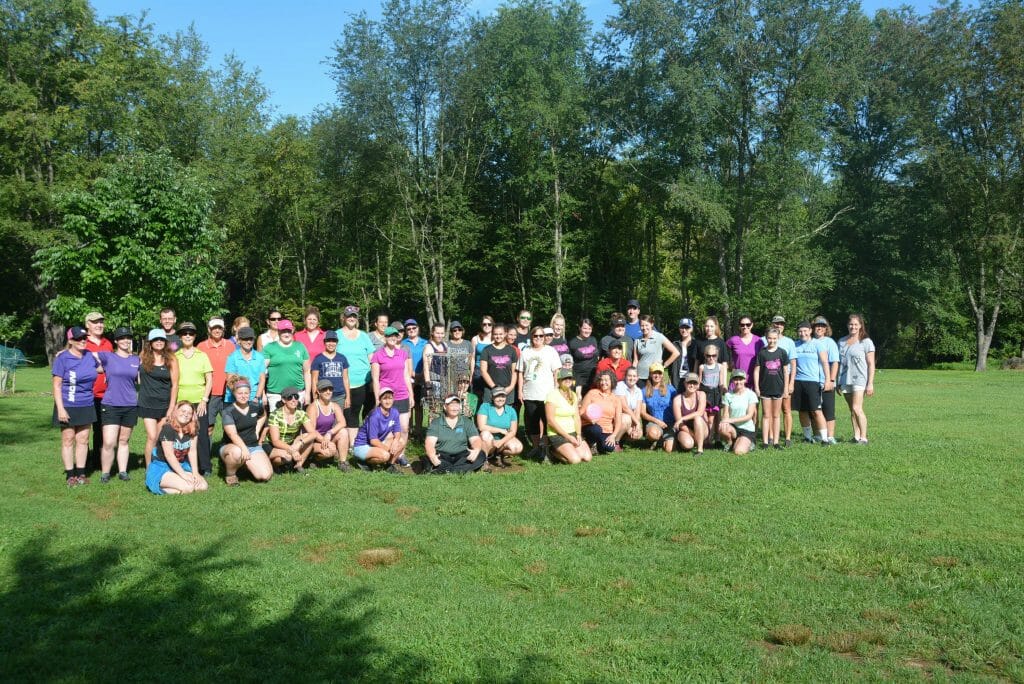 How can Tournament Directors who run events on a regular basis adjust some of their typical practices to make their events, whether PDGA-sanctioned or not, more appealing to women?
Stone: One aspect that I've noticed that women sort of appreciate with tournaments is lower entry fees, especially like players that — the majority of women, they're either already competing and have accepted the fact that there are going to be very few of them playing, or there are a bunch of casual women players out there that are intimidated to sign up for tournaments because they're going to be one of however many, or the only woman signed up with a bunch of guys. So one thing that really helps is lower entry fees, because it sort of helps with that intimidation factor. And then when it is slightly cheaper, maybe they can get their friends to sign up or their casual friends they've gotten to play.
Fish: I think I definitely have a different experience than Allie when I go to a tournament. It's always a given that I'm going to have many people in my division. I'm not going to have to play with the same people week after week. I know that running this tournament, I really have to adjust my expectations of what the layout needs to be and what the players pack needs to be, because we're targeting a group of players that there might only be a couple at each tournament. So we were really working at trying to make the layouts appropriate for the skill levels that are coming to this tournament. So for TDs at any level, take the time to think about who you're trying to get to come to this tournament and make it clear in all of your tournament preparation, and during the event, that every player is valuable and every player is somebody you want coming back later.
Fish, you're pretty involved with Ultimate Frisbee. I notice that there are often pretty in depth discussions in Ultimate about issues like gender equity in the sport, and in disc golf that's less prevalent. Do you have any thoughts about that, and how the discussions in Ultimate influence how you approach understanding similar issues in disc golf and, in turn, running a women's event?
Fish: Certainly, awareness of what the gender gap is in society and in sport. In Ultimate I think the women's participation is around 31 percent, and in disc golf it's less than 10 among PDGA active members. That's just ridiculous. Fifty percent of the nation's population and world's population are women, so somehow we have to figure out how to engage that other half of the population, because there are enormous contributions that women can make to the sport that aren't yet being realized, whether that's on the business side, the tournament directing side, the playing side — all of those are lacking.
As far as how gender equity works, one thing I really like that USA Ultimate has done is they have written into their bylaws, and all of the contracts that they make, that all three divisions for club — Open, Mixed and Women, as well as the two divisions in college, Open and Women — have to receive basically equal coverage and equal opportunity to play. So, assuming that there are adequate teams, when USA Ultimate signed on with ESPN, the first game that they showed on ESPN2 last weekend was a Mixed game — and I'm sure that [Ultiworld Publisher] Charlie [Eisenhood] and Ultiworld got some blowback from some of the discussion on that — but I think that it's very, very important that we give women, in particular, an opportunity to see the high level of play that women are achieving. And that's something where I feel like Ultimate is a little bit ahead of disc golf. It would be great if we could catch up, but also we have kind of a different sport model. Instead of it being a team sport, it's an individual one.
Are you planning to run this event again next year?
Stone: Absolutely, 100 percent. Ideally we'd like this to be an annual premier event, the premier event on the east coast. Obviously the USWDGC this year is in Tennessee, so that's a huge one. We would like this to be an annual event that gets players travelling from all over the place, and hopefully this year being our first — with the amount of added cash and amount of players we have signed up, and the media coverage that we're doing — hopefully next year we can get even more players out and keep growing, get more sponsors and more money into it and grow this thing to be a huge event.
If you're considering running a women's event in your area, resourses are located on the Disc Golf For Women page at the PDGA website.