One-day affair finds ESPNU highlighting obscure sports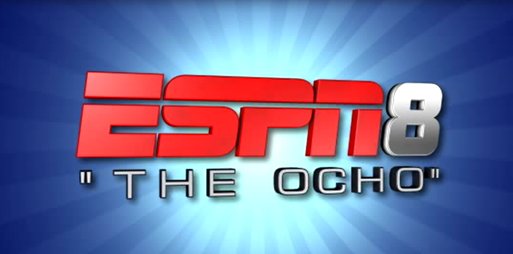 It's a bold strategy, Cotton. Let's see if it pays off for 'em.
The American Disc Golf Tour is making its dubious return to the airwaves this week as part of ESPNU's one-day conversion to ESPN8, "The Ocho." Inspired by the 2004 comedy Dodgeball: A True Underdog Story, ESPN's college sports hub will turn into the fictional obscure sports channel for 24 hours tomorrow – 8/8 – and shine a light on what the network dubs "unconventional sports."
Disc golf kicks off the affair tonight with a midnight ET showing of the controversial and much-maligned 2016 American Open, the one-off affair that took place last May as part of the now-defunct ADGT. [Although ESPN's news release for the event titled it the "American Disc Golf Championship," Ultiworld Disc Golf has confirmed with ESPNPR that the event is the American Open.] Hailed by its founders as a groundbreaking television event, the tournament was widely panned by fans for, among other things, its overt lack of cooperation with the Professional Disc Golf Association; awkward layout; poor camera angles; and the inclusion of Hooters waitresses doubling as scoreboard attendants. Ricky Wysocki won the event, and was handed a bag of cash on camera. The whole scene was rather unpolished, and the company behind the event, Salient Discs, has since filed for bankruptcy.
In addition to the ADGT rebroadcast, "The Ocho" will also show darts, cornhole, roller derby, trampoline dodgeball (yes, please), arm wrestling, and ultimate Frisbee.
According to a July 2015 article on TVByTheNumbers.com, ESPNU was available in more than 73 million households. Viewers can also stream the network online, but, per the ESPN release, Gary Cole and Jason Bateman will not be on hand to provide commentary for the festivities.