Pierce moves to third at tournament's halfway point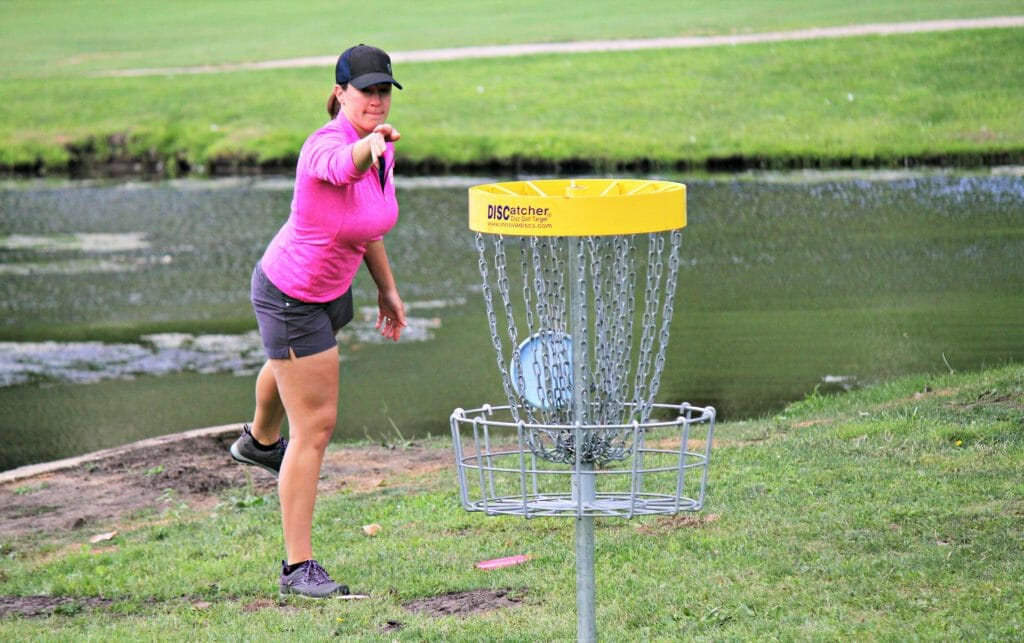 Valarie Jenkins turned a one-shot deficit into a one-shot lead today at the Ledgestone Insurance Open, after a 4-under par 53 at Sunset Hills brought her two-day total to an 11-under par 104. The hot round helped the four-time PDGA World Champion leapfrog Jessica Weese, who slipped to second place with a 2-under par 55 that took her to a 10-under par 105 overall.
Paige Pierce managed to climb one spot on the leaderboard with a 1-under par 56, but still trails Jenkins by eight strokes with a 3-under par 112 total. Pierce shares third place with Ragna Bygde Lewis, who held her spot in the standings with a 1-over par 58 at Sunset, while Catrina Allen, Jennifer Allen, and Sarah Hokom are knotted up in fifth place with 3-over par 118s at the tournament's midway point.
Jenkins has logged only a single bogey through 36 holes, and it came after she two-putted on hole 1 today. She shook off that miscue with ease, though, and hit all of her other putts inside circle 1 to give her a tournament-leading 97 percent conversion rate from close range. She actually trailed Weese by as many as three strokes late in the second round, but finished with three birdies on the last four holes, including a 70-foot throw-in on the par 4, 525-foot 17th. Weese, meanwhile, missed from inside the circle to take a bogey on hole 18, leading to the two-shot swing that gave Jenkins the lead.
The final tally was indicative of Weese's inconsistent day: She offset a field-best seven birdies with three bogeys and a double bogey. She is leading the field in both birdie percentage (42 percent) and parked holes (25 percent), but has struggled so far to a 13th place showing on putts inside the circle.
Like Jenkins, Pierce also rebounded from a slow start. After carding three strokes over par on the first two holes, the reigning PDGA World Champion settled down and kept a clean sheet through the rest of the round. Catrina Allen also worked in recovery mode on the manicured Sunset Hills fairways, as she battled back from a string of five consecutive bogeys to eventually move up six places in the standings.
Tomorrow's play moves back to Northwood Park, with Jenkins, Weese, Pierce, and Bygde Lewis comprising the lead card.