Europe's strong match play showing makes it close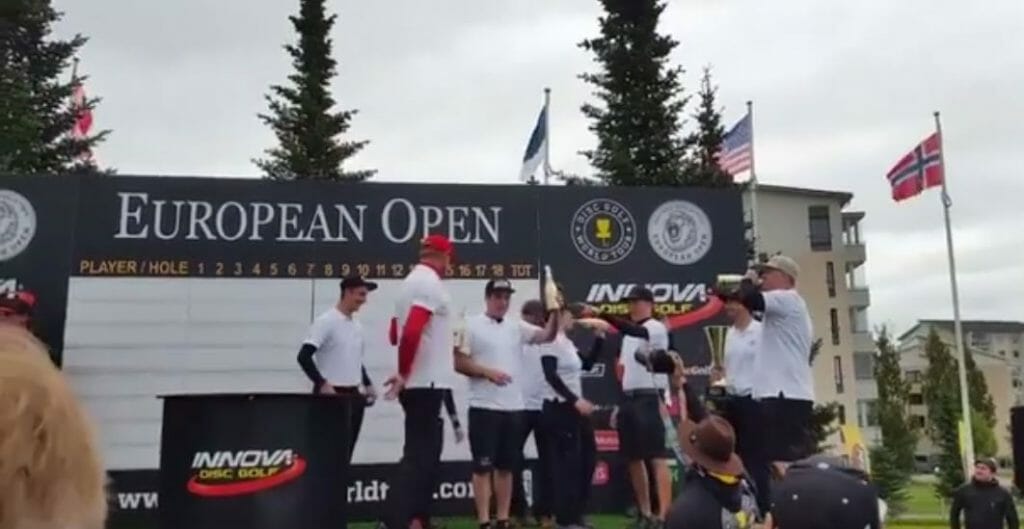 A heavily favored American squad again came away with the victory earlier today at the Presidents Cup in Nokia, Finland, but it wasn't exactly a walk in the park.
Team USA's three match play victories in the event's second round were just enough to hold off a surging Team Europe by a 28.5-23.5 margin. The win was Team USA's eighth straight at the biannual tournament that precedes the European Open.
The Stars and Stripes jumped out to an early 19.5-8.5 lead during the event's first round, which featured individual stroke play scoring. Paul McBeth led the unit with a 3-under par 29 during the half to net four points on his card. Jeremy Koling added another four points by winning his group, as did Catrina Allen, who led the women's card with a 3-over par 32. Ricky Wysocki and Eagle McMahon split first place points in their early grouping, and it appeared that the rout was on.
But Europe battled back during the second round's match play format, with the team winning five of eight pairings. K.J. Nybo upset McBeth by a 1-0 score – meaning the two pushed on eight of nine holes – while Teemu Nissinen, who was called in as a reserve to replace an injured Juho Parviainen, knocked off Koling 3-2.
The European women, meanwhile, swept their division. Katka Bodová toppled Valarie Jenkins 3-2, while Eveliina Salonen overpowered Allen by a 4-2 margin.
Still, Team USA had built enough of an early lead that its three wins — Wysocki over Simon Lizotte, McMahon over Seppo Paju, and Nate Sexton over Jalle Stoor — were enough to enjoy the post-round champagne shower. Team USA Captain Dave Feldberg, though, admitted that the affair was a little too close for comfort.
"I don't want to be the first name on the trophy with a [captain's] "C" that doesn't have a W," Feldberg said in a Facebook Live interview. "It was a very, very close match at the end. I was unsure. It came down to Eagle McMahon making a 60-footer over the water, then, you know, the usuals. Ricky took care of business. Players' choice Nate Sexton, he's a match play genius. He came in and won the match."
Feldberg, who has been a part of all eight Presidents Cups, praised Europe for its improvement over the years that yielded today's impressive finish.
"They stepped it up so good, Team Europe," Feldberg said. "They shut us down. Numerous matches didn't even leave [hole] 16. Europeans shook hands with Americans on 16 and said, 'This time we got you.'"
Even as the event turned into a nail-biter, the five-point margin of victory fell right in line with recent history at the event: USA took the 2015 iteration by a seven points and the 2013 event by three.