Allen, Jenkins, Hokom battling for second place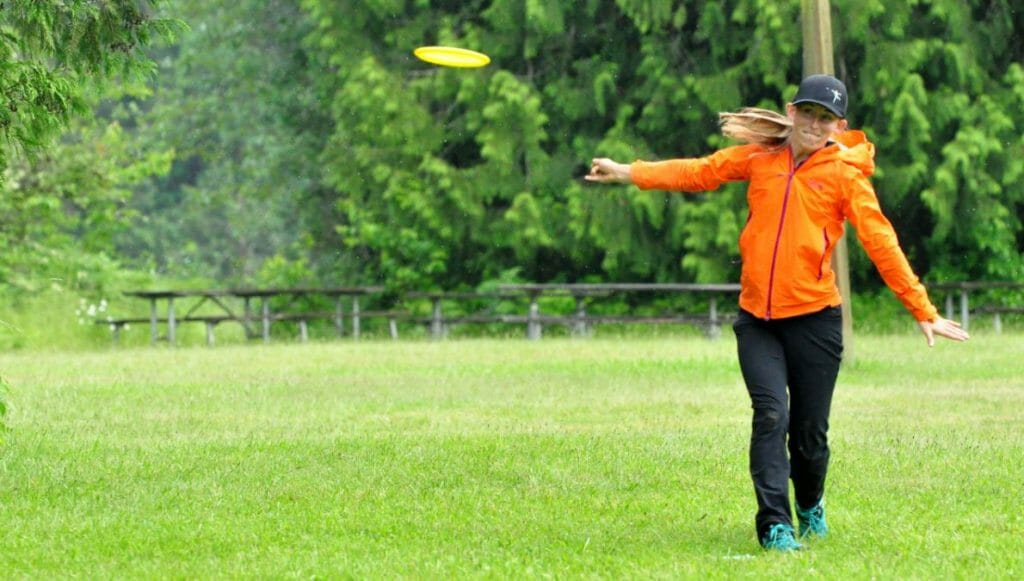 A 15-stroke lead for Paige Pierce after her 14th 1000 plus-rated round of the season has made the Open Women's final of another PDGA National Tour event a mere formality.
Pierce is now well-positioned to win her fourth NT of the season and pick up her first career Beaver State Fling win after building a seemingly unassailable lead yesterday at Milo McIver State Park's Riverbend East Course. Her 1020-rated, 4-under par 57 third round moved her total score to an 8-under par 175, more than a dozen strokes clear of her next closest competitor. The performance marked her third consecutive four-digit round in the Pacific Northwest.
In what is realistically the most competitive battle left in the division, Catrina Allen remains in second place after a 5-over par 66 third round moved her total to a 7-over par 190. Not far behind are both Valarie Jenkins and Sarah Hokom, who tossed matching 1-over par 62 third round scores. Jenkins' now sits one behind Allen with an 8-over par 191, while Hokom remains in fourth with a 9-over par 192.
Unlike her second round, which began with a double bogey, Pierce's third round kicked off with two easy pars on the dual left-to-right opening holes on the East Course. Her score, and the rain, then started to fall, as she collected a birdie with a long straddle putt through the precipitation on hole 3 and another birdie on hole 4.
Even though the rain did not dissipate, those two strokes did on the next hole. Pierce hit the first available tree on the narrow fairway of hole 5 and had difficulty scrambling before taking a double bogey 5. She bogeyed the next hole after releasing her drive early into left side rough, but righted the ship quickly with a birdie on hole 7 and then five more in the next eight holes, including a stretch of four in a row.
"I had a rough stretch, I guess," Pierce said. "But it's hard to even say that because it's just a given on the holes I messed up. If you hit early you're kind of done for on those. It was just a couple bad shots, maybe 2 or 3, and those cost me. But then I executed on a few of the par 4s and got birdie 3s on them, and then just kinda rode that out through the rest of the round."
If a couple bad shots only brought this round down to a 1020-rated performance, Pierce was resolute to take the same approach, and chances, during today' final round.
"There's definitely no danger," Pierce said. "So it's not like playing safe or playing aggressive. It's just playing my game and just seeing if I can execute. It's going to be the same as every other round, as far as my intentions. I just have to execute when the time comes."
With the luxury of a large lead in the waning stages for the second high-profile event in a row, Pierce was reflective on how she approaches playing under such circumstances and her preference for closer competition.
"It's irrelevant to me if I win by one or I win by 40 — a win is a win," Pierce said. "I will say I do enjoy closer tournaments better. That's kinda what I strive for, is that pressure situation, and that's why I play. Having competition down the stretch, you want to have that tension, and being anxious and just seeing how you strive under it. I think that's what fuels competitors, and definitely myself."
While Pierce wasn't explicitly looking ahead to the PDGA Professional Disc Golf World Championship later this month, she was optimistic about how closing out the Beaver State Fling could get her ready for the main event.
"I feel like I'm in the best position that I have been at this tournament before, so hopefully I can just finish it out confidently and play my game and put up a good score," Pierce said. "Anything above my rating I'd be stoked with, and it would be awesome to come home with my first Beaver State Fling win and go into Worlds on that note."
Pierce and the rest of the final round lead card tee off at 12:30 p.m. Pacific on the Riverbend West Course. Follow along with the live scoring at PDGA Live and look for post-production video coverage from Jomez Productions.