Both log cleaner scorecards en route to another tie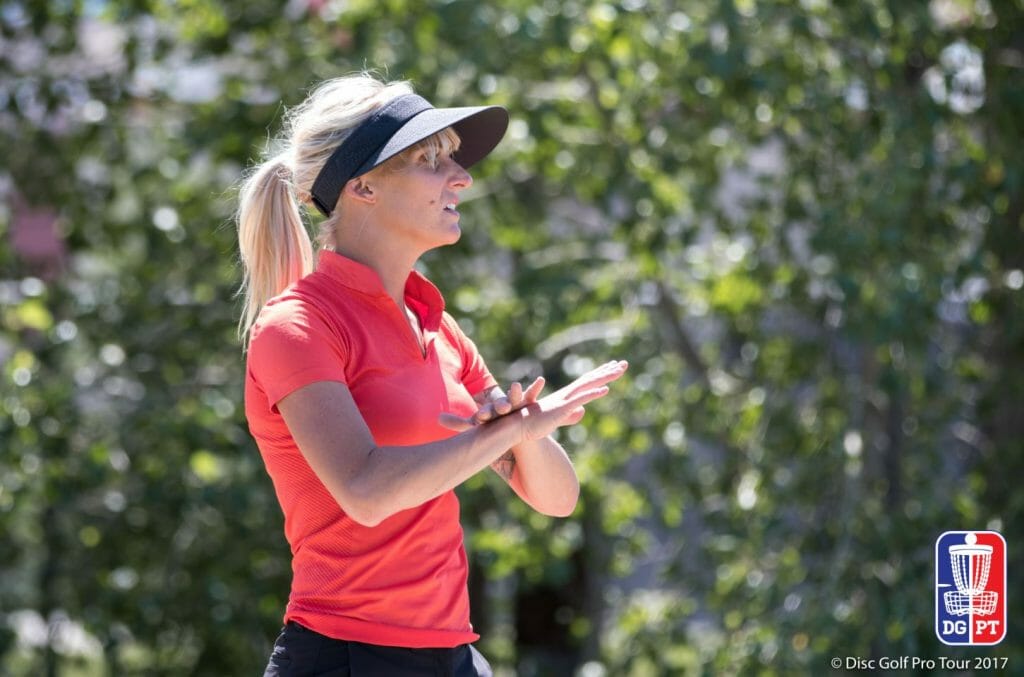 Oftentimes in disc golf, a player will enter a round with a set game plan. She will know exactly where to attack, when to lay up, and which holes present opportunities for scoring.
Sometimes, everything goes as planned. Other times — like it did for Catrina Allen yesterday during round two of the Utah Open — that blueprint goes out the window.
Despite at times veering off her charted path, Allen cleaned up some of the errors that plagued her first round and logged a 3-over par 61 to bring her to an 8-over par 124 total. The effort left her tied for a second straight day with Jessica Weese, who matched Allen's 952-rated round. The duo are 10 strokes clear of Amy Bilodeau, who tossed an 8-over par 66 round, and 11 strokes ahead of Madison Walker, whose 13-over par day brought her to a 19-over par 135 total.
After carding seven penalty strokes during Thursday's opening round, Allen corrected course and only went out of bounds three times yesterday. She attributed the shift to a more conservative mindset, but it was one she said she had a difficult time sticking with as she worked through some issues with disc selection.
"Still, a couple of those, like — I was just laying up on a hole, but I threw a driver that could still get to the OB, and I'm like, 'If you're gonna do that, you might as well go for it, and then if not then actually lay up,'" Allen said. "'Club down. Don't throw something that can get there.'"
At the start, at least, Allen was trying to adhere to that same ideal when it came to putting. She laid up from inside the circle on hole 1 — even as the play resulted in a bogey — and then hit a 50-foot birdie putt on hole 2 to not only cancel out the extra stroke, but also improve by two shots over her round one performance on the hole. But as she progressed through the round, her competitive instincts got the best of her on hole 8. In a disastrous sequence, she missed her birdie attempt uphill from 20 feet, then sailed her par attempt into the OB bunker on the other side of the green. After finally laying up, she had four-putted her way to a double bogey 6.
"I just kinda had a mental break," Allen admitted. "Like, I really was taking my time, and all of a sudden — I don't know. I told myself going up, 'I think I'm gonna lay up even if I'm 20 feet [out] because I'm playing conservatively.' I told myself that was what I was gonna do, and I got up there and went numb and didn't take my time, and airballed it and airballed the next one and laid up.
"I wasn't mad that I missed," Allen continued. "I was mad that I didn't just stick to my game plan. I laid up on hole 1 from, like, 25 feet because I was like, 'I don't need this stroke.' What I need to do is just play smooth and consistent."
Though she recovered with a par on hole 9, Allen's frustration came to a head on hole 10. After her attempt for birdie slid off the left side of the chains, she punched at the ground before cleaning up for par.
"Sometimes I feel like — I don't always recommend it, but someone told me Tiger Woods had the eight step rule," Allen said. "He could be mad for eight steps, then he had to get over it. Sometimes letting out that little frustration is the same for me: Get it out and get over it. Express it and move on. By the next teepad I had forgotten about it."
Indeed, Allen played the rest of the course at even par for the rest of the round, and in the process gained two strokes on Weese, who up until hole 10 was at 1-over par through the round. After missing the mandatory with a forehand drive on hole 11 that led to a bogey, Weese two-putted three times coming down the stretch as her circle 1 putting percentage dipped to 84 percent.
Still, Weese was able to string together a couple highlights during the round. Her 40-footer to save bogey on hole 2 was her longest connection of the round, and a park job for birdie on hole 18's island green saw her carry some momentum into today's final.
With scores knotted up for a second straight day, Allen said she planned to actually stick to her conservative script this time around and would look back to what she learned on hole 8 as she seeks to break the stalemate.
"I'm probably gonna lay up every death putt I have, unless I just start off the round feeling really confident," Allen said.
The final round begins at 9:15 a.m. local time, with coverage of the women's card being broadcast during the Open final at 4 p.m. Eastern on SmashboxxTV. Real-time scoring and statistics will be available throughout the round via UDisc Live.