Pierce forced to withdraw due to family emergency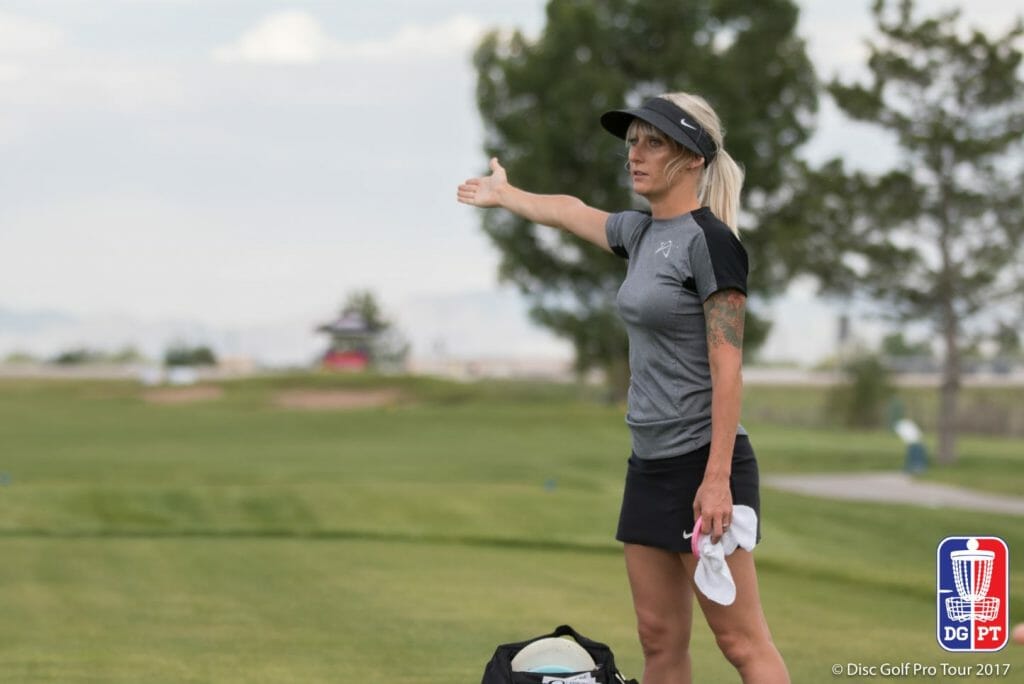 Entering the Utah Open as the defending champion, Catrina Allen knew exactly what she needed to do to replicate her prior success at Mulligan's Creekside Disc Golf Course: Take it easy.
As round one proved, though, that's sometimes easier said than done.
"I've played here before and I just played too aggressive, and I knew better than to do that and I don't know why I did," Allen admitted. "I'll have to lay up a little more tomorrow."
That mean streak bit Allen to the tune of seven penalty strokes during yesterday's opening round in Ogden, but she wasn't alone, as Jessica Weese carded four and Paige Pierce logged six as the trio worked its way to a tie atop the leaderboard with 5-over par 63s. Madison Walker tossed a 6-over par 64 to remain right with the leaders, while Utah pro Amy Bilodeau's 10-over par 68 found her at the bottom of the small Open Women's field.
That field shrunk by one late last night, though, as Pierce was forced to withdraw from the event due to a family emergency. The move leaves a single Open Women's card set to tackle the rest of the tournament.
Pierce started the day off strong, taking four straight pars to open play and following those with the field's lone birdie on the 696-foot hole 5 with a long fairway shot that just skipped left of the pin. Allen and Weese, on the other hand, came out of the gates sluggishly, combining for four bogeys and two double bogeys on that same stretch.
Allen blamed the early difficulties on a "disagreement," as she grew frustrated when the rest of the card disputed where her disc crossed out of bounds on hole 4 and she was overruled. After taking a double bogey there, she followed with another penalty on hole 5 before correcting course with a birdie on hole 6. Still, she didn't truly hit her stride until hole 11, where she carded her second birdie of the round by playing a smooth backhand drive that rode the fenceline blocking the course from the adjoining driving range.
"It took me a couple holes [to calm down]," Allen said. "But after that I decided to let it go and play again."
Weese, meanwhile, took a similar path to her score as Allen. She only took one birdie on the day — a wide forehand hyzer hit and stuck on the island green of hole 6 for an easy clean-up job — but went on a long stretch of pars on the course's back nine to keep pace. Like Allen, she carded a penalty stroke when her drive on hole 14 — the second shortest on the course — landed in a sand trap. Both, however, saved par with circle's edge putts from the bunker.
That particular hole drew Allen's ire and was one she planned to attack differently during round two. Or, rather, not attack at all.
"They kind of just surround the basket with bunkers and OB, and there's a 238-foot hole I'm probably just gonna lay up on tomorrow," Allen said. "Especially if the wind's blowing the same way."
Though the Disc Golf Pro Tour's leaderboard showed Allen, Weese, and Pierce all tied for first place after round one, that result could have changed even if Pierce were still participating. Several competitors misplayed hole 15 and were initially being asked to self-report any changes to their score before the beginning of round two, and Pierce was among those players who would have been penalized. Tournament organizers later decided not to assess penalties after discussion with players, but Pierce reiterated in a text message that the possibility of a misplay penalty was not why she chose to leave the tournament.
"I don't want people to think that at all," she said.
Now the task for the rest of the field becomes cleaning up the penalty strokes that marred yesterday's play. For Allen, that meant being cognizant of the course's slick fairways and relying on her past experience there.
"I kind of forgot how quickly you can end up in the water or in a bunker if you don't play safe," Allen said.
The women's card tees off at 9:15 a.m. local time, with footage being broadcast during the Open lead card on SmashboxxTV at 4 p.m. Eastern.