Jenkins' 995-rated final moves her into third place at Masters Cup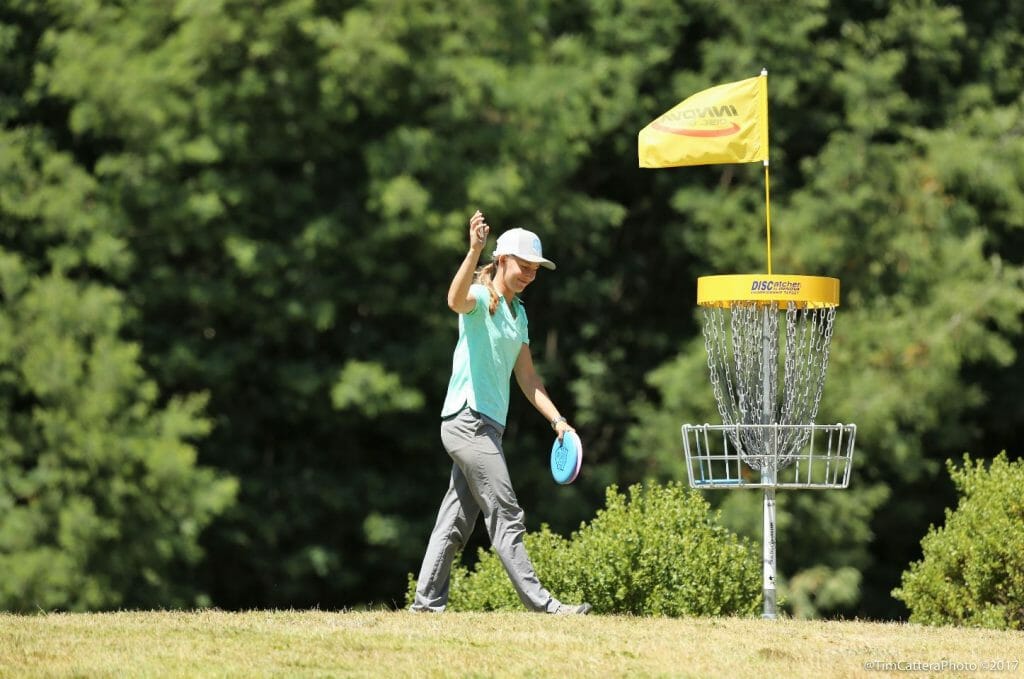 With a six-stroke lead going into the final round of the Masters Cup at the DeLaveaga Golf Course, the result was never in doubt for Paige Pierce, as she coasted to her third PDGA National Tour win — and 12th victory overall — of the season.
Pierce's 2-under par 58 final round easily secured her a third Masters Cup win with a total score of 4-over par 208. More impressively, the win was her ninth of the season in which she's won leading from start to finish.
Jennifer Allen was Pierce's closest competition, and her 1-over par 61 at the golf course was enough to maintain her second place position with a 13-over par 217. The performance was Allen's third top 4 finish at a National Tour event this season.
Valarie Jenkins threw the hot round — a 995-rated, 3-under par 57 — to move herself up into third place with a 14-over par 218 total. Rounding out the top 5 were Catrina Allen, who came in fourth place with a 19-over par 223, and Sarah Hokom, whose 21-over par 225 was good for fifth.
Even though Pierce got off to a relatively slow start, going to 2-over par through the front nine, she picked up steam on the back nine for a strong run to the finish. She started off with a birdie on hole 10, and carded two more on holes 12 and 13. After bogeying the 640-foot hole 14, she added two more birdies on holes 15 and 16. The strong outing made sure the gap between Pierce and the rest of the field was never less than five strokes.
The start to Pierce's season is reminiscent of her 2015 season. After her Masters Cup win in 2015 she had 11 titles on the season, including victories at the Gentlemen's Club Challenge; the Memorial Championship; the Texas State Championship; the Glass Blown Open; the Texas Women's Championship; and the Daisy Chains. She's won all of those events again this year.
Pierce carried that early season momentum all the way to her third PDGA Professional World Championship in early August, but this year she won't have to wait that long. With Worlds just one month away in Augusta, Georgia, and only a handful of high-profile events in the interim, Pierce sits in prime position for a run at another world title.
Since 2008, the winner of the Masters Cup has gone on to win the Open Women's World Championship six times. Pierce achieved that feat twice, in first time in 2011 before her run in 2015.
The PDGA National Tour's next stop is in Oregon for the Beaver State Fling. Before that, many of the touring pros—including Pierce—head to Ogden, Utah for the Disc Golf Pro Tour's Utah Open on June 1.