A rundown of the seven women's-only events on last weekend's slate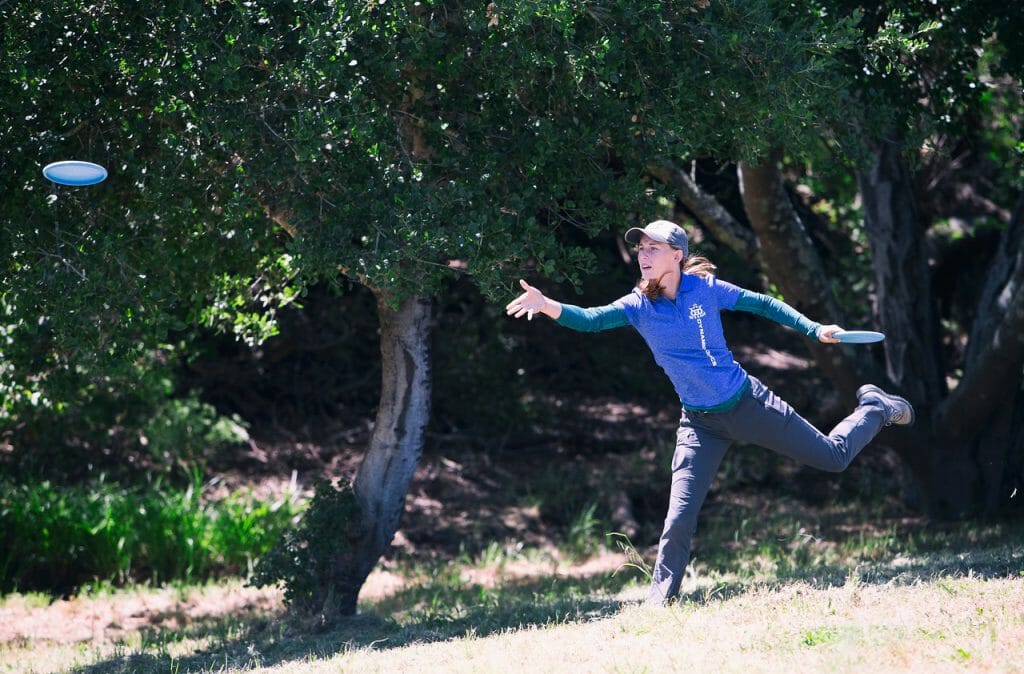 It's an off year for the bi-annual PDGA Women's Global Event — held every other year in early May — but that doesn't mean the calendar is devoid of women's-only events. Seven tournaments headlined the weekend that corresponds with the Mother's Day holiday, making for the events of that format held during one weekend in 2017.
The highest-profile of these was the Daisy Chains Women's Disc Golf Tournament in Watsonville, California. The long-running tournament was the second event of the Poppy Series, a set of women's-only events that run throughout the season in Northern California and one of six women's-only tournament series happening throughout the United States this year.
"It was started in 2012 by Christine Hernlund," Daisy Chains Tournament Director Beth Truso said. "The course [Pinto Lake] was developed for Worlds in 2011, so then in 2012 they decided to do a women's tournament there." That first year coincided with the first PDGA Women's Global Event, and it has since developed into one of the most well-known and attended women's-only events of the season.
This year, Paige Pierce won the three-round PDGA B-Tier event by throwing an 11-under par 157 total, winning by two strokes over Valarie Jenkins, who shot a 9-under par 159. The win was Pierce's third consecutive Daisy Chains victory, and her performance included an impressive 1009-rated first round and a 999-rated final. The 1009-rated round was the 11th four-digit round thrown during the six-year history of the Daisy Chains and Pierce's fifth in her three years attending the event.
Sarah Hokom and Jessica Weese tied for third after both tossing even-par 168 scores, while Zoe Andyke rounded out the top 5 just one stroke out of fourth. Four-time PDGA Major and six-time National Tour champion Carrie Berlogar won the Masters Women's division with an 11-over par 179.
Despite drawing women in the Open field from as far away as Denmark and Minnesota, this wasn't just an event for traveling professionals: Some of the 53 amateurs came in from Kansas, Arizona, and Nevada. For some, the event serves as their gateway to competitive play.
"We get a lot of people playing their first tournament and then they'll come every year, and we have people that travel for the tournament as well," Truso said. "And then we have even some amateurs that come all the way down from Oregon every year to play, and they played once and now they continue to come back every year."
For those new players, Truso knows it's not just about creating a quality competitive environment. A tournament experience that caters to all manner of players is equally as important.
"We definitely try to encourage new players to come and try to be really supportive," Truso said. "We always say it'll be the best first tournament experience you'll have, and then you'll be spoiled afterwards. We have extra, fun prizes. We're always thinking of ways we can give prizes for most improved, or most birdies, and we have another one for dots — just to encourage people, to make it fun because maybe you didn't place that well, but you still had a great experience overall."
Among the other women's-only PDGA B-Tiers on the schedule last weekend was the Farmer's Daughters Open in Gardiner, Maine, which kicked off the New England Women's Tournament Series with 64 participants across nine divisions. Kelly Jenkins' 3-over par 129 took the Open win by one stroke over Nicole Dionisio, while Erica Johnson finished in third with a 6-over par 132 and Jennifer McGibbon rounded out the top 4 at an 8-over par 134.
The first event of the Heartland Women's Disc Golf Tour got its series under way with the KC Diva Spring Feeva in Kansas City, Missouri, with 90 players in attendance. Jennifer Allen won the Open division by a wide margin, finishing with a 9-under par 99 to best last year's winner, Paige Bjerkaas, who ended the two round event at an even-par 108.
Much like the Daisy Chains, the Florida Wildflower Disc Golf Championship also began in 2012 and has been held each year since 2014. Jillian Ernst took the Open win in a playoff after a three-way tie with three-time event winner Valarie Bradley and Concetta Romano. The trio finished regulation play at the two-round event with 20-over par 128s.
Lacy Brugler won the Scarlet Open in Hudson, Ohio, after a 9-over par 117 performance. The event served as the second leg of the Midwest Women's Tour, and Brugler looks to retain her momentum in two weeks as the tour heads to Indiana for the Ladies First event.
In Oakville, Canada, the Ontario Women's Disc Golf Championship featured an all amateur field, with Colleen McInnes taking the win over Erica Tucker in the Advanced division by throwing a 1-over par 109 total score. And finally in Virginia, Kelly Boyce won the Spotsy's Finest Open by throwing a 6-over par 117 total. Erin Prescott, whose second round 58 came up just short, took second place with an 8-over par 119.
The next two women's events on the schedule take place next weekend. The NC Ladies Championship, featuring five-time PDGA Professional World Champion Elaine King, will be held in Charlotte, North Carolina, and Women & Children First goes down in Yorktown Heights, New York.