Hokom wins overall, plus highlights from all over the WGE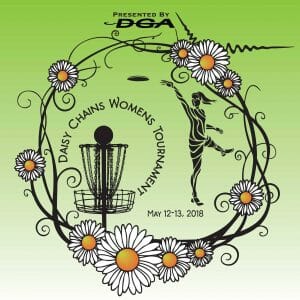 The name Daisy Chains may conjure images of flower children and innocence, however, the competition during the Women's Global Event marquee tournament was anything but tame.
Boasting the highest-rated group of women on the weekend, Paige Pierce overcame a sluggish second round in Watsonville, California to top Sarah Hokom and remain perfect on the season. Hokom has been Pierce's most consistent challenger all year but has yet to put it together over an entire tournament to best the world's top-ranked woman.
Fortunes looked like they may have changed after Hokom's 984-rated second round gave her a three-stroke advantage going into the final 18 holes.
Instead, Pierce made the necessary corrections on Sunday while Hokom's pace slowed, with Pierce shooting eight strokes better and taking home the victory by four strokes.
Valarie Jenkins, in just her second significant action of 2018, took home third by a four-stroke margin. Jenkins is joining the tour just in time for the west coast swing.
While Hokom may not have secured the tournament victory, she did prevail overall as WGE Champion. Ratings from the first two rounds of each of the 80 participating tournaments are combined and averaged to determine the player's "Global Score" and crown a champ. Hokom's first two rounds averaged 981.5, besting second place by four points.
In that second place position was Kona Panis, who blasted a 1010-rated first round at the Cowgirl Classic in Chino, California on her way to a 10 stroke victory. Two less familiar names, Kristen Parsley and Kelly Boyce, finished third and fifth respectively on the global scores, both playing at Discin Darlin's @ the Blockhouse in Virginia. Pierce finished fourth.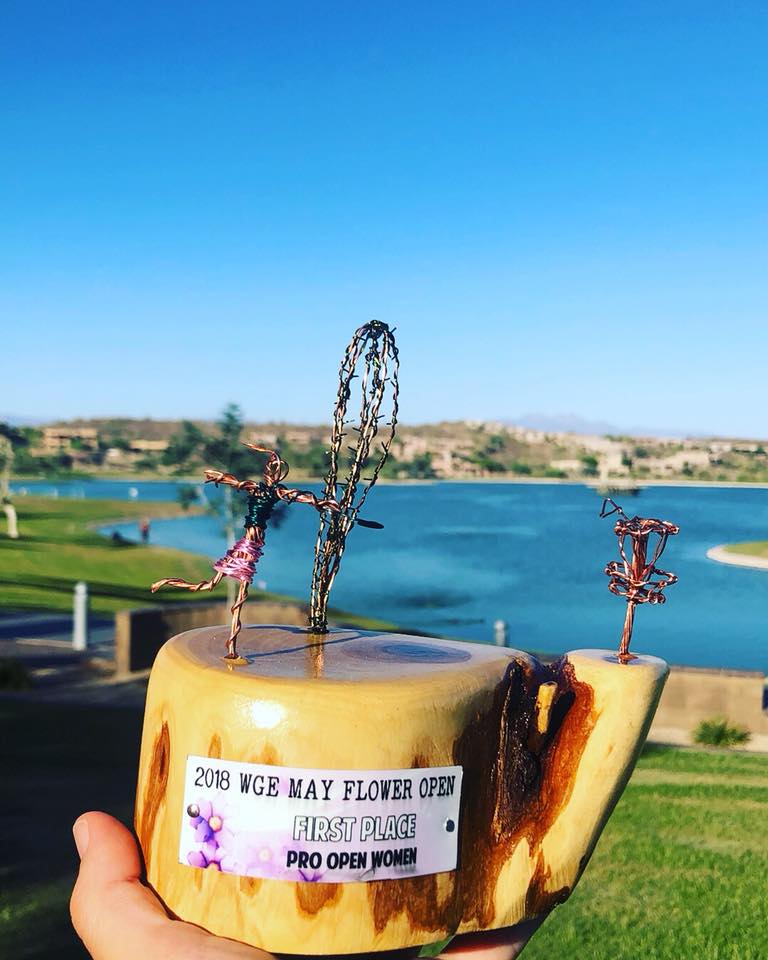 Catrina Allen won the May Flower Open in Fountain Hills, Arizona in a playoff over Colleen Thompson. Jennifer Allen finished three strokes behind the pair in third place.
The KC Diva Spring Feeva in Kansas City, Missouri was the largest single tournament in the WGE with 137 players. Sarah Gilpin topped Paige Bjerkaas by one stroke to win in the Open Women's division.
In other A-Tier action, the Motherlode in Grass Valley & Penn Valley, California had a bevy of 1000+ rated men getting ready for the Masters Cup. Josh Anthon picked up his first win of 2018 by 10 strokes over Garrett Gurthie, averaging 1054-rated golf over four rounds. Nicole Bradley topped Gurthie's tour partner Jessica Weese by six in Motherlode's Open Women's division, a WGE tournament.
East of the Mississippi, Tim Barham won the Open division at the Clash at the Canyons by one stroke over Izak McDonald in Lockport, Illinois, taking home $1,115. Holly Finley won the Open Women's division over second place, Lauren Butler.
Chris Dickerson collected his 13th — 13!!!! — victory of 2018 at the Mountain Mayhem in Roanoke, Virginia. Zach Melton finished second.
The PDGA National Tour returns this weekend at the Santa Cruz Masters Cup. Friday and Saturday will be 24 holes played at the DeLaveaga Disc Golf Course, with the final round Sunday being played on the 18 hole DeLaveaga Golf Course layout which was introduced in 2016.
Update: an earlier version of this article stated that Catrina Allen finished 0.5 ratings points behind Colleen Thompson in the WGE Global Score, despite each player finishing with the same total through two rounds. After the WGE Global Score results became "official" the pair finished with identical WGE Global Scores.