Fajkus leans on steady play to land in second place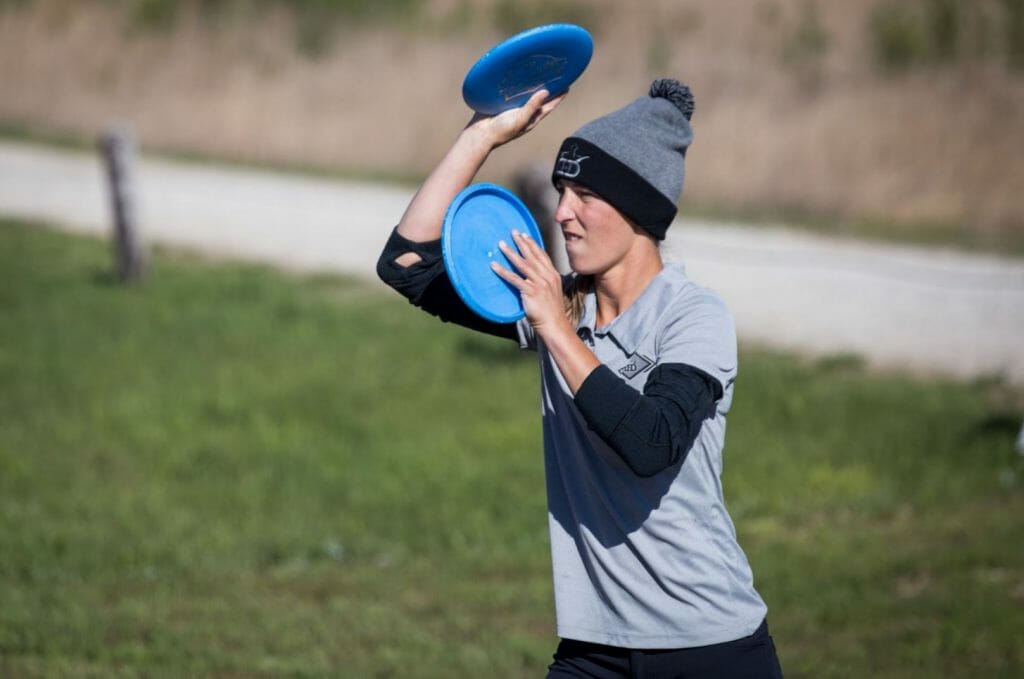 Despite the wind out at Eagle Disc Golf Course at Olpe Lake earlier this week, conditions were calm and winds barely noticeable yesterday during the Open Women's early morning tee times that kicked off the Dynamic Discs Glass Blown Open. Paige Pierce made the most of the idyllic conditions, out pacing the field by five strokes en route to a 4-under par 56 round that is initially rated at an impressive 1011. The 1000-plus rated round is already her ninth of the season.
Pierce's closest competition, Lisa Fajkus, tossed a 1-over par 61, which was one stroke better than Hannah Leatherman at 2-over par 62, who sits in third. Catrina Allen rounds out the top four after a 5-over par 65 performance.
While Fajkus had the earlier tee time — which she described as "pretty ideal," once the temperatures rose out of the upper 30s — she was able to keep pace early on with Pierce, who went off last as part of the feature card. Through the first six holes the pair were tied at 1-under par, with a host of notable rivals — including Jenkins, Catrina Allen, Leatherman, Jennifer Allen, and Melody Waibel — bunched up two and three strokes back.
Upon reaching the middle of the course, Pierce made the move to vault well ahead of the field. She carded five birdies on the stretch from holes 7 to 13 to move to 6-under, while the next best score carded over this same stretch of holes came from Leatherman, who managed even par.
Pierce's attempt at a bogey-free round, though, came up just short at the end. On the hole 17, a challenging 410-foot par 3 with a closely guarded green, her approach shot stayed wide left and went long past the pin. Her roughly 25-foot comeback putt to save par clanged low off the front rim of the basket.
Putting again was the challenge on the 18th green. After her tee shot floated long and past the pin on the peninsula green, Pierce's birdie bid from just outside the circle failed to draw metal. Uncharacteristically, her par attempt from 10-feet hit chains on the right side, but too wide, and she settled for the bogey 4.
Fajkus, meanwhile, used the momentum from a birdie on the first hole to carry her through what ultimately was a consistent round. She only went out of bounds once on the hazard-filled track, preferring instead to sacrifice distance for accuracy while leaning on a solid putting game.
"I was pulling out my fairway driver quite a bit," Fajkus said. "Throwing my metal-flake Teebird saved me some strokes, definitely. Staying in the fairway with that and taking a little bit less distance really helped a lot."
While Pierce was clearly the standout on the round one feature card, and Catrina Allen's round maintained her place on the lead card, Jennifer Allen and Jenkins experienced many of the ups-and-downs Eagle Disc Golf Course at Olpe Lake has to offer. Jennifer Allen currently sits tied for fifth with Des Reading at a 6-over par 66 total, but had the shot of the day captured on video, with a long throw-in for birdie on hole 4:
Jennifer Allen GBO Round 1 Throw-In GIF
Jenkins began the round strong, birdieing the first two holes, but found trouble later on in the front nine, taking 7s on holes 4 and 8. She ended up tied for eighth with Sarah Hokom, Paige Bjerkaas, and Rebecca Cox, and will look to rebound, much like she did after a difficult start at the last high profile event she attended, The Memorial Championship.
With the field moving to the shortest course at Jones Park East for today's second round — and the forecast looking as promising as any for the three-day event — the opportunity is ripe for low scores. Even with the more opportune locale for making up strokes, though, Fajkus plans to continue her conservative play when near hazards and to take the scoring chances when they come.
"I'm always trying to play safe," Fajkus said. "There's not as much OB at Jones East compared to Olpe. However, I still plan on playing pretty safe for the most part — though there are some scoring holes out there and some birdies I want to try to get and pick up those 3s, as well."
Still, even as she aimed to chase down Pierce's five-shot lead, Fajkus was more concerned about staying in her own lane.
"I want to get out there early tomorrow and really practice my putting before the round, just to feel confident in my putting stroke," Fajkus said. "And I do want to be aggressive when I feel like there's a good time to be, but for the most part I want to stay steady."
Unfortunately for the rest of the field, Pierce — with her propensity for carding hot rounds — and Fajkus — ready for another day of consistent golf — are set to tee off in the late morning, when the chance of lingering precipitation has all but dissipated, the temperature is on the rise, and the morning dew has evaporated. Thus is the luxury of low scores early on, and dropping 1000-plus rated rounds.