Sexton in second, while McCray and Newhouse are tied for third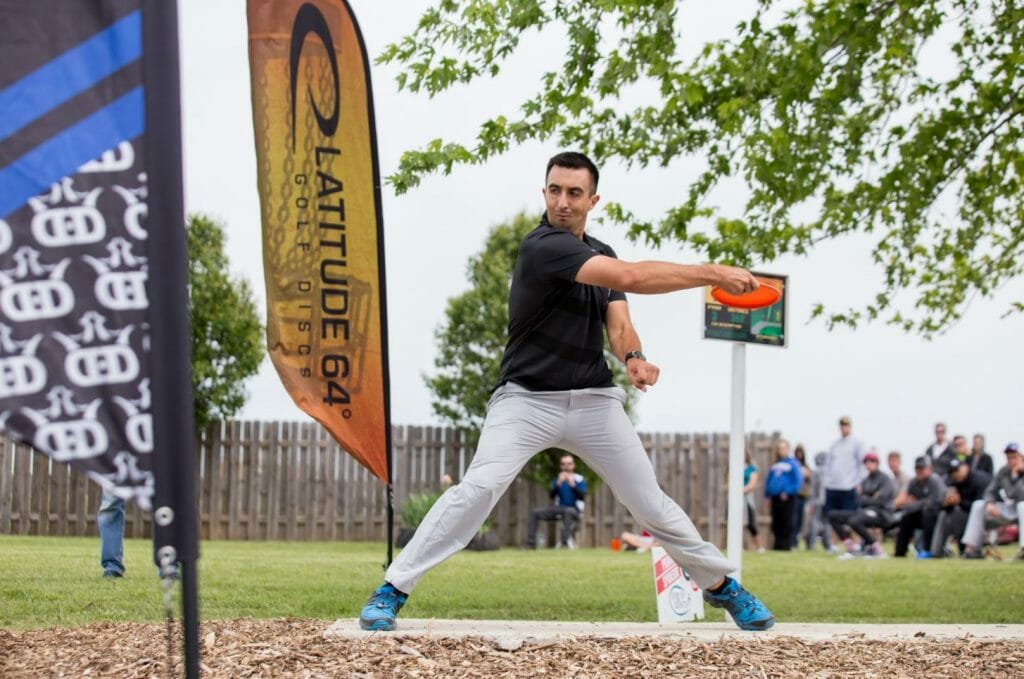 Heading into the Dynamic Discs Glass Blown Open, Eagle Disc Golf Course at Olpe Lake was the event's wild card. Between making its debut on the pro side of the event and incredible winds disrupting the main practice days before the tournament, it stood as a mystery how players might fare on the 8,315-foot track.
Leave it to the game's highest-rated player, then, to have cracked the course's code.
Paul McBeth came out strong during yesterday's first round, firing off a bogey-free 10-under par 50 to set the Olpe course record. The performance netted him not only a 1079 round rating, but also a two-stroke lead over tourmate Nate Sexton, who also kept a clean sheet en route to an 8-under par 52. JohnE McCray and Canada's Zachary Newhouse are tied for third place after their 7-under par 53s, while six players are tied for fifth place with 6-under par 54s.
Though his score ended up double digits under par, it didn't look that might be the result early. McBeth missed a birdie putt on hole 1 to start off on the wrong foot, then settled down with consecutive pars. He missed another from inside the circle on hole 6, but was able to take advantage of the notably calmer conditions as the round continued.
"I was expecting it to be windy, so I played to that strategy and I was able to attack the par 3s a little easier, the gettable ones," McBeth said. "Able to disc down, not go with the overstable, faster discs…The less wind, the better."
While other top contenders struggled — Ricky Wysocki, Simon Lizotte, and Eagle McMahon spent their time on the feature card racking up multiple OB strokes through the round — McBeth soared. He carded four straight birdies from holes 7 through 10 to put him at 7-under and tied for the clubhouse lead with McCray and Newhouse. And even as his eagle bid on hole 12 came up short when he landed in the water on his second shot, he remained without a bogey and took sole possession of the lead with another birdie on hole 13.
Though his pace cooled slightly — he only took two birdies on the final five holes, including a missed putt  from just outside the circle on hole 14 — he ended the day with not only the hot round, but also the course record — technically. Indeed, Emporia empresario and 2010 PDGA World Champion Eric McCabe, who shared time with McBeth on the champions card and tossed a 5-under par round, said he shot a matching 50 at Olpe in a local bag tag match. Still, McCabe said he would consider the record McBeth's given the official tournament setting in which it occurred.
As he looked back at the round, McBeth said he and McCabe decided a 47 would be the ideal score at Olpe, and he lamented those early hiccups for taking him off that pace.
"Had the one OB that cost me two strokes overall — if I throw that five feet further it's under the bakset [for a] drop-in three," McBeth said. "Two strokes right there [plus the missed putts] and it's 47, 46."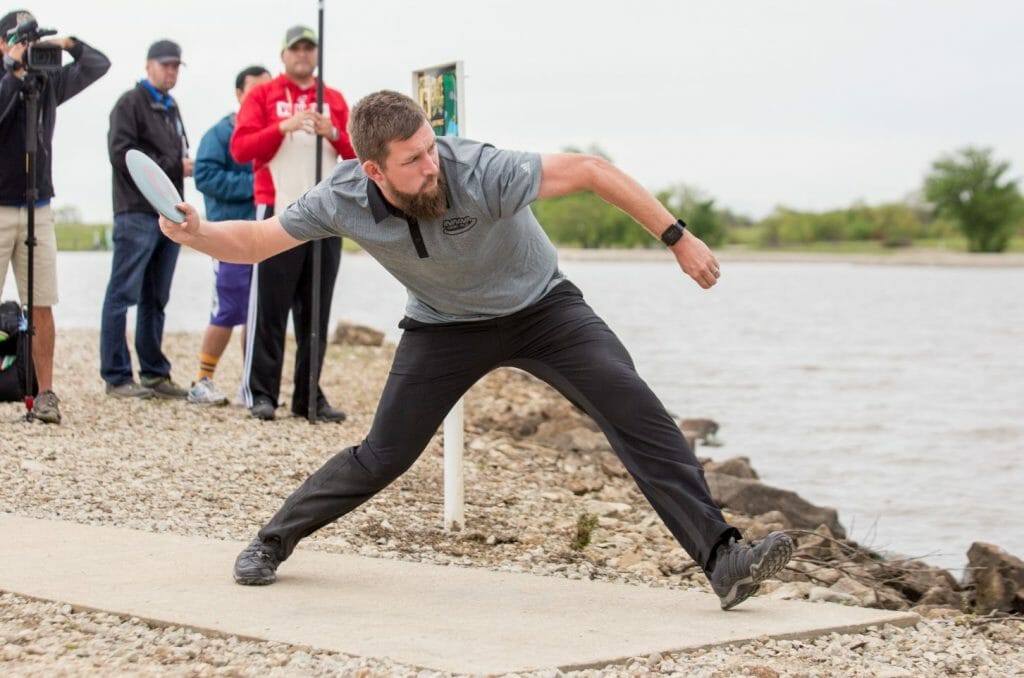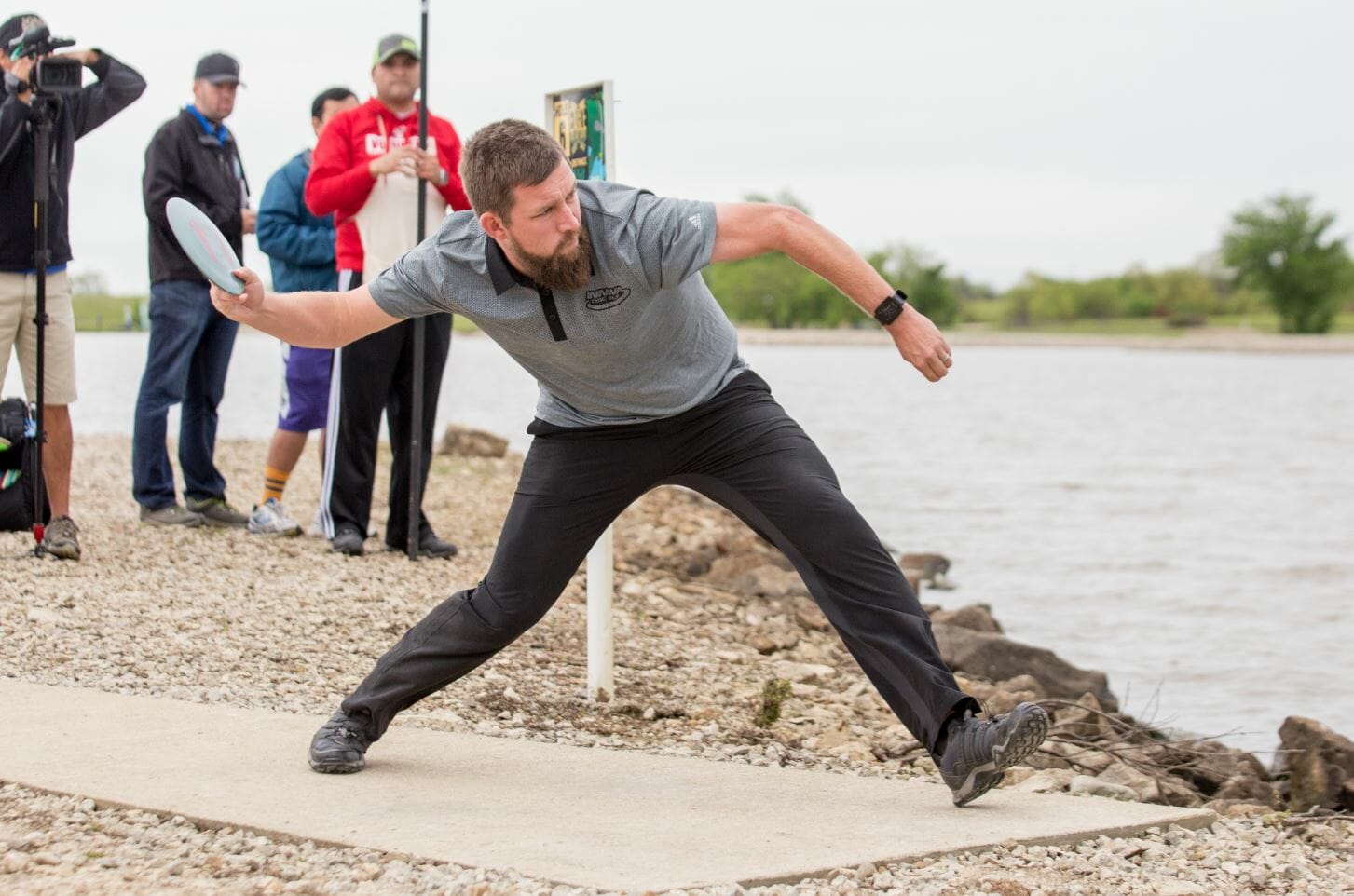 Sexton, though not setting records, seized the spotlight granted by a fan vote and got to work dissecting the course on the feature card. He came out with powerful drives, but his first hole played out similarly to McBeth's with an inside the circle miss, and an odd skip off some wooden border under hole 2's hanging basket kicked him out of birdie range — though he almost made the long comeback putt.
From there, he adhered to his don't bite off more than you can chew style, employing long lateral skips and precision Firebird approaches to almost always land in range of the pin. Plus, he finished the job: Save his bookended birdie misses on 1 and 18, he was deadly from inside 10 meters.
"My goal was just, like, pretty simple," Sexton said. "I just told myself, 'I want to keep the disc in bounds and make, like, three putts.' And I did that. Like three putts of significance. If I do those two things, then my baseline score is pretty good. It's just execute."
Though he's known as a conservative player — especially compared to his cardmates in Lizotte and McMahon — Sexton wasn't afraid to uncork a few long drives when he needed to. And on a day when he did not card a single OB stroke, the comparison to those he shared the limelight with was fairly stark.
"You cannot actually play truly safe and expect to make the lead card," Sexton said. "I pick my spots, for sure, and I'm not somebody who's gonna — I don't usually go for eagle. If there's a hole there and the easy birdie is to be had, I'm usually content with that."
Though McCray didn't keep a clean sheet — he carded two penalty strokes during his three-bogey round — he said he was still pleased with his performance. And he was also thankful for the improvement in weather.
"We got away with one today, I feel like," McCray said. "It made the course — this course is pretty challenging anyway. So with those 32, 35 mile an hour winds, it's, like, really tough then."
For McCray, the strong showing continued the momentum he brought with him as last year's Pro Masters World Champion — a title he earned on these same Emporia courses. He attributed some of that comfort to the town being the de facto North American home base for his sponsor, Latitude 64, as well as the general outreach of a strong community built on disc golf.
"It's quite a family here, and it's a very comfortable atmosphere here," McCray said.
Play now shifts to Jones East Park, a course on which McBeth has shown a flair for the dramatic with noticeably aggressive play. But changes to holes 3, 14, and 18 this year have taken away some of the eagleable par 4s, he said, and as a result he said he might not play with as much panache there as he has in GBOs past.
"There's not really eagles except that same one [hole 5] over toward the parking lot," McBeth said. "So other than that I'll probably play the same type of game plan out there. Just play to win, essentially. Not try to goof off and get eagles and stuff like that. Just play to win."
Yes, when you're a four-time PDGA World Champion, apparently eagles qualify as extra-curricular activity.
"Well yeah, if you can reach them they're kind of fun to get," McBeth said with a laugh. "I got it out in practice."
Plus, he might have bigger problems to worry about, as a Saturday storm lurks not far off in the distance. Even with poor conditions on the horizon, though, McBeth said he didn't plan to change his overall approach to Jones — although he was willing to joke about the possibilities.
"I was talking to Eric [McCabe] and I was saying, 'Alright, it's probably gonna get canceled on Saturday, so I just need to be leading on day two and I win this tournament," McBeth deadpanned while referencing his truncated Nick Hyde Memorial victory. "Just be the final round leader and it's almost a guaranteed win.
"No, there's no different game plan," he admitted. "I'm gonna attack Jones. I'm gonna play as if I'm tied or as if I'm not losing. The strokes — where I'm sitting now doesn't really matter."
Sexton echoed McBeth's sentiments and said that, since all competitors would be at the same disadvantage with the weather, there was no advantage to be gained by altering his play before the storm.
"No, no, because the conditions are hurting everyone equally," Sexton said. "Even if I was to think that far ahead, I still wouldn't think that was the right call — to press today and play outside of your game plan in anticipation of difficult weather — because everyone has to play in difficult weather. If there was some cruel world where only I had to play in difficult weather, then maybe that logic would make sense. But since everyone has to play in it I think it doesn't make any sense to play in it differently because I don't need extra strokes because were all gonna be hampered equally."
Today's lead card will tee off again at 3:00 p.m. CDT and be simulcast on SmashboxxTV and the Dynamic Discs YouTube channel. In addition, real-time scoring updates and video highlights can be accessed on PDGA Live.