Hokom a close second despite leading after round three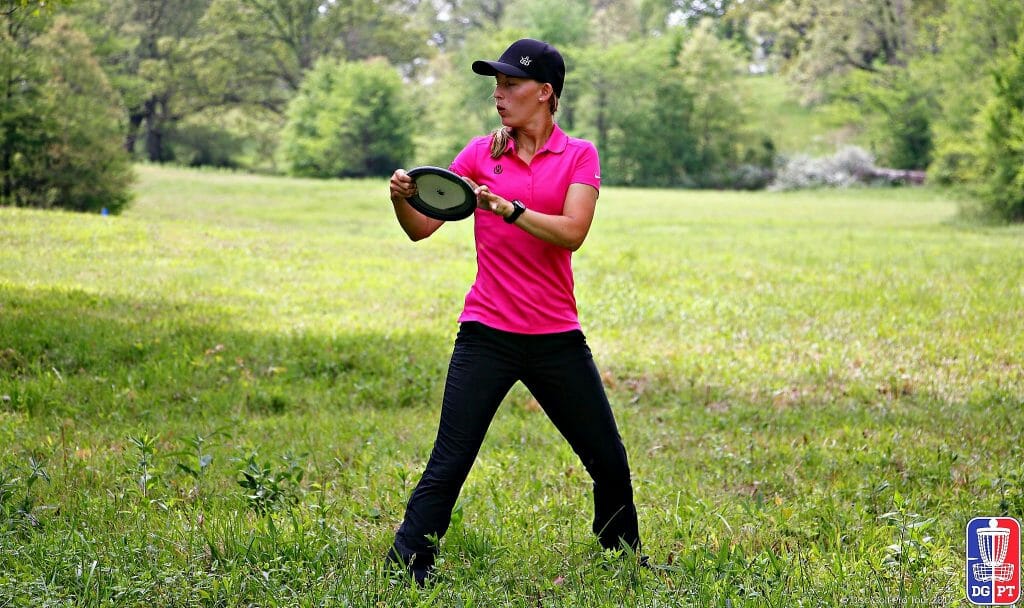 In the second and third rounds of the Spartan Mowers Jonesboro Open, a late round meltdown had been Paige Pierce's undoing. She successfully put herself in position to avoid that fate during the final, though, and instead notched a come from behind win over Sarah Hokom.
Pierce's 3-under par 61 was good enough for a 5-under par 251 total and a two-stroke victory over Hokom, whose 1-over par 65 wasn't quite enough to hold onto the lead she began the fourth round with. Jessica Weese's 2-over par 66 allowed her to maintain her third place standing at 3-over par 259, and Jennifer Allen rounded the top four with a 4-over par 260.
The win was Pierce's eighth of the season and third on the Disc Golf Pro Tour. The late heroics helped extend her lead in the Pro Tour points standings over Hokom to nearly 30 points.
After 11 holes of play Sunday, Hokom had lost two strokes to Pierce and the pair were tied at 2-under par. Over the next four holes, though, there was a three-stroke swing. Pierce birdied twice to move to 4-under par, while Hokom collected a birdie to go with a double bogey, dropping her to 1-under par. It was the third round in a row Pierce carried a multiple stroke lead into hole 16.
"I actually didn't know the scores going into 16," Pierce said. "But I knew, mentally, going into that round — I told myself, make strokes up early so that if a debacle happens on 16 again I'll have enough to cover it."
She worked on making up those strokes by heading out to the hole for extra practice after her disastrous round three performance, in which she took a triple bogey.
"I threw it for about an hour just to feel better about it, because it was such a weird tee shot that I've never really thrown in disc golf," Pierce said. "It was so short and downhill that you almost were going to throw it in the water if you threw a proper shot."
Even with the additional reps, things didn't go as planned when it came time to tackle the tee shot again during the final.
"I had to throw the sidearm a lot wider, but come the fourth round I just didn't execute," Pierce said. "I put it wide enough, but too low, and hit the ground and left me 80 feet in front of the teepad."
Feeling exasperated, Pierce found more trouble trying to lay up before the OB water.
"After that tee shot I was like, 'Come on,' and then I threw a good approach shot, I thought," Pierce said. "We got up there and it was out of bounds by a foot. And I was like, 'Alright, you can still make that five you were talking about. Just get up and down and make this circle 5.'"
Both the lead she had built up and a concerted mental approach made up for the rough start to the hole. From the drop zone her approach stayed right of the pin and got caught up in the tree, just like her approach shot from the previous round. This time though, it landed in bounds, clear of the water.
Left with an uphill 40-foot putt to save her bogey and Hokom with an inside the circle birdie putt, Pierce didn't think twice.
"I felt confident about the putt," Pierce said. "It was weird because I hadn't even felt confident about 20-footers all weekend. I knew I could throw it hard, being uphill, and basically within two seconds of me approaching my lie the wind completely stopped, so I purposefully rushed it to have no wind."
She then got a reality check from caddie Zach Melton to help keep her focused down the stretch.
"Then after I made the putt Zach asked if I wanted to know the scores," Pierce said. "I said, 'Sure,' and he goes, 'Well you were up by three, but now you're only up by one.' So I knew 17 was relatively simple as long as you stayed out of the woods, and then on 18 I knew I had to get a four or a five."
With Pierce and Hokom pushing on 17, each carding a birdie, the margin stayed at one stroke. On the final hole both threw clean shots off the tee on the 818-foot par 5, but on their second throws from the fairway, Pierce was able to garner more distance. Her approach to the green left her with a tap-in birdie for the win.
For Hokom, the final round represented a departure from her remarkably consistent play early in the tournament. Her scramble success rate dropped from 86 percent the prior two days down to 64 percent on Sunday, and her circle 2 in regulation rates dropped from 61 percent to 39.
Pierce, meanwhile, was complementary of the challenge that Disc Side of Heaven added to the Pro Tour.
"The course is really hard," Pierce said. "It's really long and there's a lot of rough, and there weren't as many birdie opportunities as we're used to seeing on the Pro Tour."
With the tour now on hiatus until early June, Pierce's next stop is the Texas Women's Championship in Leander, Texas. In two weeks the PDGA National Tour makes its second stop at the Glass Blown Open, where Pierce will have a chance at her second NT win of the season.