Hokom shares the lead, with Pierce one shot back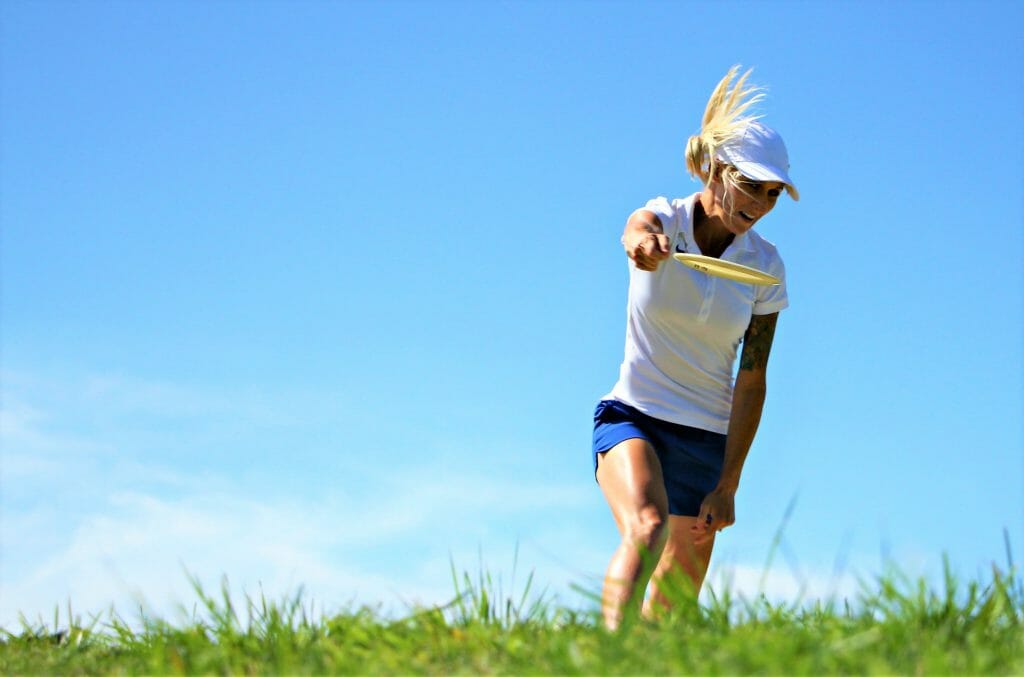 After a second round replete with lead changes, Catrina Allen's hot round moved her into a tie for the lead with Sarah Hokom heading into the final round at the Nick Hyde Memorial. Allen, Hokom and Paige Pierce all traded the lead throughout the round, and with a storm likely to affect today's play — and Pierce right on the leaders' tails — much of the same could be in store atop the leaderboard.
Allen's 4-under par 60 brought her to 3-under par 125 overall. The two-position jump tied Allen with yesterday's leader Hokom, who managed an even par 64 to maintain her 3-under par total. Pierce's even par 64 performance kept her at 2-under par 126 for the event and in sole possession of third place.
While Hokom and Pierce traded volleys at the top throughout much of the round, Allen only took a share for the lead after a big swing in scores on the penultimate hole. At that point, Hokom and Pierce remained tied for the lead after Pierce sank a 50-foot putt on hole 16, with Allen just one stroke behind.
On the windy, 888-foot hole 17, Hokom's approach to the green on the par 5 found the out of bounds area to the right and forced her to take a bogey, while Pierce uncharacteristically three-putted from inside 10 meters to take a double bogey 7. Allen kept it simple down the fairway and had a tap-in par putt to jump Pierce and tie Hokom.
Considering her hot round was rated just nine points below 1000, Allen reflected on how her patience and perseverance — after feeling sick during the first round — helped her refocus.
"Honestly, it was just a solid round, I don't think it was amazing," Allen said. "I didn't really do anything spectacular, just stuck to my game plan and got the birdies when they came."
Allen's strong showing, which included five birdies and just one bogey, was due in large part to a much-improved putting performance compared to her first round. She went from 69 percent in round one to 94 percent in round two, where she only missed once.
"I felt really, really terrible yesterday morning," Allen said. "I felt fuzzy putting, like I was there putting and I knew I needed to concentrate but just couldn't. The focus was really tough around the green. But today I felt better and could focus better. Also, it wasn't as breezy yesterday and sometimes I feel like I putt better when it's windy because it gives you just one thing to focus on."
Allen is looking to keep the solid putting and a patient approach going despite the likelihood of less than ideal conditions for today's round. Rain and possible thunderstorms are expected for late morning, right when the lead card will be teeing off at 11:40 a.m. EDT
"I'm going to make sure my rain gear is ready to go for tomorrow — my Goretex shoes and a bag full of towels — and just survive," Allen said. "It's going to be really muddy out here and wet on the teepads. It will take away distance and accuracy, and you're going to be scrambling a little bit more, so I think patience will be a big key. I just have to know that some bogeys are going to happen. I'm going to slip, or the disc is going to slip out sometimes."
Knowing everyone will be dealing with the same conditions on the lead card, Allen believes another straightforward performance — much like her second round — could be enough to bring home the win today.
"I'm thinking just to not doing anything crazy to take a big number," Allen said. "It's going to be tougher, but in certain conditions you just have to be OK with a par or a bogey in some situations."
While Allen and Hokom look to halt Pierce's streak of Pro Tour victories, the trio will be joined by Jennifer Allen on the lead card, after her 2-over par 66 moved her to 3-over par 131 overall. Coverage of the final will be interspersed throughout the broadcast of the Open final, which takes place at 5:00 p.m. EDT.