Event still slated as planned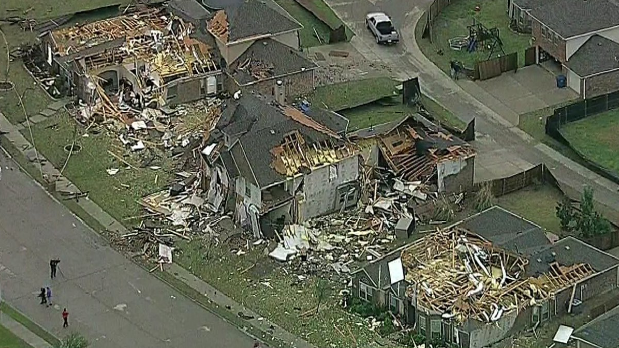 A severe thunderstorm swept through Dallas, Texas, and the surrounding areas during the early morning hours on Wednesday, and the city of Rockwall — host for this weekend's Nick Hyde Memorial — received some of the worst damage. According to the Rockwall Police Department, 15 houses were damaged by severe winds.
Initial reports indicated that a small tornado may have touched down in the northern portion of Rockwall. However, a damage survey conducted by meteorologists at the National Weather Service office in Fort Worth concluded that 90 to 95 mph straight-line winds were responsible for the damage. Wind speeds of that magnitude are equivalent to an EF1, or weak, tornado.
According to aerial photographs, the storm damage occurred just two miles north of Harry Myers Park, the course where the Nick Hyde Memorial will take place. Despite the close proximity, Disc Golf Pro Tour Director Steve Dodge said everything is moving as planned for tomorrow's first round.
"As far as I know everyone is OK," Dodge said yesterday. "The course seems fine. It was a little wet and muddy this morning but it's dried out already."
Tournament Director Matt Siri also confirmed that players and staff associated with the tournament were not impacted by the storm. When asked if organizers had any last-minute plans to help the community rebuild, Siri said that the relative affluence of the area did not make for a great sense of urgency in that regard, and that the tournament's donations were already committed.
"We partner with EDGE [Educational Disc Golf Experience] and give our charitable contributions there for this event," Siri said.
A current glance at weather models indicates that there could be a chance of storms on Saturday, and especially Sunday. The severity of these storms remain in question, and more forecast details will be posted in our Nick Hyde Memorial preview tomorrow morning.
Additional reporting contributed by Ultiworld Disc Golf Editor Steve Hill